Positive Parenting: From Toddler to Teen #Parenting
1-2-3 Magic program Book Review. Positive Parenting: From Toddler to Teen
As a mom I am always trying to learn more when it comes to parenting. I feel that I can never stop learning about becoming a better parent for my boys. My 5 year old has started out of the blue throwing tantrums. The other 2 boys never did the tantrum thing so I am stuck a little trying to handle it. Now that my oldest is a tween and I am looking forward to his teen years. He is such a good boy, but since he is my oldest I need to learn all I can about teens.
When I heard about the 1-2-3 Magic program I was intrigued.  Dr. Thomas Phelan has seen just about every parenting challenge in his 35+ years of working with families as a registered clinical psychologist. He created the popular 1-2-3 Magic program to help parents curb behavior issues, encourage good behavior and better connect with their children, starting with toddlers and going through the teenage years. His flagship guide, 1-2-3 Magic: Effective Discipline for Children 2-12, has sold 1.8 million copies worldwide, and the latest edition of 1-2-3 Magic Teen: Communicate, Connect, and Guide Your Teen to Adulthood publishes on Tuesday, November 1.
About The Book… 1-2-3 Magic: 3-Step Discipline for Calm, Effective, and Happy Parenting
The simplest, most effective parenting program for raising happy, well-behaved children
• Mom's Choice Award Winner – 2016
• National Parenting Product Award Winner – 2016
• Family Choice Award Winner – 2016 
"1-2-3 Magic made parenting fun again."
"My three-year-old has become a different little girl, and she is so much happier now."
"All I have to say is that the ideas in this book really WORK! It really is like magic!"
"Our home has become a much more positive place."
The sixth edition of the 1.8 million-copy bestseller 1-2-3 Magic by internationally acclaimed parenting expert Thomas W. Phelan, Ph.D. compiles two decades of research and experience into an easy-to-use program designed for parents striving to connect more deeply with their children and help them develop into healthy, capable teenagers and adults. Dr. Phelan breaks down the complex task of parenting into three straightforward steps:
1. Helping your children learn how to control their emotions and refrain from negative behavior, including tantrums, whining, and sibling rivalry
2. Encouraging good behavior in your children and providing positive feedback
3. Strengthening your relationships with your children to reinforce the natural parent-child bond
You'll find tools to use in virtually every situation, as well as real-life stories from parents who have successfully navigated common parenting challenges such as reluctance to do chores, talking back, and refusing to go to bed or getting up in the middle of the night. For years, millions of parents from all over the world have used the award-winning 1-2-3 Magic program to help their children develop emotional intelligence, raise healthier, happier families, and put the fun back into parenting.
Along with other highly-respected parenting classics such as How to Talk So Kids Will Listen & Listen So Kids Will Talk, Parenting with Love and Logic, The 5 Love Languages of Children, No Drama Discipline, and The Whole Brain Child, 1-2-3 Magic is an essential tool for parents hoping to connect more deeply with their children.
You can find this great book on Amazon.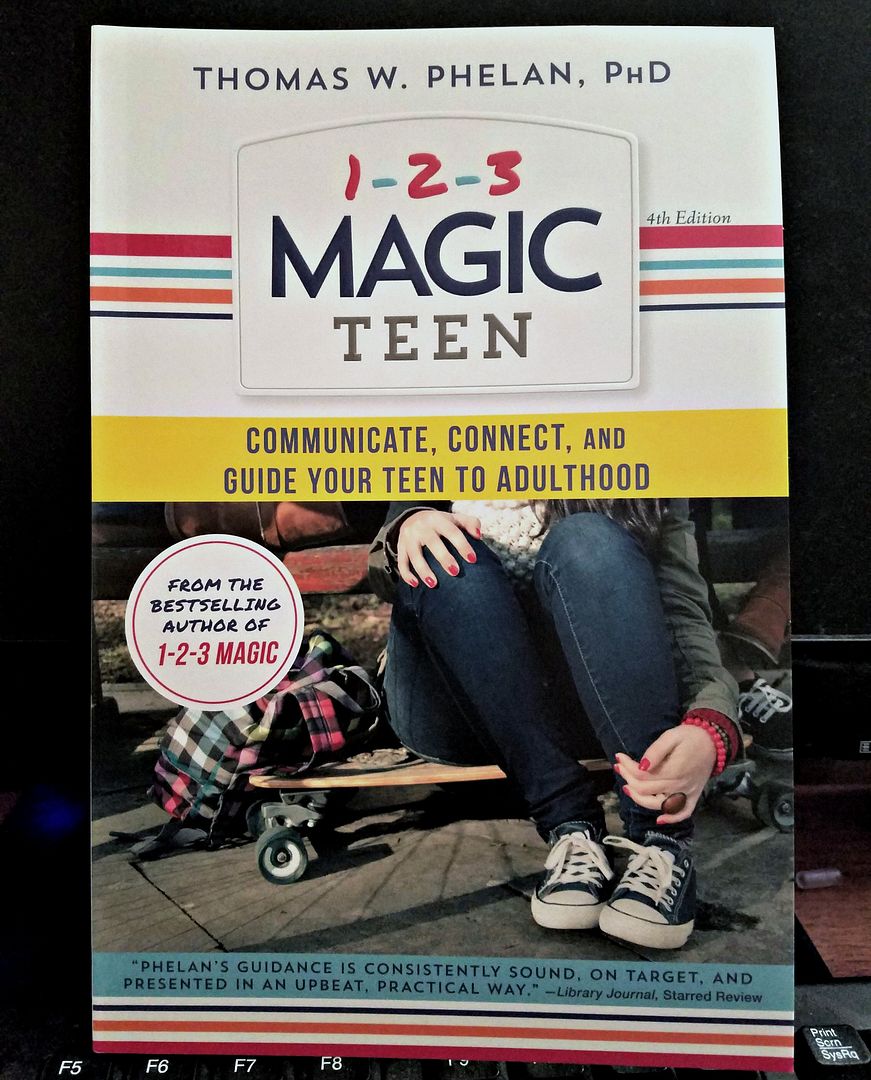 About The Book… 1-2-3 Magic Teen: Communicate, Connect, and Guide Your Teen to Adulthood
Help your teens grow into the very best versions of themselves!
From rule-breaking and risk-taking to defensive communication and disrespect, parenting a teenager can feel like modern warfare–but it doesn't have to be that way. In 1-2-3 Magic Teen, internationally renowned parenting expert Thomas W. Phelan explains how to better understand your teenager, which problems are not worth fighting over, and why your child's behavior likely matches the definition of a normal adolescent! With helpful, straightforward advice backed up by research and parent-tested strategies, 1-2-3 Magic Teen will help you establish a calmer, more respectful home and family life and show you how to guide your teenager into healthy, functional young adulthood.
• Learn the Language: Communicate with open and engaging language, and listen to your teenager the right way.
• Establish Expectations: Learn how to set limits while still encouraging independent decision-making and helping your child develop their emotional intelligence.
• Stay in Touch: Allow your teen to open up to you in more meaningful and inclusive ways through four simple connection building strategies.'
• Take Care of Yourself: Take time to maintain your own emotional well-being to avoid allowing your own anxieties and stresses to influence your children
You'll also find tools and advice tailored for the challenges of a teen lifestyle, including:
• Forgetting to do chores
• Absence in family outings
• Drop in grades
• Missed curfews
• Parties and drinking
• Work responsibilities
The author of the million-copy parenting bestseller 1-2-3 Magic applies his time-tested, trusted advice in this straightforward, encouraging guide that walks parents through the ups and downs of teen life, allowing them to help their kids gain confidence and push toward independence.
Get this great book on Amazon.

About The Author…
A registered clinical psychologist, Thomas W. Phelan, PhD, has worked with children, adults, and families for over thirty-five years. Phelan maintains an active schedule of international lectures and is a frequent guest on radio and television. His articles appear in numerous regional and national publications. 1-2-3 Magic has sold more than 1.6 million copies and has been translated into twenty-two languages. Phelan practices and works in the western suburbs of Chicago.