MIU COLOR Glass Water Bottle
MIU COLOR Borosilicate Glass Water Bottle
When I drink my water I don't like it to have a plastic or aluminum aftertaste to it. This glass water bottle is the perfect solution to that issue. Because this bottle is made of glass, I only get the flavor of my water and nothing else!
This is a very durable bottle even though it's glass. It is also a very lightweight bottle, even when full. It is very stylish and I love how the neoprene sleeve has a built in handle which makes this bottle convenient to carry.
Another great thing about the neoprene sleeve is that it has a zipper, so it makes putting on and taking off easy. Not to mention that it does a great job of keeping the contents of the bottle cold or hot.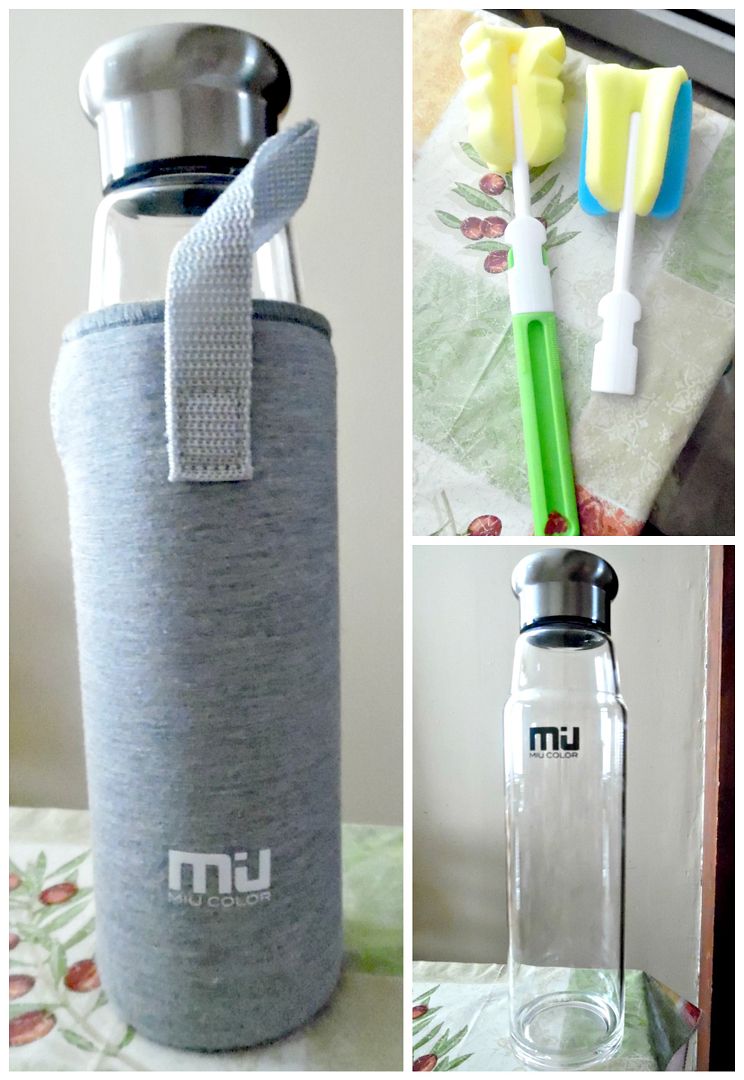 I also really like that the top screws on nicely, easily and I have not had any leaks! I love using this glass bottle for my water infused with essential oils!
I am not surprised at the quality of this bottle since I have several other items from MIU COLOR and have never had a problem with any of them!
Summer Sale: 20% OFF on each MIU COLOR glass bottle with code SUMMERMC
You can get the MIU COLOR Borosilicate Glass Water Bottle on Amazon.

Product Description
Healthy drink and happy trip with MIU COLOR! Bigger Capacity: dimension: 7cm*7cm*26cm. Large enough to carry 24.5 ounces water. Studies have shown that drinking water helps to increase metabolism, keep healthy and bring benefits to your skin. With our Bigger Capacity bottle, drinking becomes more convenient. Perfect for office, classroom, gymnasium and you can carry it everywhere to enjoy drinking!

Healthy and Environmental Material: Our newly released bottle is made of high borosilicate glass(also known as hard glass) and two stainless steel lids. The grade of the glass is oak crystal, lead free, low inflation, high heat resistant, high strength, hardness and high chemical stability. No worry of BPA or plastic!

Colorful Nylon Sleeve: Our bottle is accompanied with Nylon cover, which is high quality and has a zipper in the back, which makes it easy to put the bottle in and out. The cover is also heat resistant, which makes the bottle easy to hold, and it fits most standard car cup holders.

Unique and Elegant Cool Design: Our bottle was designed in Switzerland. The design of the bottleneck was designed with two-layer stainless steel and considering both sturdy and the comfort of human lips. It works great for fruit infused water, iced tea and iced coffee. The unique style and design of our glass bottle is perfect for any drink of choice.

Easy to Clean: Our bottle has lids on each end which makes cleaning extremely easy. Simply unscrew the lids from the smooth glass rim, remove the silicone rings and wash. Hand washing is recommended. Lid is dishwasher safe. Plus, we included TWO FREE water bottle cleaning brush to make cleaning convenient!