Book Review: Love On A Plate, The Gourmet UnCookbook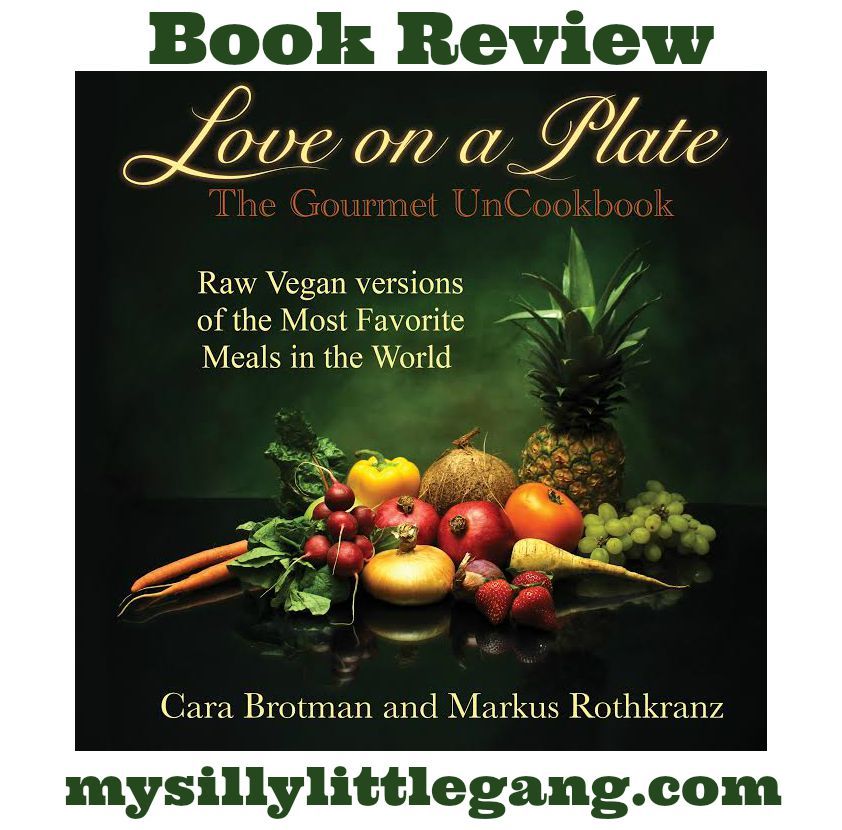 Love On A Plate ~ Raw Vegan Versions Of The Most Favorite Meals In The World.
I honestly had never tried raw vegan food. I would have never imagined that you could create versions of my favorite meals out of raw fruits & veggies. This is a great un-cookbook for many reasons. For starters the quality of the book and the pictures is amazing. You can tell that a lot of care and love was given to the making of this book. I was also very surprised at how delicious the recipes sounded. After trying out a few of the recipes from this book. I see that it's easy to be able to eat well without sacrificing taste, look or smell.
Another thing that I especially liked about this book is that the recipes are easy to follow and quick to prepare. Cara and Markus did a fascinating job with these recipes and this book. I like that this book starts off with the basics. In this section you will learn what equipment and ingredients you will need to always have on hand. Then the book is divided into different sections which include: Drinks, Salads, Snacks, Appetizers etc. Or if it's easier you can search for the recipes by Breakfast, Lunch or Dinner. They even have great recipes for kids, like the macaroni and cheese one that was approved by my boys!
My favorite recipe in this book is not surprisingly a dessert recipe. If you've been with me for a while then you know that my weakness are desserts. My favorite recipe is the one for Pineapple Cheesecake with the one for Chocolate Mousse coming in second. 🙂
You can get your own copy of Love On A Plate on the Love On A Plate Website or on Amazon Kindle or Hardcover.

Here is a recipe from the book:
Delicious Freezer Chocolate with Marzipan Filling
This chocolate gets hard within 30 minutes of being in the freezer.  It can be kept in the freezer indefinitely, but needs to be eaten right away when taken out because coconut oils melts at room temperature.  Pure raw coconut oil is really good for you.
1 cup cacao powder (sifted to remove lumps)
1/4 cup carob powder (sifted to remove lumps)
1/4 cup cashew butter
1/4 cup maple syrup
1/2 cup coconut oil (warmed to clear liquid at room temp)
1 teaspoon vanilla
Mix in bowl, pour in mold or dip things like fruit in it and put in freezer. Ready in one hour.
Marzipan
1 1/2 cups almond meal
1/4 cup maple syrup
Grind almonds into a fine power in a coffee grinder to make the almond meal. Then mix with the maple syrup and knead into dough.  You can eat immediately or use it as a filling for the chocolate that has hardened.  Stores in refrigerator for long time.  For a whiter-looking marzipan, use skinned or blanched almonds.
Reprinted with permission of the publisher from LOVE ON A PLATE: The Gourmet UnCookbook by Cara Brotman and Markus Rothkranz. Copyright (c) 2014.