Leakproof Thermo Lunch Kit Review #thermolunchkit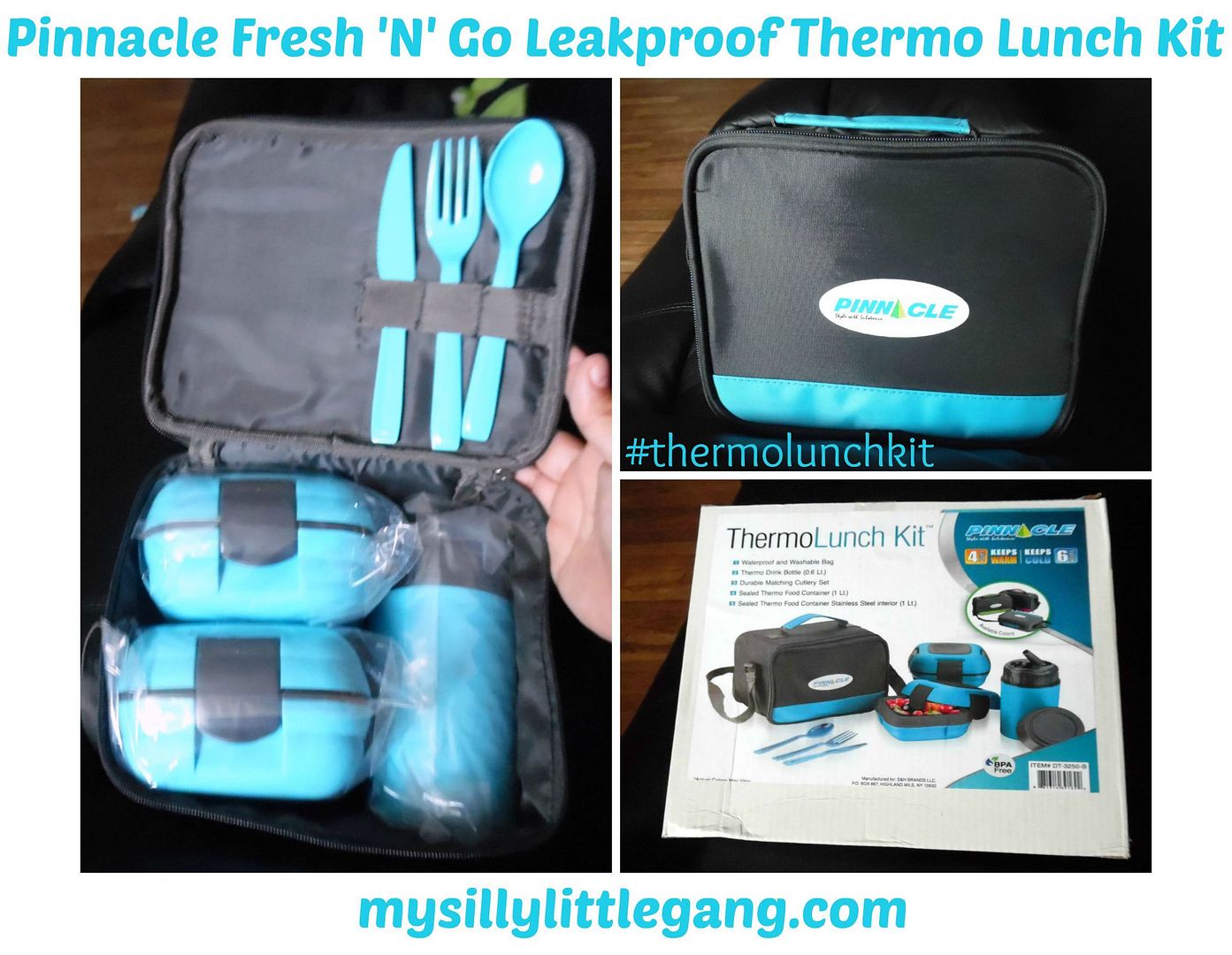 Pinnacle Fresh 'N' Go Leakproof Thermo Lunch Kit
With back to school just around the corner I am already getting ready. My oldest (who's 10) needed a new lunch kit but I need one big enough to hold lunch and snack yet small enough for him to handle it. The Pinnacle Fresh 'N' Go Leakproof Thermo Lunch Kit was the perfect size. And since it brings a stainless steel interior insulated lunch box, a plastic interior lunch box, a multi-use thermo bottle and plastic utensils he'll have everything he needs.
I really like that the lunch bag has both a strap and a handle. The lids on the lunchboxes have push down locks that hold securely but are easy enough for my son to use. The thermos is perfect for hot or cold liquids. It has a pour spout attached to it so that you can pour what's inside out into the lid or drink it straight from the bottle. The spout is a little hard to open but my son doesn't have a hard time with it. I also really like that the lid of the lunch bag has a place that holds the silverware. The Pinnacle Fresh 'N' Go Leakproof Thermo Lunch Kit truly is the perfect back to school lunch kit!
You can get your Pinnacle Fresh 'N' Go Leakproof Thermo Lunch Kit on Amazon.

Product Description
Fresh 'N' Go Pinnacle lunch kit is so versatile that you will surely find countless uses for it.
The lunch kit includes:
2-16 oz. insulated leak proof lunch boxes, 1 with a stainless steal interior which is not microwave safe and 1 with a plastic interior which is microwavable. They keep your food warm for up to 4 hrs. and cold for up to 6 hrs. and are great to fill with your favorite salads, oatmeal, pasta…or whatever food you love.The lunch boxes are very convenient as they stay cool to the touch even with hot foods.
A multi-use 0.6 ml. bottle w/ cover that can be used either for a cup or bowl for soups, juices or water.
The kit also includes very nice matching cutlery for a stylish look.
The lunch bag also offers some extra space for taking along some toast, bread or cereals…or even using just 1 lunch box and adding an apple with snacks…It can be used in so many ways just be creative and enjoy a tempting healthy fresh lunch. All you have to do is pack your favorite food into those stylish and modern containers which will keep them fresh and tasty, warm or cold till mealtime rolls around. It's a great healthy choice as it keeps your food warm without having to reheat it which damage your foods essential nutrients and taste. Its hassle free and perfect for anytime as school, office, lunch, sports or travel.
With its compact trendy designed lunch bag and Pinnacle's leakproof containers transporting your food will be clean, neat, simple and a pleasure!
To retain temperature: Pre-fill lunchbox with hot water and wait several minutes prior to use. For cold foods fill with cold water several minutes.
Lunchbox works best when completely filled.
Do not place in dishwasher.