Look At These Adorable Spring and Easter Finds! #MySillyLittleGang @SMGurusNetwork
Look At These Adorable Spring and Easter Finds!
Are you ready for Easter, I am! I am also ready for Spring. I know that officially it starts next Tuesday, but guess what… We are expecting another snow storm on Tuesday. It's been three weeks of storms! So enough with the snow and enough with the shoveling, I am so ready for the spring weather!!! As for Easter, I am officially ready for that too. I have all I need for the boys' Easter Baskets. And thanks to items that I will be sharing in posts this week, I am also ready with things for us to have fun with.
So we have established that springtime and Easter fun are right around the corner! That's why I am excited to be bringing you this post with adorable Spring and Easter finds, let's get started!
Why not eggnots this Easter? Start a new tradition and try the dyeable ceramic Easter egg-coloring alternative for fun with the whole family! Eggnots look and feel like a real egg but are inedible, so no refrigeration is needed. The non-perishable and eco-friendly, vegan-friendly eggs are ceramic and 100% safe for those with egg allergies. Create and craft high-quality ceramic egg keepsakes with the entire family this Easter! Made in the USA. They come in a 6-pack, 12-pack, 18-pack, and they also sell a dye kit.
We were lucky enough to receive a 12-pack of this great product to try out. I was honestly amazed at how much Eggnots look and feel like a real egg! They have the weight and smoothness of an egg. There was a card that came with our pack of Eggnots that recommended we use the recipe for dye that's on the package in order to get our Eggnots as bright as the ones on their website. One we get closer to Easter we will be dyeing and decorating them. Keep an eye out on my Instagram account to see when we do and how they come out!
Serve up an Easter feast to remember! Set your table with a whimsical and clever spin on traditional serving-ware with Calamityware, which are decorated with delightful scenes of pirates, dinosaurs, sea monster creatures, frogs, and more worked into the unique designs! The serving-ware encourages the lighter side of dinner conversations at family gatherings and keeps the kiddos entertained, too. Check out the Shallow Bowls with a Fly to bring giggles to the table for all ages and Calamityware Small Plates with Ants to wonder who joined your dinner.
I am so in love with the Calamityware mug and plate set that I was sent! The designs on them are absolutely amazing and a great conversation starter. I was using my mug for the first time and my husband came home from work. He sat down across from me and I noticed he was looking at it. When I set it down he picked it up and gave a chuckle. His immediately said " this is so great, I gotta get me one of these."
I showed him my plate, and he loved it just as much as I do. We are going to get more plates and mugs to complete our set and switch out our old plates. I can't wait to have my serving for 8 complete! See all the creative designs on the Calamityware Website.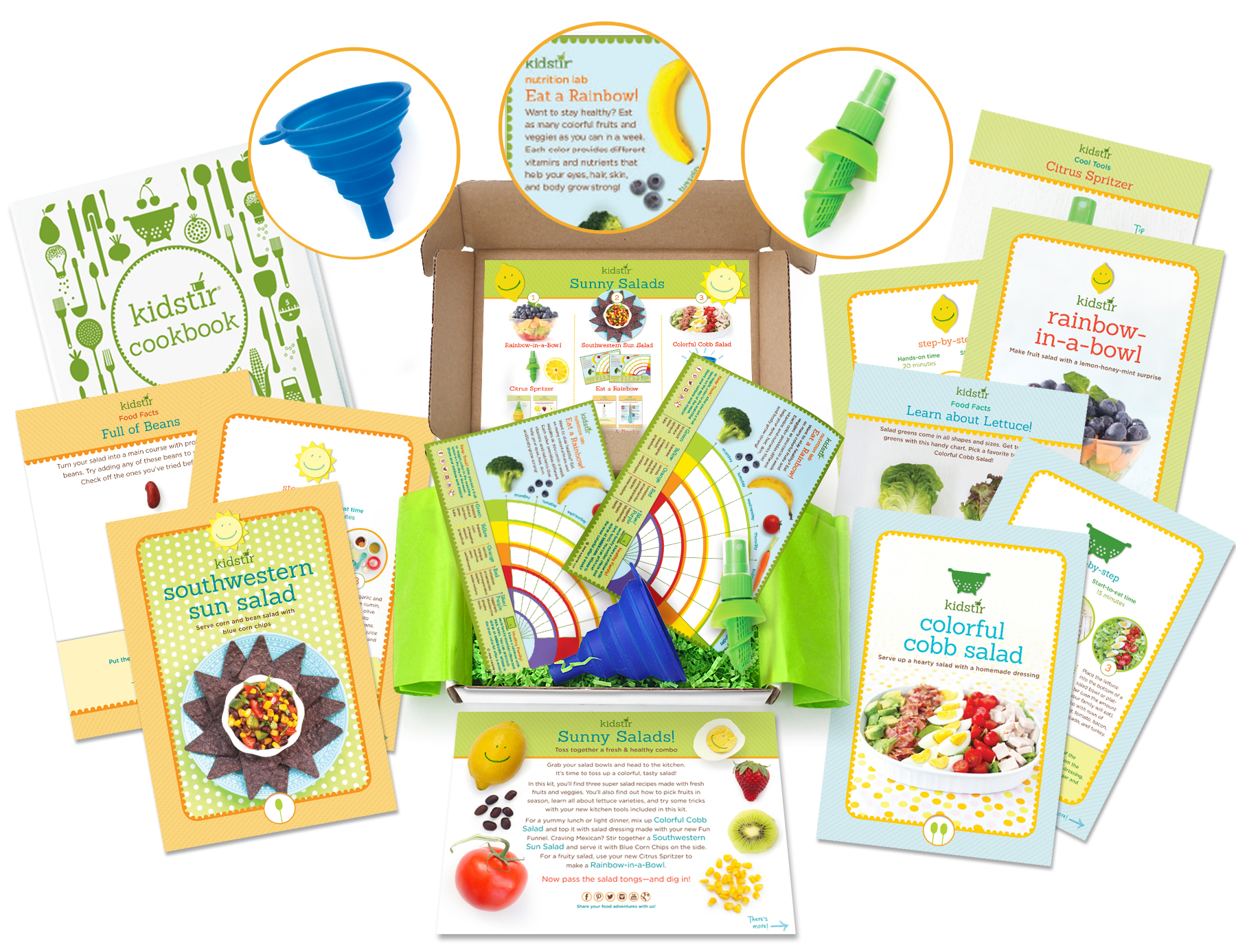 In this exciting new kit from Kidstir, kids will find three recipes for homemade goodies that are perfect for Spring and Easter fun! They can host their own bake sale with delicious Bunny Muffins, or whip up an Easy Apple Tart with a new Mini Rolling Pin to serve the whole family.
Kidstir is a unique subscription service for children that can be joined or given as a gift, or you can send one of the single kits, as well. Each month, Kidstir will send your child a cooking kit filled with three delicious, nutritious recipes, kid-size cooking tools, games and activities! With a focus on fresh, nutritious food and hands-on fun, Kidstir was created by moms who know that through cooking, children will gain important life skills in the kitchen — and cook up some fun family memories together! This Single kit can be purchased without a subscription. 3-month, 6-month, and 12-month subscriptions available, as well as the individual Bake My Day or Taco Truck Fun Kits.
Help baby pull up to the table anywhere you go for your Easter feast this year with ciao! baby The Portable High Chair! This innovative, practical solution helps keep babies and toddlers ready to go for mealtime at any destination! This one of a kind, one-piece chair requires no assembly and is so lightweight at only 8 lbs, making it essential to have with you for any occasion your baby needs a snack or a meal on-the-go! Ciao! baby simple unfolds and locks into place and folds quickly back up in seconds. The clear vinyl tray is durable and wipes off easily and there is a cup holder too!
Ciao! baby offers a comfortable five point safety harness to securely hold your child and is suggested for children up to three years. Tested and approved. Meets US ASTM and EU European high chair safety standards and all CPSIA guidelines including lead, phthalates and flammability. Available in Sage, Purple, Pink, and Orange for Springtime as well as additional colors.
I hope that you find this list useful not just for your Spring and Easter season, but year round! Have you tried any of these products? Which ones of these great products fit with your family? Let me know below.
Take a look at all our Spring/Easter gift ideas by clicking on the image below.
Are you looking to gain more exposure for your Brand OR Products this year? My Silly Little Gang has many perfect opportunities for you! For more information click here.