Package From Santa Review – Kids Holiday Gift Idea
Package From Santa Review – 2016 Kids Holiday Gift Idea
My boys are at an age where most kids no longer believe in Santa. So I go out of my way to keep the magic alive for them as much as I can. This year Package From Santa helped me with keeping that magic alive. I received the Silver Package which included: A personalized letter, video and phone call, all from the big man himself.
It all started with a phone call. We were on our way back from the doctor's office when we received that special call. The boys were so excited to see who it was! They loved it even more when they heard Santa saying he would be coming to Massachusetts soon. And to hear Santa say how old they were and that they were being good was great for them.
The next thing they received was the video, which they loved even more! Seeing themselves in the video and watching Santa mention them left them speechless.
But the thing that really made them go crazy was the personalized letter! Having Santa mention their elf Jingles, their ages, cousins and more really made it magical. Just look at Aaron's face!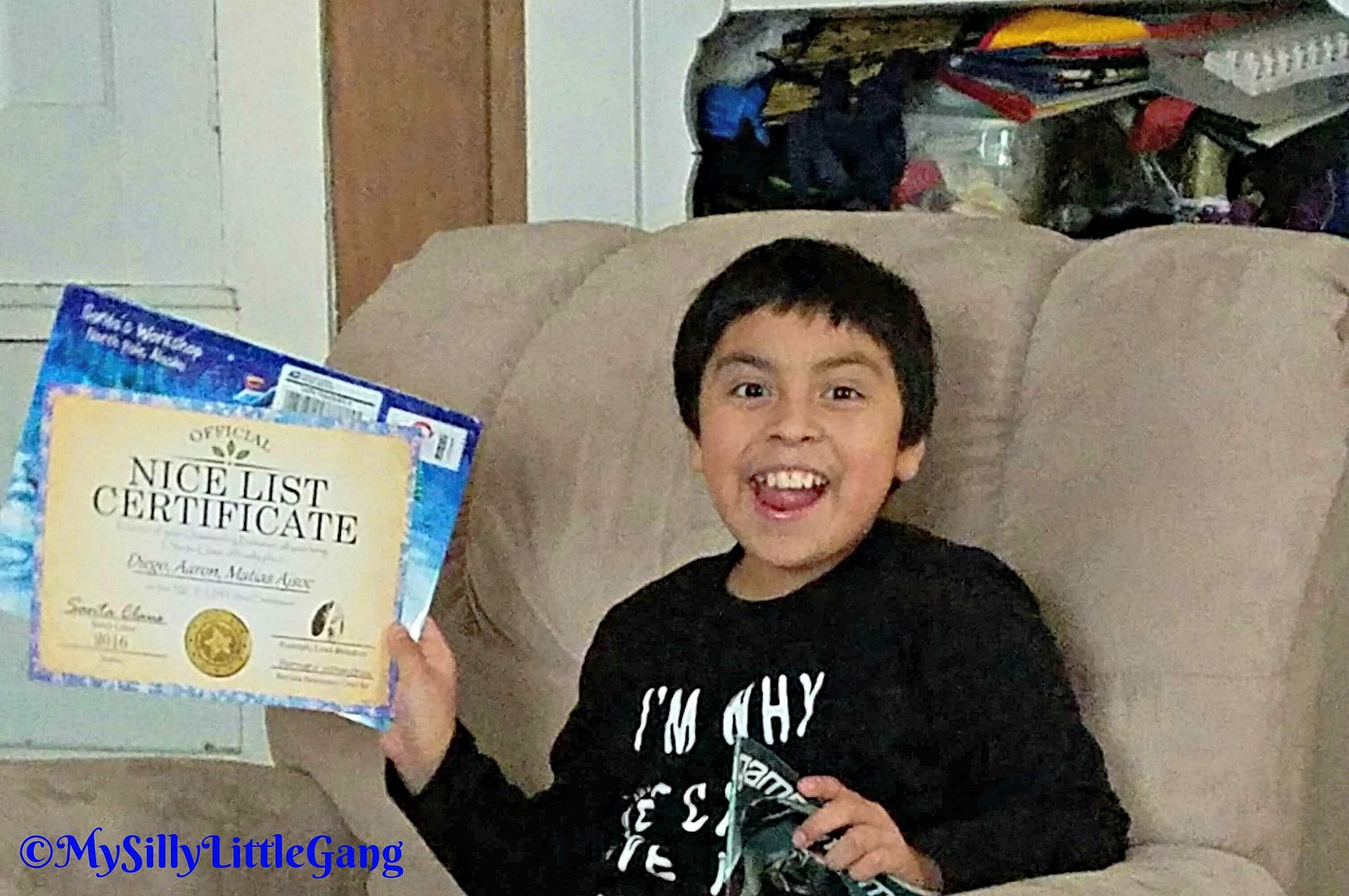 Bottom line, this service from Package From Santa is so totally worth it! I am definitely going to be doing this again next year!
Watch a VIDEO from Package From Santa now to learn more: Click Here
PLUS! Now you can also get an **EXCLUSIVE-LIMITED-TIME-FREE-BONUS!** Instantly!
Keep your child behaving during the hectic (and sugar laden) days leading up to Christmas with a personalized, high-quality, printable 100% FREE Nice-List Guide from Santa Claus. Includes your child's photo, name, and top 10 behaviors needed to stay on Santa's Nice List! Personalize your child's Nice-List Guide by clicking here It only takes 60 seconds… nothing to buy, now or ever. 🙂
My loyal readers get an exclusive 25% discount on every Package From Santa now!
SAVE 25% OFF every Award-Winning Personalized Santa Letter Package (even the Platinum Package!) sent directly to your child from the North Pole!
Start a new Family Christmas tradition with the #1 online Santa Letter service today!
Just Click Here and use coupon code FAM2016 to save 25% off every order.
Or Grab The Coupon Here
Offer Expires 12/15/2016
**BEWARE!** Of online Santa Letter copycats! Only PackageFromSanta has an A+ Rating with the Better Business Bureau and top-notch customer service for over 10 years. And don't forget Santa's Super-Satisfaction Guarantee: YOUR child (and you!) must be absolutely delighted – 100% thrilled in every way – or we'll send you a prompt and cheerful refund, no questions asked. Questions? My Christmas Cheer Team is happy to help! 866-894-4789.
So Click Here now and join the hundreds-of-thousands of satisfied PackageFromSanta customers!
Don't take my word for it! Read one of the thousands of testimonials from real people just like you!
Read more testimonials here.