Thanksgiving Ideas From #FamilyFun Magazine
Crafts / DIY, Desserts, DIY Crafts Projects, DIY Home Projects, Family, Holidays, Home, Main Dishes, Recipe, Thanksgiving, Thanksgiving Recipes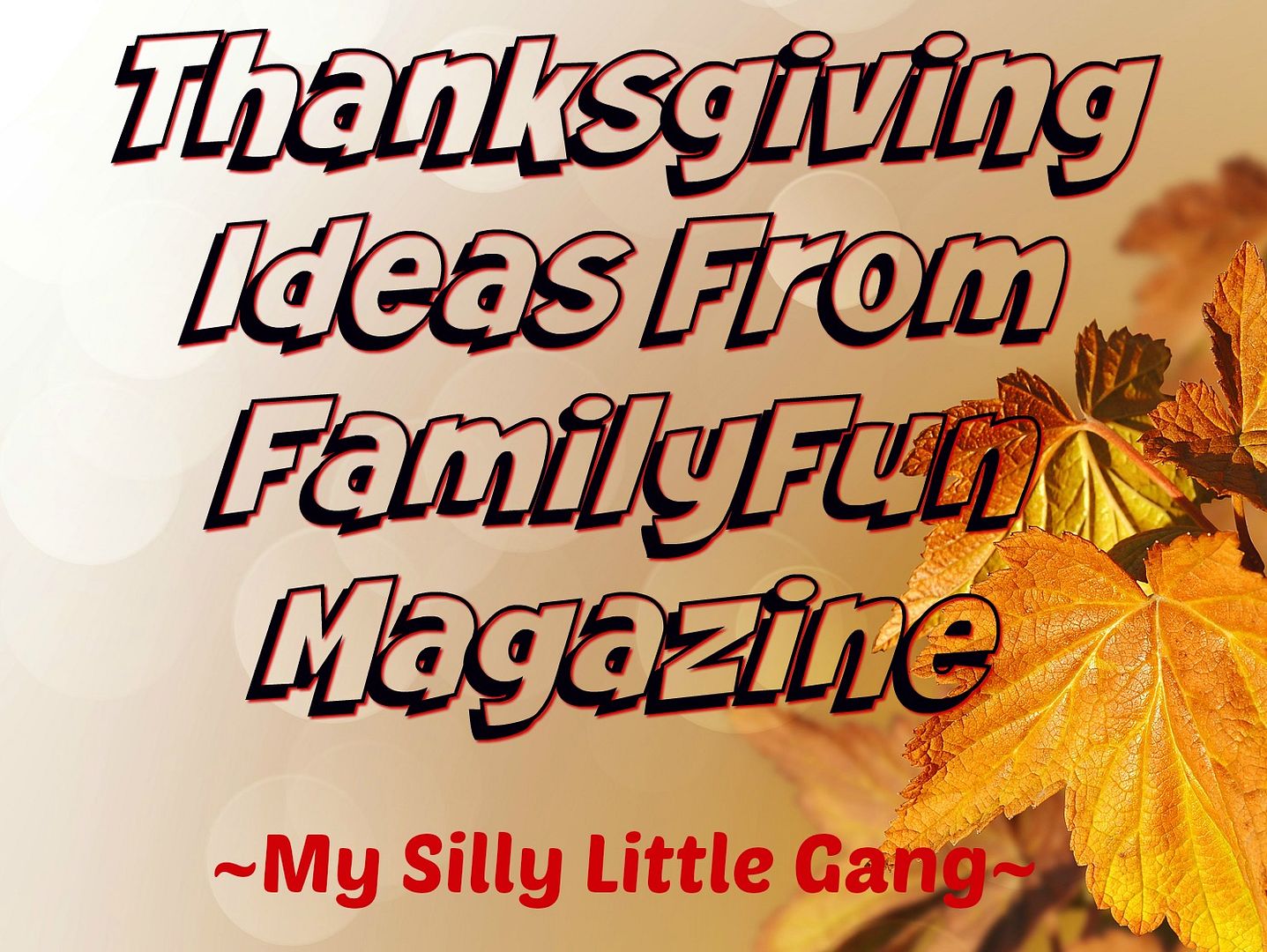 Thanksgiving Ideas For A Festive & Funky Dining Room From FamilyFun Magazine
I am thrilled to be sharing with you these great ideas from FamilyFun Magazine. I love that they work with me so I can share all their super fun & tasty ideas. I have found that the ideas that FamilyFun shares with me are perfect for crafting with the boys. So I know that they are crafts & recipes you will enjoy with your little ones.
All of these great recipes, ideas, and their pictures are courtesy of FamilyFun Magazine and approved to share with you. 🙂
Festive & Funky!
Watch your kids transform your dining room into a bright woodsy wonderland with crafts to keep— and share.
Mod Garlands
String these cheerful strands from cabinets, the buffet, the walls, or even down the table.
What you'll need
• Leaf templates (find it here)
• Kraft paper or paper shopping bags
• Craft paint
• Wooden beads (we used 20mm ones)
• Pinecones (about 20 per garland)
• Brightly colored twine
• Clear tape
What to do
1. Print leaf templates; cut out. Trace onto folded kraft paper as indicated and cut out,
then open. You'll need about 12 leaves.
2. Paint stripes onto the leaves and wooden beads, allowing some of the natural wood
and paper to show. Paint the scales of the pine cones (rolling them works too). Let dry.
3. Cut an 8-foot length of twine. Tie on your first pinecone, looping the twine around the
top few scales. String on one or two beads, then tie on your next pine cone. Continue this
way, spacing the pine cones 3 to 5 inches apart.
4. To add the leaves: Fold the leaf stem down over the string in between the pinecones
and beads, and secure in the back with tape.
Tip: Paint a few extra pine cones and beads to scatter along your runner for easy table decorations.

Find-Your Place Pins
Have your child make a place pin to suit each person in your party—then give him free rein to make the seat assignments (just don't be surprised to find Junior at the head of the table!). Bonus: Each of these turns into a sweet take-home!
What to do
Paint designs, initials, or names onto small birch wood slices (at craft stores), and allow them to dry. Then use gel superglue (an adult's job) to attach pin backs to the back of the slices; let dry for several hours. Pin them to napkins—until your guests wear them for the meal!
Tip: Set the table the night before! It's one less thing to worry about on the big day.

Forest Friends Food Toppers
Get your children busy making a bunch of these critters to pop onto sweets, sides, and more—the cute characters will come in handy when you want to keep the kids occupied at the table for just a little bit longer.
What to do
Use our template (find it here) to trace the head shapes onto craft paper; cut out. Paint on the features and let dry. Then glue on pinecone-scale ears and/or twig antlers. Hot-glue toothpicks or skewers to the back (an adult's job).
Let's Get Cookin'
From scooping and seasoning to spreading and rolling, these recipes have tons of steps that kids can really do all on their own. (Just be sure to adjust and supervise based on age and ability!)
Tip: Remind your guests to bring their reusable containers from home to fill up after dinner!
Send Some To-Go!
Have kids make leftover bags ahead of time: Paint colorful, nature-inspired designs onto kraft-paper gift bags, and then stamp or paint on each guest's name for an extra personal touch!
1. Cranberry-Cheese Pinwheels
Hey, kids! Get ready to fill 'n' roll with this crowd-pleasing puff-pastry appetizer.
Active Time 20 Min.
Total Time 11/2 Hours
Makes 12 Servings
Ingredients
1 large egg
1 Tbs. water
1 sheet frozen puff pastry, thawed
3 oz. crumbled goat cheese, softened
¼ cup finely chopped sweetened dried cranberries
1 ½ tsp. finely chopped fresh rosemary Kosher salt and ground pepper
1. Whisk together egg and water until well blended. Unfold pastry on a lightly floured surface. Brush with egg wash.
2. Sprinkle and spread cheese over dough. Add cranberries and rosemary. Season with salt and pepper.
3. Starting at one side, tightly roll it up.
4. Cover with plastic wrap and freeze 45 minutes or until very firm. (To make ahead, freeze up to 2 weeks. Let stand 25 minutes before moving to next step.)
5. Heat oven to 400°F.
6. Slice roll into about 24 (¼ inch) slices. Arrange on 2 parchment-lined baking sheets. Brush with egg wash.
7. Bake for 15 to 18 minutes or until golden brown. Cool on wire rack.
PER SERVING 120 CALORIES; 4g PROTEIN; 8g FAT (4g SAT. FAT); 10g CARBS; 1g FIBER; 2g SUGAR; 146mg SODIUM
2. Twice-Baked Sweet Potato Bar
Prep these spuds with the kids and then let everyone top their own!
Active Time 25 Min
Total Time 13/4 Hours
Makes 10 Servings
Ingredients
5 sweet potatoes, halved lengthwise
2 Tbs. olive oil
4 oz. cream cheese, softened
1 ½ Tbs. light brown sugar
Kosher salt and ground pepper
Toppings: maple syrup, candied walnuts, marshmallows, sliced green onions, crumbled cheese, bacon, sour cream, fresh herbs
1. Heat oven to 350°F. Prick cut sides of spuds with a fork. Rub all over with oil. Place cut-side down on a sheet pan.
2. Bake for 35 to 40 minutes or until just tender. Let sit 15 minutes.
3. Carefully scoop flesh from potatoes, leaving shells intact. Mash potato pulp, cream cheese, and sugar with a potato masher until smooth. Season with salt and pepper. Spoon or pipe mixture into shells. (To make ahead, cover and chill for up to 2 days. Let stand for 15 minutes before baking.)
4. Bake potatoes 25 to 30 minutes more or until golden and thoroughly heated. Serve with bowls of desired toppings.
PER SERVING (WITHOUT TOPPINGS): 169 CALORIES; 2g PROTEIN; 7g FAT (3g SAT. FAT); 26g CARBS; 3g FIBER; 7g SUGAR; 148mg SODIUM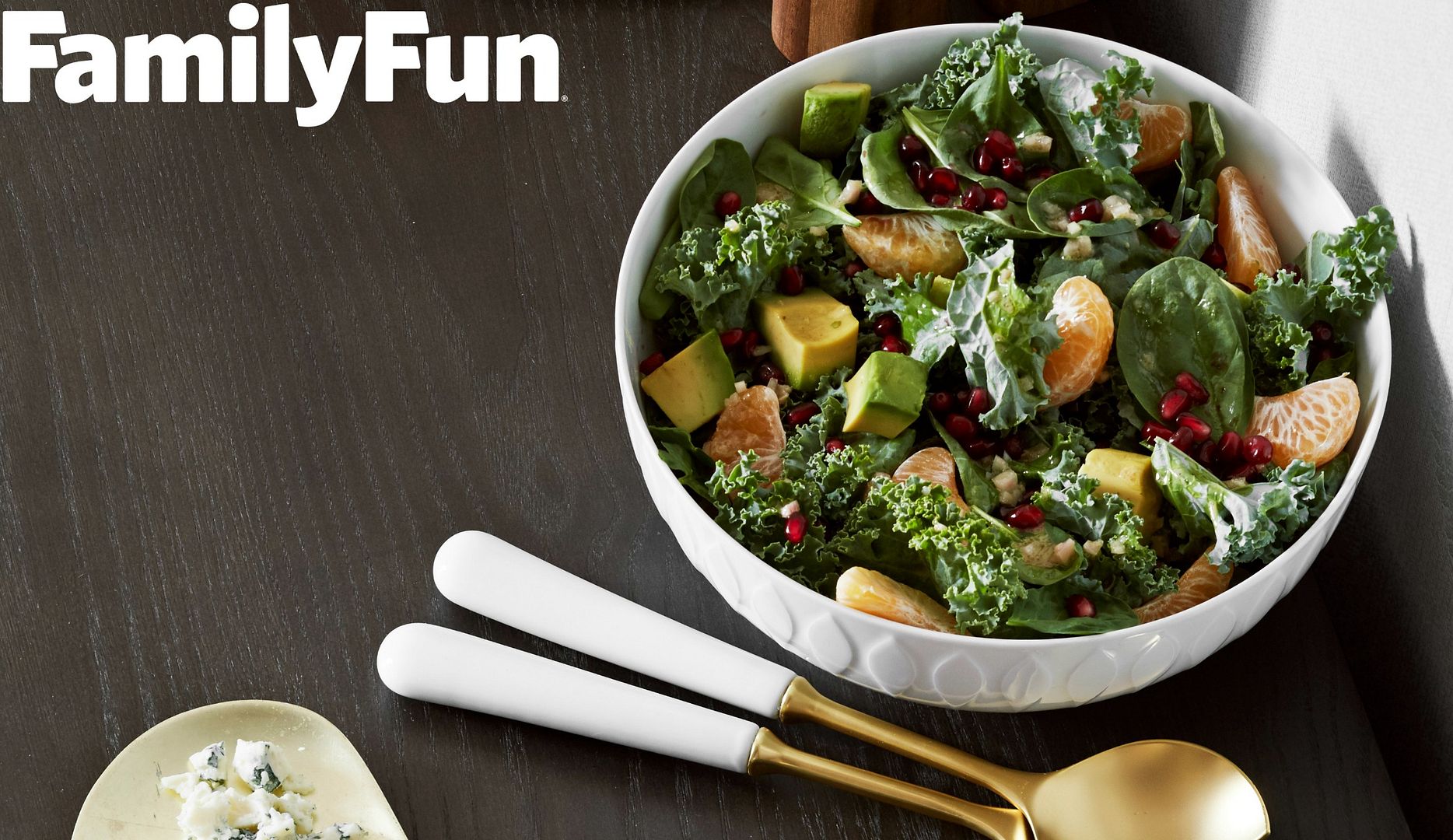 3. Clementine & Kale Salad
Add some green to your table with this salad your sous chefs can assemble.
Active Time 15 Min.
Total Time 15 Min.
Makes 8 Servings
Ingredients
¼ cup extra-virgin olive oil
3 Tbs. red wine vinegar
1 small shallot, finely chopped
1 Tbs. honey
2 tsp. Dijon mustard
Kosher salt and ground pepper
6 cups torn curly green kale
4 clementines, peeled
3 cups loosely packed baby spinach
1 large avocado, peeled and diced
¾ cup pomegranate seeds
1. Combine oil, vinegar, shallot, honey, and mustard in a jar with a lid. Cover and shake vigorously until well blended. Season with salt and pepper to taste.
2. Massage kale with 3 Tbs. of the vinaigrette for 1 minute in a large bowl to tenderize. Add clementine segments, spinach, avocado, and pomegranate seeds, and toss. Season and drizzle with remaining vinaigrette.
PER SERVING 167 CALORIES; 3g PROTEIN; 11g FAT (1g SAT. FAT); 17g CARBS; 5g FIBER; 9g SUGAR;
121mg SODIUM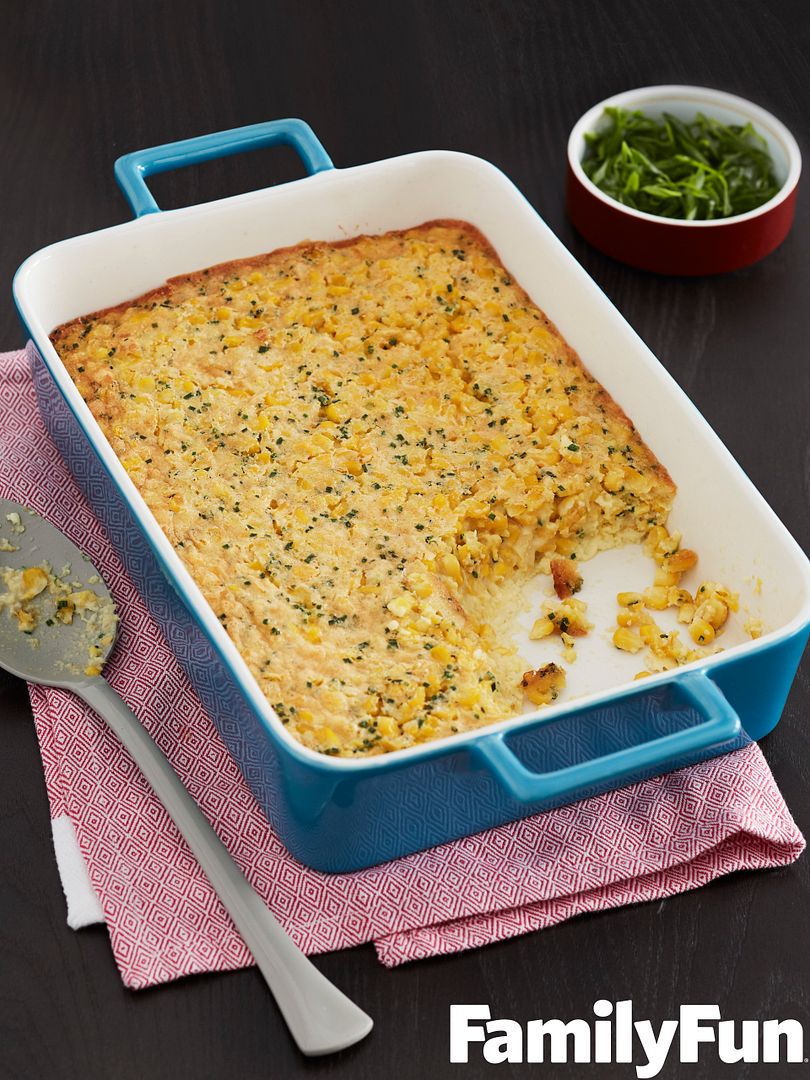 4. Fresh Corn-and-Chive Pudding
All you need is a blender!
Active Time 20 Min.
Total Time 1 Hour, 10 Min.
Makes 8 Servings
Ingredients
4 large eggs
1 cup whipping cream
¼ cup melted butter
3 Tbs. all-purpose flour
3 Tbs. plain yellow cornmeal
2 Tbs. sugar
2 tsp. baking powder
1. tsp. kosher salt
¼ tsp. freshly ground pepper
7 cups fresh yellow corn kernels, divided
⅓ cup thinly sliced fresh chives, plus more for garnish
1. Heat oven to 350°F. Combine eggs, cream, butter, flour, cornmeal, sugar, baking powder, salt, and pepper in a blender and process until smooth. Add 3 cups corn, and pulse 3 times. Stir in remaining corn and chives. Pour into a lightly greased 3-quart baking dish.
2. Bake for 40 to 45 minutes or until puffed and a knife inserted in center comes out clean. Let stand 10 minutes. Garnish with more chives.
PER SERVING 341 CALORIES; 9g PROTEIN; 21g FAT (12g SAT. FAT); 35g CARBS; 3g FIBER; 13g SUGAR; 539mg SODIUM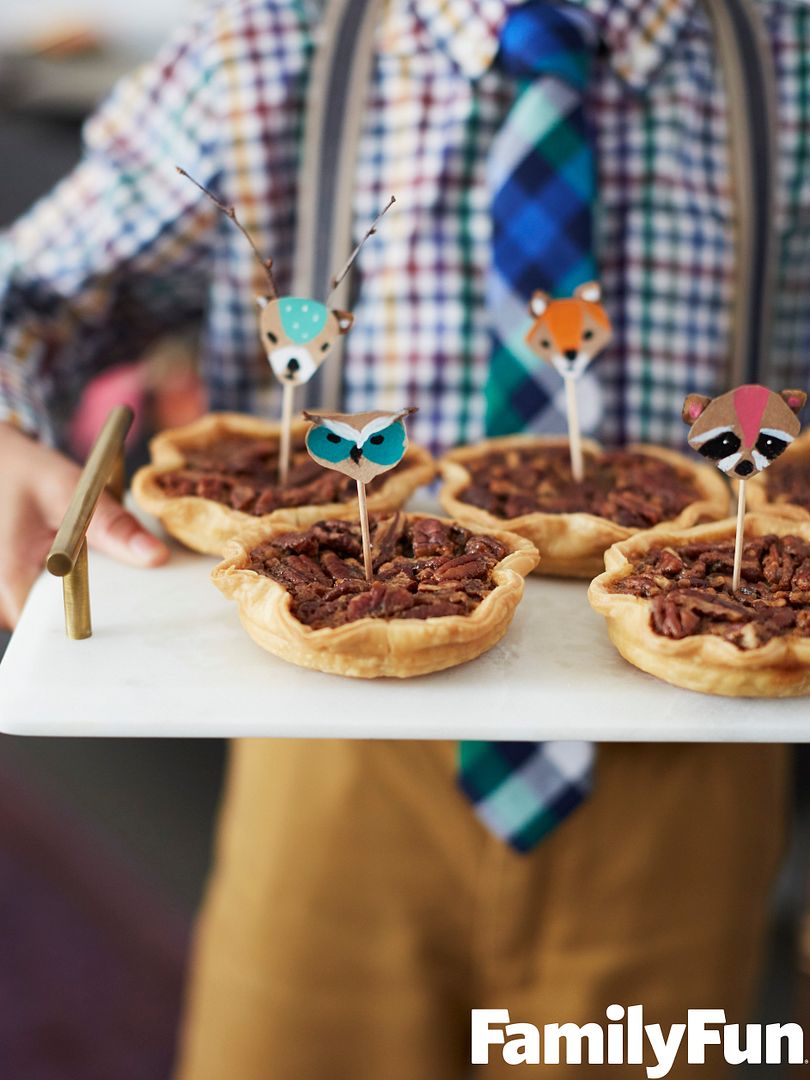 5. Mini Pecan Pies
Your stash of Mason jars just came in extra handy: These pies are baked in their lids! (No jars? Use a muffin tin.)
Active Time 30 Min.
Total Time 1 Hour, 10 Min.
Makes 8 Servings
Ingredients
8 (3.5 in.) wide-mouth Mason jar lids
1 (14.1 oz.) package refrigerated pie crusts (or your own recipe)
½ cup dark corn syrup
¼ cup firmly packed lightbrown sugar
2 large eggs, lightly beaten
¼ cup melted butter
2 tsp. vanilla extract
½ tsp. kosher salt
1 ½ cups coarsely chopped pecans, lightly toasted
1 cup heavy cream
2 Tbs. maple syrup
¼ tsp. ground cinnamon
1. Heat oven to 375°F.
2. Arrange Mason jar rings on a baking sheet; add metal lid inserts, but flip them over so the shiny metal side faces up.
3. Cut each crust into four 4½-inch rounds, using a small bowl as a guide. Freeze at least 20 minutes.
4. Whisk together corn syrup, sugar, eggs, butter, vanilla, and salt until blended. Divide pecans among crusts. Pour syrup mixture over the nuts.
5. Bake on bottom oven rack for 20 minutes or until edges are golden and filling is set. Cool on a wire rack.
6. Beat cream, maple syrup, and cinnamon at medium-high speed with an electric mixer until peaks form. Serve pies with whipped cream. (You can make both a day in advance!)
PER SERVING 611 CALORIES; 5g PROTEIN; 44g FAT (17g SAT. FAT); 54g CARBS; 2g FIBER; 27g SUGAR;
488mg SODIUM