Exergen Smart Glow Thermometer #HGG

The Exergen Smart Glow Temporal Thermometer
All it takes is for one of us to get sick and all of us get sick.  No matter how much I disinfect we always get sick. One of the many things I do not like about my boys being sick is having to take their temperature.
Being a mom of three I have tried my fair share of thermometers. I have tried rectal, forehead strip, oral thermometers, etc. Yet I have always struggled to get accurate readings. Mainly because like most kids my boys do not like having their temperature taken. They can never stay still enough, keep their mouths closed long enough, or manage to keep the thermometer under their tongues.
Lately at the pediatrician's office they have been taking temperatures with a temporal scanner. So I started looking into them and found one that I just had to try.
It is the Exergen Smart Glow Temporal Thermometer.
I tried it out immediately once I received it. I have to say that this is the easiest way to take your temperature, or that of a loved one. This thermometer uses the Temporal Artery on your forehead to get a highly accurate temperature. In case you didn't know the Temporal Artery is located on the forehead and it has a direct connection to the heart via the carotid artery. This artery has a constant blood flow which is needed for an accurate temperature measurement. Because of the location of the artery, it makes this the most convenient and comfortable place to take a temperature.
I really liked that this thermometer is ready to use right from the package. It uses a 9 volt battery, which is included in the package. Another thing I liked is how well the Exergen Smart Glow Temporal Thermometer feels in my hand. It's not bulky or awkward to hold and use. The battery installation was simple and easy as well as the quick version of instructions included. The thermometer has an 8 temperature memory ability which means that it will automatically retain the last 8 temperature readings taken. Another feature is the soft glow display which gives a soft light so that you can read the temps even in a dimly lit or dark room.
I would absolutely recommend the Exergen Smart Glow Temporal Thermometer to anyone who has any temperature taking needs, including those moving on their own for the first time. I also believe that this will make a great gift this holiday season!
You can get the Exergen Smart Glow Temporal Thermometer on Amazon.

Visit the Exergen Consumer website to learn more about this great product! 
You can also connect with Exergen on Facebook and Twitter.
Would you like to win an Exergen Temporal Thermometer? To enter click on the giveaway picture below.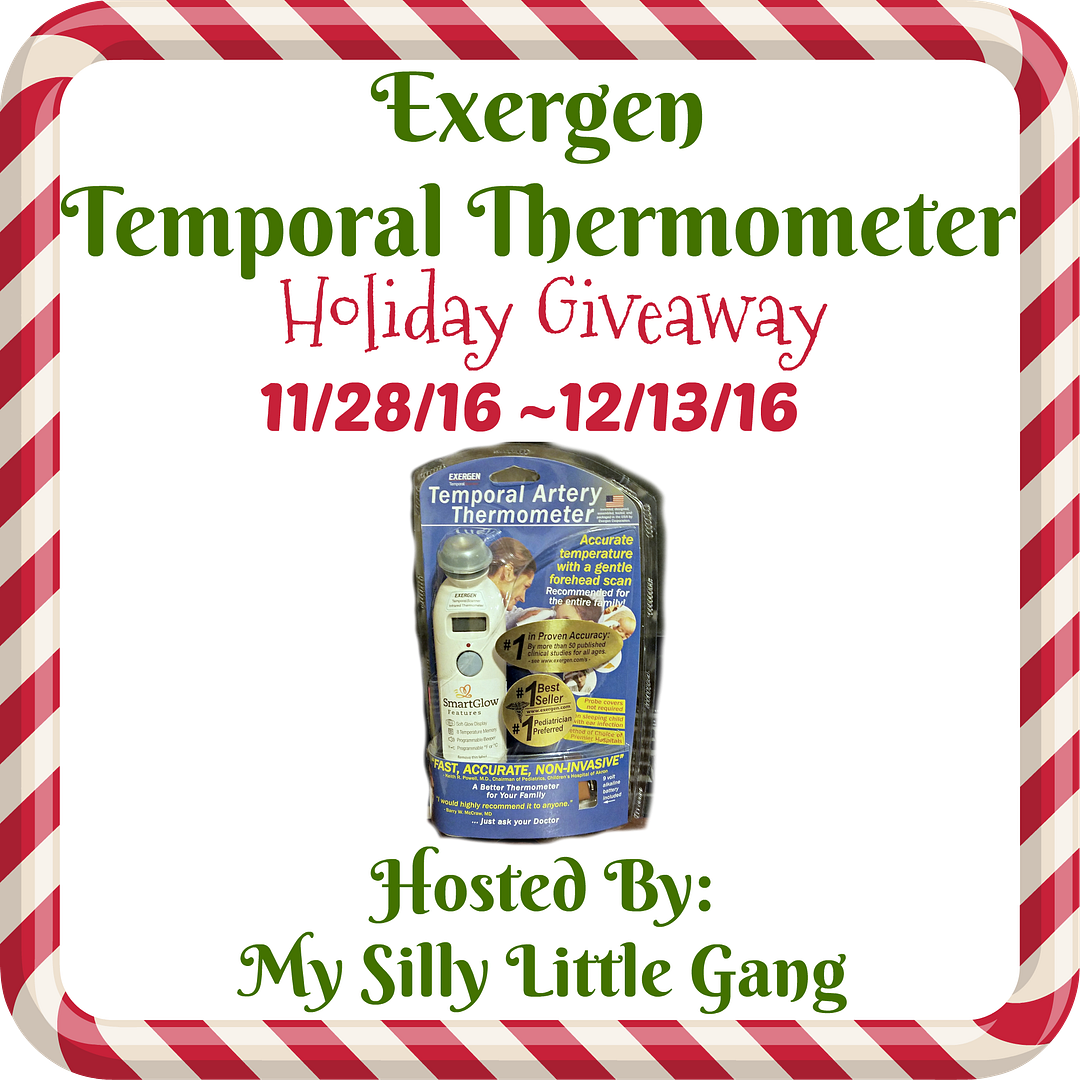 Product Description
The Exergen TemporalScanner™ Thermometer is a non-invasive system with advanced infrared technology providing maximum ease of use with quick, consistently accurate measurements. Advanced, patented technology measures temperatures with a gentle stroke across the forehead.
The thermometer is easy to use, with just a few simple steps: Simply depress and hold its large, soft button and lightly scan across the forehead. A red LED light and soft beep indicate a correct scan.
Nearly two billion temperatures are taken each year with the TemporalScanner™. It is used in thousands of hospitals, clinics and pediatricians' offices across the country, as well as in millions of homes. In addition to being the #1 preference of pediatricians in the United States, it is the #1 preference of nurses, and the #1 selling retail thermometer.
The TemporalScanner™ Thermometer is tested six times for accuracy during manufacture at Exergen's plant in Watertown, Massachusetts and comes with a one-year warranty. It runs on one 9-volt battery (included), and meets and exceeds all regulatory requirements, including FDA, ASTM, EC, and UL.
Created by Harvard-research scientist Dr. Francesco Pompei, the TemporalScanner™ has become one of the most efficient, non-invasive thermometer ever created. The Exergen TemporalScanner's performance is supported by more than 50 peer-reviewed published studies covering all ages from preterm infants to geriatrics and all care areas from hospitals to homes.