Gardens Aglow at Heritage Museums & Gardens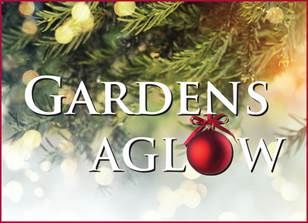 Gardens Aglow at Heritage Museums & Gardens
We love the holiday season because of all the beautiful light displays everywhere. This year we will be visiting a place that is new to us. We will be going to the Heritage Museums & Gardens. They are holding an event called Gardens Aglow. Let me share a little about it. 
Gardens Aglow Transforms Heritage into Winter Wonderland
Beloved family tradition features festive lights, fun activities, and performances
SANDWICH, MASS. – Heritage Museums & Gardens' highly anticipated annual family holiday event, Gardens Aglow, opens on Friday, November 25, and runs each Friday, Saturday, and Sunday evening through December 18, from 4:30-8:30 pm.
More than ten miles of holiday lights will adorn Heritage's 100 acres of gardens and woodlands to create a twinkling wonderland. Throughout the grounds and buildings, visitors can enjoy family-friendly activities, roast marshmallows, enjoy performances, visit with Santa Claus, and enjoy displays of model trains, original lithographs of Currier & Ives winter scenes, and more.
"The winter holiday season offers a unique time to experience Heritage in a new way, and to join with friends and family to create lasting memories," said Ellen Spear, President & CEO of Heritage Museums & Gardens. "We've added some wonderful new elements that make this season all the more special. The popular indoor model train exhibit will be expanded to include two levels, and there will be new activities and indoor displays. These new features, along with our traditional ones, will create new experiences for the families who visit every year and appeal to those who are experiencing Gardens Aglow for the first time."
"Our goal is to highlight the natural beauty of the Heritage gardens," said Les Lutz, Director of Horticulture and Facilities Management at Heritage Museums & Gardens. "Though the summer blooms get all the attention, there is something magical about the quiet stillness of the gardens in winter that the lighting helps enhance."
Among the features of this season's Gardens Aglow:
Lights throughout the grounds will create a total of more than ten miles of twinkling displays.

Two levels of model trains will travel through replicas of well-known bridges. One will be suspended seven feet above the floor in the Special Exhibitions Gallery and pass through the George Washington Bridge and Cape Cod Canal Railroad Bridge, each made of natural elements such as moss, twigs, and branches gathered from the Heritage property. The other will be at visitor level and pass through a replica of the Sagamore Bridge, also made from natural elements.

The popular antique carousel will be decked with festive trimming for visitors' holiday rides.

Holiday-themed music and dance performances by community groups will take place at 6:30 pm in the Automobile Gallery.

On Saturdays, Chip Koser of South Cape Ice Sculptures will demonstrate ice carving. Visitors will see an ice sculpture created, and have opportunities for photos with the sculptures.

Families can create crafts together to take home.

Santa Claus will meet families as he sits in Heritage's vintage Model T.

A reindeer scavenger hunt will take place throughout the grounds.

Marshmallow roasting will be available at cozy outdoor fire pits, and seasonal treats will be available at the Magnolia Café.
For the third year in a row, Heritage Museums & Gardens is partnering with the Sandwich Food Pantry to assist area families.
This season, visitors are asked to bring school supplies, including glue sticks, pencil boxes or pouches, spiral notebooks, highlighter markers, thumb drives, three-ring binders, and #2 pencils. Donation boxes will be set up in The Shop at Heritage at the entrance of the property. The Shop will also be open for purchase of holiday gifts.
Gardens Aglow will take place from 4:30 to 8:30 pm on the following weekends: November 25, 26, 27; December 2, 3, 4; December 9, 10, 11; and December 16, 17, 18.
From December 2-4, Farm Visits traveling petting farm will be at Heritage with cuddly baby goats, piglets, chickens and chicks, bunnies, and more.
Tickets are $15 for member adults, $5 for member youth, $18 for non-member adults, and $7 for non-member youth. Children ages 2 and younger are admitted at no cost. Group discounts are available.

About Heritage Museums & Gardens:
Set on 100 stunning acres of gardens, nature trails, and open spaces, Heritage Museums & Gardens is the only place where you can browse through rare works of art, fly through the trees on a zip line, and see iconic antique automobiles all in one day. Explore Hidden Hollow™, an interactive outdoor discovery area for kids of all ages. Take a ride on the vintage carousel. And find your own special spot on the Cape. For more information, please visit the Heritage Museums & Gardens website, or call (508) 888-3300.