Great Gift For Dads & Grads!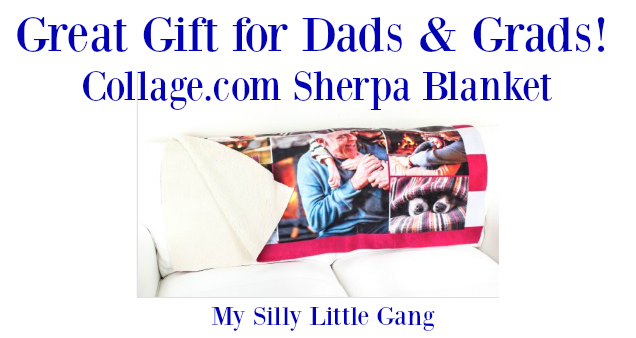 Great Gift Idea for Grads & Dads: Collage.com Sherpa Blanket!
With Father's Day right around the corner and Graduations happening everywhere finding the right gift can be tough. Lucky for me I found a gift that is great for any occasion. This great gift is the Sherpa Blanket from Collage.com. I ordered the 50 X 60 Sherpa blanket as Father's Day gift for my hunny. My boys and I went to the Collage.com website and chose the Sherpa Blanket. We liked this because we wanted something for him to have when he relaxes on the couch to watch his soccer matches.
The Collage.com website is super easy to navigate and very user friendly. Once we had chosen the Sherpa blanket option we got to chose the size we wanted. They had the following options: 50 X 60 and 60 X 80. The 60 X 80 is their "Large" size and covers the top of a standard queen size mattress with no extra over the edges. The 50 X 60 is their "standard" which is the perfect size for a throw blanket on a bed or love-seat. This is the perfect size we needed! After choosing the size we got to upload the pictures for our blanket. We chose a bunch that has just him and the boys and a couple with all of us. It can take up to 5 days for them to make the blanket and they offer plenty of options for shipping, including overnight and international. 
We immediately loved it the minute we saw it, and even more when we touched it! We loved how super soft it is. Collage.com was not kidding when they say their Sherpa blankets are made from their warmest Sherpa arctic fleece for a cozy blanket perfect for winter. Aaron even insisted that he HAD to test it out for daddy. 
As you can tell by the smile on his face, this blanket is perfect! We can't wait to give it to daddy. Another great thing about these blankets is that they are machine washable so that makes it easy to take care of. 
Aside from Father's Day this blanket would be great for Grads because you can fill it with family pictures and have them take it off to college! Not only does Collage.com have Sherpa blankets, they also have so many other products that make wonderful gifts! They are the perfect place to go when looking for a special gift for any occasion.
Be sure to check out Collage.com's Current Deals and their Graduation Gift Guide! Also check them out on Facebook, Twitter, Instagram and Pinterest.