Whipped Strawberry Honey Butter Recipe
10-Minute Recipe Idea: Whipped Strawberry Honey Butter
I love strawberries! They are so versatile and in our home we use them everywhere. Smoothies are our favorite way to use this delicious berry but we also put them in pancakes, muffins, cereal, salads and my personal favorite with sour cream and a little bit of sugar! I had never tried them as a spread, I know crazy right!
Recently I received an email asking me to share with you a recipe using this specific berry! Of course I first had to test out this recipe to see if it was worthy to share with you. I gotta say, this recipe is beyond delicious! I hope you enjoy it as much as we do!
Whipped Strawberry Honey Butter
Prep: 5 mins / Cook: 5 mins / Total Time: 10 mins
Ingredients
1 cup butter
1 cup honey
1 teaspoon vanilla extract
¾ cup Crunchies Strawberries
Instructions
Whip softened butter in a mixer until smooth. Be sure no lumps remain.

Add honey and vanilla and mix until combined.

Add Crunchies Strawberries ¼ cup at a time and mix until butter is fluffy and pink.

Refrigerate butter until firm.

Spread the butter on your favorite bread and enjoy!
We were lucky enough to receive all seven of the delicious flavors that Crunchies has to offer, we couldn't wait to dig in! I love the Mixed Berry one because I can get so many amazing flavors in one serving. My boys all have their own favorites, Diego loves the Cinnamon Apples, Aaron loves the Strawberry Banana, Matias loves the Grapes and my hunny loves the Pineapple. All the flavors are amazingly delicious and we will definitely be getting more of them once were out of these. Crunchies has taken over the boys' lunchboxes as the preferred snack! Here is a little more about Crunchies. 
Crunchies Freeze-Dried Fruit Snacks Keep It Simple
Company Delivers Nutrition, Flavor & Convenience with Just One Ingredient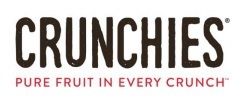 Facebook / Twitter / Instagram / Pinterest
Westlake Village, CA — Let's get real. That's the motto for new and improved natural food company Crunchies and its tasty line of all-natural, freeze-dried fruit snacks. With just one simple, authentic ingredient – fresh fruit – Crunchies has developed a snack food that's not just addictive and delicious but packed with impressive nutrition to boot. 
Unlike traditional heat drying, the freeze-drying method used by Crunchies ensures that fresh fruit retains its nutritional value while enhancing shelf life—and creating that satisfying crunch. After harvesting, fresh fruits are promptly frozen and undergo a low-pressure drying process in which frozen water is removed directly as steam, bypassing the liquid state. As a result, Crunchies products retain most of the nutrients of fresh, whole fruit, making them a smart food choice for consumers of all ages. Plus, each serving of Crunchies is only around 40 calories. 
Due to its responsible sourcing practices and commitment to traceability, Crunchies is the only U.S. consumer freeze-dry brand that is vertically integrated farm to fork. And because the company wants customers to feel confident knowing where their food comes from, it insists on close relationships with international farmers and suppliers. In addition to supporting local economies across the globe, Crunchies respects its American roots as the only company in the category to maintain most freeze-drying operations within the U.S. 
"We are simplifying the lives of active, health-conscious shoppers by offering a snack that's hands-down the best in terms of ingredients, nutrition, taste and convenience," says Scott Jacobson, president and CEO of Crunchies Natural Food Company. "Our hope is that, by giving people a new way to enjoy pure fruit, we can help them make better choices for themselves and their families." 
Available in both single-serve packs and larger grab-n-go resealable pouches, Crunchies freeze-dried products provide a much-needed respite from junk foods and fruit snacks that contain little to no fruit. They contain no added sugar and no artificial flavors or coloring and are non-GMO, gluten-free, vegan, kosher and halal certified. Crunchies' product line includes strawberries, mango, pineapple, blueberries, raspberries, grapes, cinnamon apple, strawberry banana and mixed fruit. 
Crunchies products are now available in stores nationwide for an SRP of $4.99 – 5.99 for resealable pouches and $1.25 for single-serve bags. For more information and to purchase via the company's website, please visit them here. 
About Crunchies 
Founded in 2004, Crunchies Natural Food Company was the first consumer brand to focus on freeze-dried snacks. Recently acquired by Chaucer Food Group, Crunchies offers a variety of delicious freeze-dried fruits that are ideal for eating on their own or in recipes. Committed to responsible sourcing and traceability, Crunchies is the only U.S. consumer freeze-dry brand that is vertically integrated farm to fork. All Crunchies products feature only one ingredient – fresh fruit – and are Non-GMO Project Verified, Gluten Free Certified, vegan, Kosher Parve and Halal with no added sugar or artificial flavoring. For additional information, visit them on their website or engage with the brand on Facebook, Twitter, Instagram, and Pinterest.