Purifyou Glass Water Bottle #purifyou #glasswaterbottle
Purifyou Glass Water Bottle, Great For Using With Essential Oils!
I love this glass water bottle from Purifyou! It's so stylish with it's silicone sleeve and cap with a finger loop. Both of these things make this glass bottle very comfortable to hold. The loop in the cap also makes carrying this water bottle easy, I can just clip it to my gym bag and off I go.
Another reason I love glass water bottles is that I use essential oils in my water and glass water bottles are best for that. Wondering why that is…well having a pure glass water bottle means that you can add essential oils to your water without the worry that compounds in your essential oils are dissolving the plastic bottle.
So if you're like me who needs to keep up with water intake but gets bored fast of that plain water taste. You should definitely try adding essential oils to your water. I love using peppermint in my water but mostly I love using citrus based essential oils like grapefruit, lemon, lime, orange and tangerine! There are so many wonderful benefits associated with citrus based essential oils.
Here are some of them:
Antioxidant
Mood enhancing
Digestive
These are only some of them but these are why I use them.
If you are interested in buying some essential oils, you can get them here.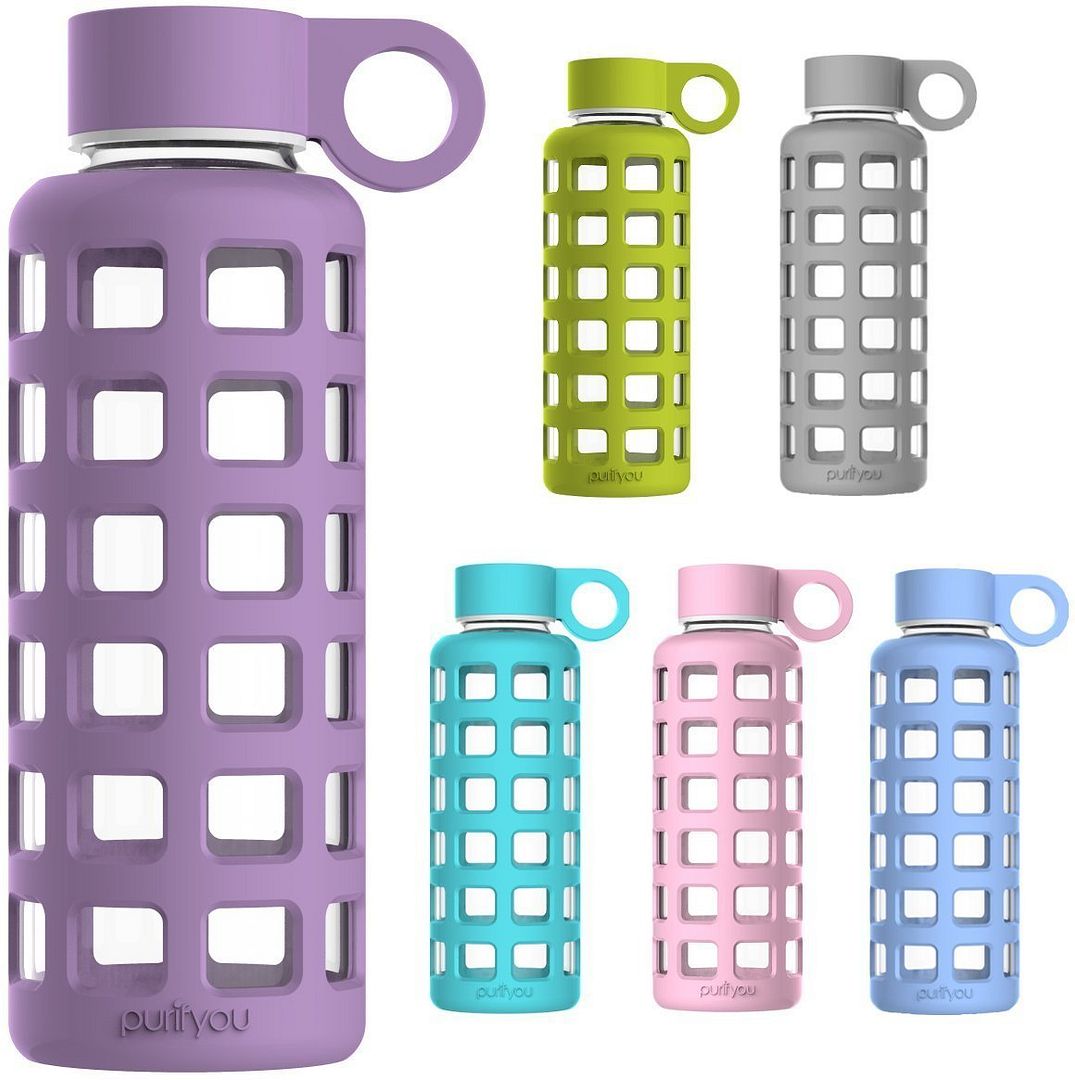 Back to this wonderful glass water bottle! I really like the assortment of colors it comes in, makes me want to get all of them! All of them have the same great silicone sleeve.
Get your Purifyou Glass Water Bottle with Silicone Sleeve on Amazon.

Product Description
IT'S TIME to purify your lifestyle, and change the way you drink water. Glass is 100% recyclable, and doesn't leach harmful chemicals or unwanted flavors into your water like plastic or metal.

Our glass water bottle is reusable as many times as you'd like, and is entirely BPA free, Phthalate free, PVC free, lead free, cadmium free and worry free. Try finding that in another bottle. Plus, it's made from high borosilicate glass, which is more heat resistant than any other commonly used glass. Now you can save the planet and enjoy your warm tea too. Still worried the glass might break? Not so fast – our glass is the most durable in consumer retail, and with the added food-grade high-impact-resistant silicone sleeve for drop protection who knows what you'll be capable of (dropping from the 3rd floor of your office building is still not recommended though).

Our lid and glass bottles are optimized for YOU. With just the right size between a narrow mouth and wide mouth, the lid is also quick to twist off and 100% leak-proof. Our silicone sleeve also acts as an insulator, keeping your beverage hot or cold for extended use. Making the perfect container, our glass bottles will also brave any weather conditions your home puts them through, because they're microwave safe, dishwasher safe, and freezer safe (do not overfill for freezer use though!).

At an easy 7.5 inches tall and weighing in at about half a pound, you just might find yourself taking your bottle to all sorts of new places. From the yoga mat to those high profile business meetings, our bottle also looks great in your purse or with kids on the go.

HELP SAVE THE WORLD TOO, because with every glass water bottle purchased, a portion of our profits is sent directly to building water wells for impoverished communities in Africa. Being a hero for those in need has never been easier. Each bottle sold separately.