Antique Wooden Jewelry Box Review #valdler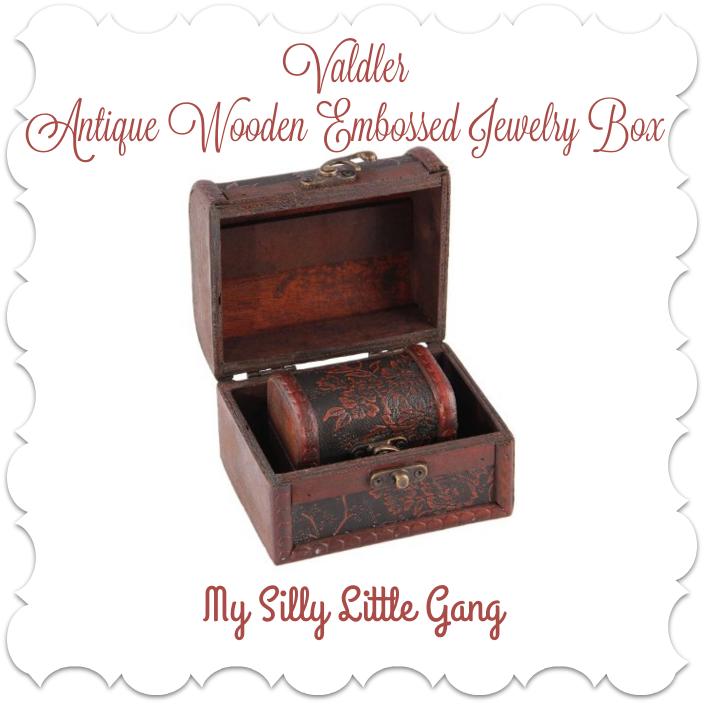 Valdler Antique Wooden Embossed Flower Pattern Jewelry Box Set
I have tons of jewelry and I am bad because I keep them all in a coffee mug. I know you're probably thinking I'm totally weird right. Well really I keep it there because I had never found a jewelry box that I liked enough to buy it. I absolutely love antique looking accessories so this was the perfect jewelry box set for me. I really like that I can keep my rings in the small one and my bracelets and necklaces in the large one. I have them on my vanity and absolutely love them. I also like that the small one can be nestled in the large one for gift giving.
You can get this adorable Valdler Antique Wooden Embossed Flower Pattern Jewelry Box Set on Amazon.

Product Description
Description:
* Valdler offers you jewelry boxes with premium quality and innovative design.
* This vintage wooden jewelry box crafted with lacquer and embossed flower is perfect for storing earrings, bracelet, rings, keepsakes, photos or other jewelry.
* Also ideal ornament for your dressing table.
* Portable and compact, great for home or outdoor travel.
* A small box is included in the big one, which is very cute.
Package Included:
1 x Big Wooden Jewelry Box
1 x Small Wooden Jewelry Box
Attention:
* Airing out the box for a few days upon receipt due to a little odor.
* Drying it away from direct sunlight to prevent the color from fading.
Excellent wooden workmanship jewelry box

A small box is included in the big one

Vintage handle is easy to carry and decorative clasp is perfect for keeping jewelries safely

Color: as the picture shows (the flower pattern might be a little different from the picture)

Dimension (L x W x H): 4.5″ x 3.7″ x 3.55″ / 11.5cm x 9.5cm x 9cm (big one); 2.95″ x 2.2″ x 2.4″ / 7.5cm x 5.5cm x 6cm (small one)