Advanced Color Care System Review #advcolorcare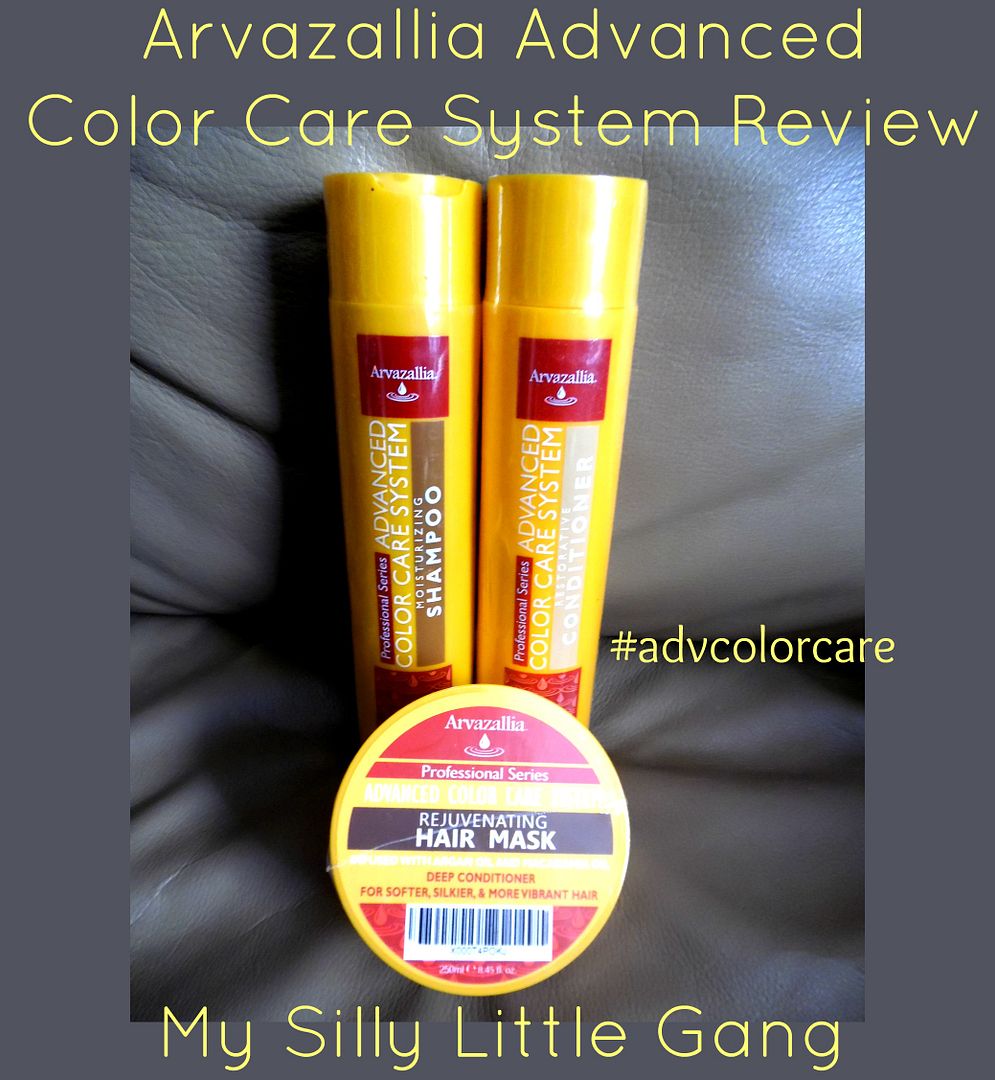 Arvazallia Advanced Color Care System Review
I have been coloring my hair since I was 15, I know that seems young. I wasn't covering up grays back then, I was coloring my hair because I loved how I looked in burgundy. Now I color my hair because I desperately need to cover grays. With so many years of coloring my hair is seriously damaged. That's why when I heard about the Arvazallia Advanced Color Care System I just had to try it! I couldn't wait, so as soon as I received it I tried it out. Let's start with the shampoo & conditioner.
Advanced Color Care Moisturizing Shampoo
This shampoo is sulfate & paraben free and contains both Argan & Macadamia Oil, which is great for color treated hair. It takes the about the average amount of shampoo to wash my hair, it also suds well. I really like that it rinses out easily, it has a very light fresh scent.
Advanced Color Care Restorative Conditioner
Just like the shampoo this conditioner is also sulfate & paraben free and contains both Argan & Macadamia Oil. Also just like the shampoo the scent is light and fresh. When using this conditioner along with the Advanced Color Care Moisturizing Shampoo I have noticed that my hair has more volume and shine!
Rejuvenating Hair Mask and Deep Conditioner
This mask gives my color treated hair the deep conditioning it so desperately needs! The scent of this mask is amazing! I use it twice a week. I apply it right after washing my hair, I love how it instantly makes my hair feel so much softer.  It also increases the color in my hair!
Bottom line… this advanced color care system from Arvazallia is amazing!
You can get the Arvazallia Advanced Color Care System on Amazon.

Product Description
The Arvazallia Advanced Color Care System with Argan Oil and Macadamia oil is a premium hair care system designed for the unique hair care needs of color treated hair. The advanced proprietary formulas in each product is designed to protect and extend the life of hair coloring treatments while also preventing and repairing damage, dryness, and other issues associated with the application of hair color treatments.
 
This 3-part system is made up of a specially formulated sulfate-free shampoo, conditioner, and deep conditioning hair mask that when used in combination will help you maintain vibrant long lasting color and will also instantly improve your hair's texture and manageability. Our exclusive MRV3 Complex™ formulation locks in moisture, repairs and prevents damage, and gives your hair added body and volume. Infused with Wheat Protein, Aloe Vera, Argan Oil, and Macadamia oil it also repairs, strengthens, and nourishes your hair with essential nutrients while also promoting natural hair growth. This system will Protect, Rejuvenate, and Beautify your hair.