Mango Blueberry Pineapple Smoothie Recipe #Activz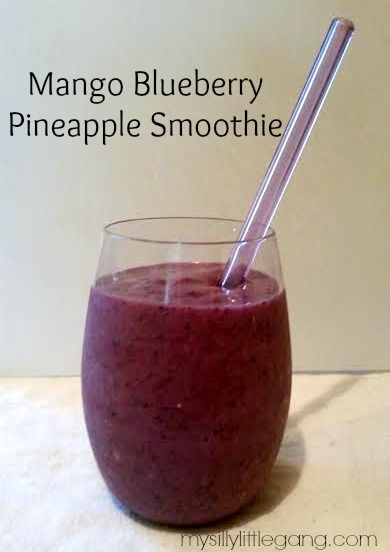 Easy and delicious Mango Blueberry Pineapple Smoothie Recipe
Here is an easy and delicious smoothie recipe that I love to make for my boys and for myself. I always worry that my boys aren't getting enough fruits and veggies in their diet. That's why I now incorporate Activz Complete into their diet. Let me share the recipe for this great smoothie with you and them I'll tell you more about Activz Complete. This recipe gives me 5 servings.
Ingredients:
2 Cups Frozen Mango
1 Cup Frozen Blueberries
1 Can (20 oz) of Pineapple chunks (with juice)
1 Cup Skim Milk
Activz Complete 
Directions:
1) Add all ingredients except the Activz Complete to a blender and blend until smooth.
2) Serve the smoothie and add 1 scoop of Activz Complete to each serving, stir in and enjoy.
About Activz Complete: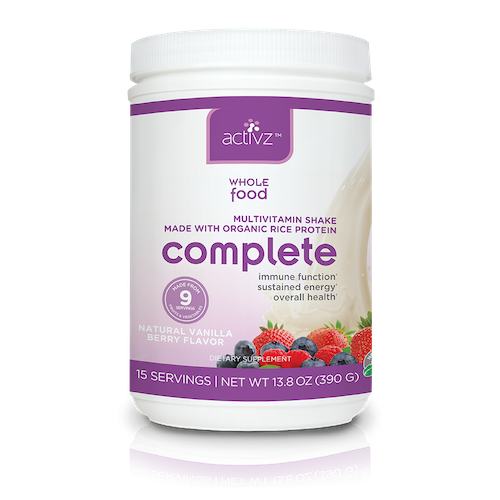 Did you know?
According to the CDC, Americans eat fruit only about 1.1 times per day and vegetables 1.6 times per day (2013). But thanks to declining nutrient values in fresh produce over the past 50+ years (HortScience, 2009), even dedicated veggie eaters are at risk for some nutrient deficiencies. Activz Complete helps fill the gaps in even the healthiest diets by offering optimized amounts of essential nutrients from whole fruits and vegetables.
Access the benefits of organic whole foods with Activz Complete, one of the two flagship multivitamins of the Activz brand. Specifically designed to provide robust immune support and sustained overall health† from the power of whole foods, Complete provides a balanced spectrum of nutrients from 9 servings of fruits and vegetables — the same number of daily servings recommended by the CDC and USDA to support overall health. Each serving:
Delivers nutrients in shake form, providing a convenient, delicious alternative to swallowing capsules.

Can be enjoyed on-the-go as a healthy snack or workout recovery beverage.

Offers phytonutrients from 9 servings of fruits and vegetables — no washing, slicing or juicing required.

Supports healthy immunity by providing 22 of the vitamins and minerals your body uses most.†
Supports nutrient absorption through a proprietary blend of amino-acid-chelated minerals.†
Offers essential omega fatty acids for brain and heart health.†
Supplies plant enzymes to target nutrient absorption and support healthy energy levels.†
Supports a healthy digestive system with 10 strains of probiotics.†
Supports vision, cell integrity and more.†
Uses:
Energy shake
Multivitamin supplement
Recovery drink
Healthy snack
Activz's revolutionary new line of produce powders helps individuals quickly increase the nutritional value of any meal. This easy-to-use, preservative-free whole-food powder line—available in a variety of organic fruit, vegetable and grass options—retains all the nutrition of fresh produce while also being shelf-stable, preventing food waste. The powders are especially valuable for sneaking extra fruits and veggies into your kids' favorite dishes; we call it the "Stealth Health Revolution"! 
Simplifying whole-food supplements that provide busy people with complete health support is also our passion, and we provide options in a convenient pill and shake perfect for both kids and adults.
Visit the Activz website to look at all their wonderful products. You can also connect with them socially on Facebook, Twitter, Pinterest, Instagram and Slideshare.