Thomas Land is coming to Edaville USA
No compensation of any kind was received for this post. 
First-Ever Thomas The Tank Amusement Park Grand Opening August 15th 2015!
My family loves going to Edaville USA, especially during cranberry season. Seeing the cranberry bogs is absolutely breathtaking! You can read about our visit there by clicking here. My boys are HUGE Thomas the Tank Engine fans. So when we heard that the First-Ever Thomas The Tank Amusement Park "Thomas Land" is coming to Edaville USA we were excited. I had to share this information with you! 
MATTEL & EDAVILLE USA ANNOUNCE TICKETS FOR THE FIRST NORTH AMERICAN THOMAS LAND™ NOW ON SALE
With the Grand Opening of Thomas Land on August 15th, Island of Sodor Comes to Life in New England's Famed Edaville USA for Thomas the Tank Engine's 70th Anniversary & Edaville USA's 70th Anniversary!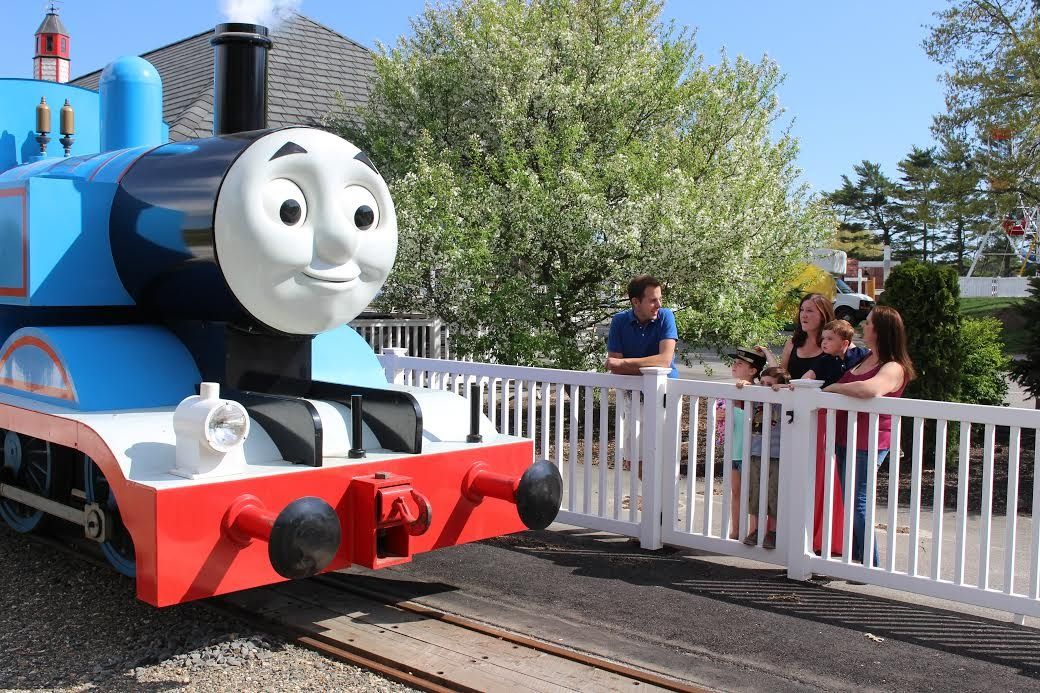 Families Will be Able to Enjoy a Variety of Thomas & Friends® Experiences Across North America Throughout 2015
New York, NY (May 20, 2015) – Peep! Peep! This August, everyone's favorite #1 blue engine and the Island of Sodor will come to life at Thomas Land™ at Edaville USA.  Tickets to the first Thomas Land™ theme park in North America are now on sale at Edaville.com/ThomasLand. Mattel has teamed up with Edaville USA, a family amusement park and heritage railroad located in South Carver, MA to open Thomas Land, the largest permanent Thomas & Friends® attraction in North America.
Thomas Land at Edaville USA welcomes visitors for the first time as part of Thomas the Tank Engine's 70th anniversary global celebration in 2015, and Edaville USA's 70thanniversary.  The grand opening of Thomas Land this summer on Saturday, August 15, 2015 continues a year of celebration for Thomas & Friends in 2015 as the brand celebrates its 70th anniversary with new content, partnerships and activations around the globe.
Thomas Land™ is set in the lush New England landscape of Edaville USA, covering 11.5 acres and boasting 11 rides based on Thomas & Friends and the Island of Sodor.  Attractions at Thomas Land will feature a 20-minute long, scenic train ride on a life-sized Thomas the Tank Engine™, and theme park favorites including a roller coaster, drop tower, Ferris wheel, soft-play area and much more. 
All of the rides and attractions will feature full scale and working models of beloved characters such as Thomas, Diesel, Toby, Cranky the Crane, Harold the Helicopter, and more favorites.  Guests can visit familiar destinations around the Island of Sodor like Tidmouth Sheds, Knapford Station, and Brendam Docks.  Sir Topham Hatt, Controller of the Railway on the Island of Sodor, will be on site to greet and take photos with guests.  Even more details will be revealed leading up to the park's grand opening.  Tickets for Edaville USA, including Thomas Land™, are on sale now and available by visiting Edaville.com/ThomasLand.  Ticket prices are $29 per person for ages 3 and up.  
For Thomas fans who can't wait for the opening of Thomas Land, little engineers will be able to enjoy a Thomas & Friends experience at other exciting venues throughout 2015.  These attractions include: 
Day Out with Thomas: The Celebration Tour 2015 is a fun-filled event that provides children of all ages the opportunity to climb aboard and take a ride with Thomas as well as participate in Thomas & Friends themed activities.  The tour, now in its 20th year, will make stops in 42 U.S. cities and is expected to welcome nearly one million passengers in 2015. At each stop, little engineers and their families are invited to take a 25 minute ride on their favorite engine, meet Sir Topham Hatt®, and enjoy a day of Thomas & Friendsthemed activities including arts & crafts, storytelling and more. Tickets for Day Out with Thomas: The Celebration Tour 2015 are on sale now and available by calling Ticketweb toll-free 866-468-7630, or by visiting dayoutwiththomas.com or ticketweb.com/dowt. 
Introducing children to Thomas the Tank Engine™ and his engine friends from the Island of Sodor in an interactive learning environment, Thomas & Friends: Explore the Rails is a touring children's museum exhibit that combines exciting play opportunities with important concepts in Science, Technology, Engineering, and Math (STEM). Thomas & Friends: Explore the Rails will be at Creative Discovery Museum in Chattanooga, TN, from

May 23-September 13, 2015

and at Discovery Children's Museum in Las Vegas from September 26, 2015 through

January 10, 2016

.  For more museum exhibit locations and dates, please visit events.hitentertaiment.com.
# # # 
About Thomas & Friends®
Thomas the Tank Engine™ was created by a father for his son 70 years ago and today is enjoyed by families in more than 300 territories and in over 40 languages.  The No.1 blue engine and his friends invite children to enter a world of imagination through the tracks of a train and the words of a story. Children embark on adventures with their engine friends while experiencing timeless life lessons of discovery, friendship and cooperation. Thomas & Friends makes tracks to great destinations on PBS KIDS® and Sprout® in the US and on Five's Milkshake! and Nick Jr in the UK and on CCTV in China.  Downloadable episodes are available through iTunes. For more information about the world of Thomas the Tank Engine™ and his friends, please visitwww.thomasandfriends.com and follow Thomas on Facebook at facebook.com/thomasandfriends, Twitter @ThomasFriends and Instagram @ThomasandFriends
About Edaville USA
The heritage railroad was started shortly after WWII by Ellis D. Atwood, who built a 5½ mile rail bed around his then 1,800-acre cranberry plantation, where he then installed two-foot narrow gauge rails and trains he had purchased in Maine.  Edaville USA, originally named for Atwood's initials, opened in April of 1947 and is thought to be one of the world's first tourist railroads.  Atwood used the railroad to harvest cranberries and take tourists sightseeing through the plantation.  Today Edaville is one of the last amusement theme parks in New England that caters primarily to young children and their families, which often span several generations. www.edaville.com
About Mattel
The Mattel family of companies (Nasdaq: MAT) is the worldwide leader in the design, manufacture and marketing of toys and family products. Mattel's portfolio of best-selling brands includes Barbie®, the most popular fashion doll ever produced, Hot Wheels®, Monster High®, American Girl®, Thomas & Friends® and Fisher-Price® brands, including Little People® and Power Wheels®, MEGA® Brands, including MEGA BLOKS® and RoseArt®, as well as a wide array of entertainment-inspired toy lines. In 2013, Mattel was named one of the "World's Most Ethical Companies" by Ethisphere Magazine and in 2014 ranked No. 5 on Corporate Responsibility Magazine's "100 Best Corporate Citizens" list. With worldwide headquarters in El Segundo, Calif., Mattel's companies employ nearly 30,000 people in 40 countries and territories and sell products in more than 150 nations. At Mattel, we are Creating the Future of Play. Visit us at www.mattel.com, www.facebook.com/mattel or www.twitter.com/mattel.
No compensation of any kind was received for this post.