Great Escape and Splashwater Kingdom A Six Flags Theme Park
Great Escape and Splashwater Kingdom A Six Flags Theme Park
Hey guys this past Friday we had been invited to visit Great Escape and Splashwater Kingdom. Unfortunately our car broke down on the way there so we couldn't make it. Anyway I still want to tell you about this amazing Six Flags Theme Park! Let me start by telling you that this theme park is located in Queensbury, NY 12804 which is a great location because if you don't live in NY you can make a fabulous mini vacation for your visit. For example you can enjoy a memorable visit to beautiful Lake George, New York. The Great Escape & Splashwater Kingdom is an easy drive within New York State, from New England, or even from parts of Canada!
The Great Escape to Debut Buccaneer Beach at Splashwater Kingdom in 2015. This area will offer pint-sized pirates fun ways to explore and cool off!
Six Flags Great Escape today announced the addition of the newly renovated Buccaneer Beach in 2015. The restoration and transformation of Noah's Sprayground, the most popular children's area in Splashwater Kingdom, will offer children and young families a brand new place to cool off on hot summer days.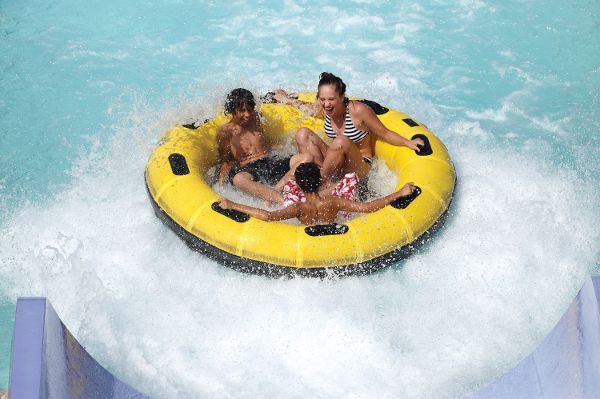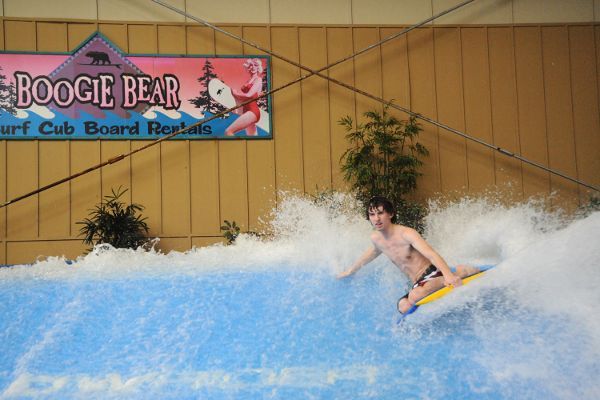 The refreshed and re-themed pirate adventure will feature pop jets, splash pads, children's slides and water elements offering endless water park fun. The expansion to the upper water park will include new pool deck space and increased shaded water park seating.
Buccaneer Beach is scheduled to open spring 2015 in the center of upper Splashwater Kingdom.
"We are thrilled to rejuvenate this beloved family attraction in Splashwater Kingdom," said Eric Gilbert, park president, Six Flags Great Escape Resort Properties. "The introduction of Buccaneer Beach is in direct response to our guests' feedback and will breathe new life into this historic area of our beautiful water park."
And of course along with Splashwater Kingdom you can still enjoy all the fun attractions/rides that Great Escapes offers!! Like the COMET!
You'll see it on the map, looming over the whole park, before you even step foot on a ride. The massive 4,200-foot wooden coaster that forms an immense back wall of the park has an unbelievable history. Part of it was first built in 1927. It was known as Cyclone way back then, and it was famous in its day for being one of the most thrilling rides on earth. It was rebuilt in 1947 and redesigned into a space shooter when it was renamed The Comet. The Comet will blow you away with its perfect layout of high-airtime drops of up to 85 feet. All that practice has resulted in a finely calibrated ride that will knock your socks off in the way only a classic wooden ride can. Read more about it and watch a video Here.
Another favorite of ours is the EXTREME SUPERNOVA!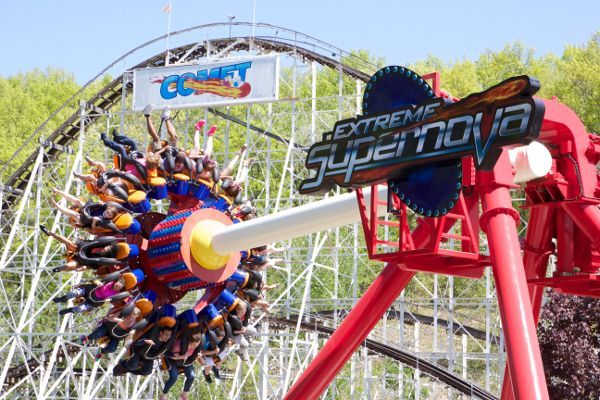 This new high-flying ride lifts you up 50 feet in the air then spins you head-over-heels for an adrenaline-packed adventure. After the heart-racing swings and stomach-tightening flips, you won't be able to tell which way is up. Get more facts, photos and a video Here.
And if you're like us who don't live in NY, you don't have to worry about lodging because you can stay at the Six Flags Great Escape Lodge!
Located across from The Great Escape & Splashwater Kingdom, a Six Flags theme park, the Six Flags Great Escape Lodge & Indoor Water Park is redefining the family vacation experience. Open year-round, the property features 200 suites with a 38,000-square foot indoor water park. The décor of the Six Flags Great Escape Lodge & Indoor Water Park reflects the hotel and water park's Adirondack setting and includes a grand Adirondack-style lobby with exposed wood beams and a dramatic floor to ceiling stone fireplace.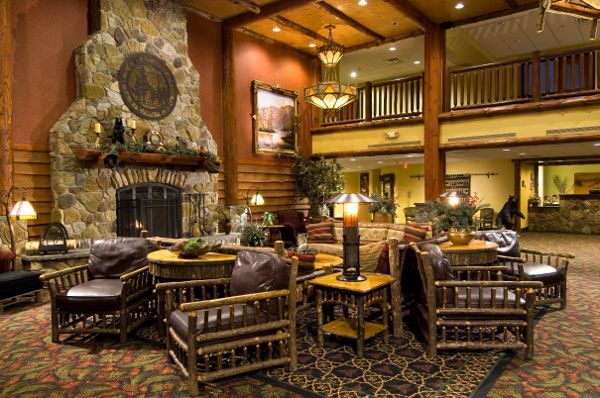 From the excitement and thrills of WhiteWater Bay to the all-new Adventure Trek: Quest of the Guardians interactive game, the Lodge is an endless summer escape. Get more information here.
Season Passes are on sale now for as low as $59.99 and when you buy four or more you receive free parking at The Great Escape.
For more information, visit their website. For more information about upcoming 2015 Six Flags rides and attractions, including a video highlighting the new rides and attractions, visit Here.
You can now get social with the get social with Great Escape on Twitter, Facebook and Instagram.