Pollo Entomatado Recipe & Redpack Tomatoes Giveaway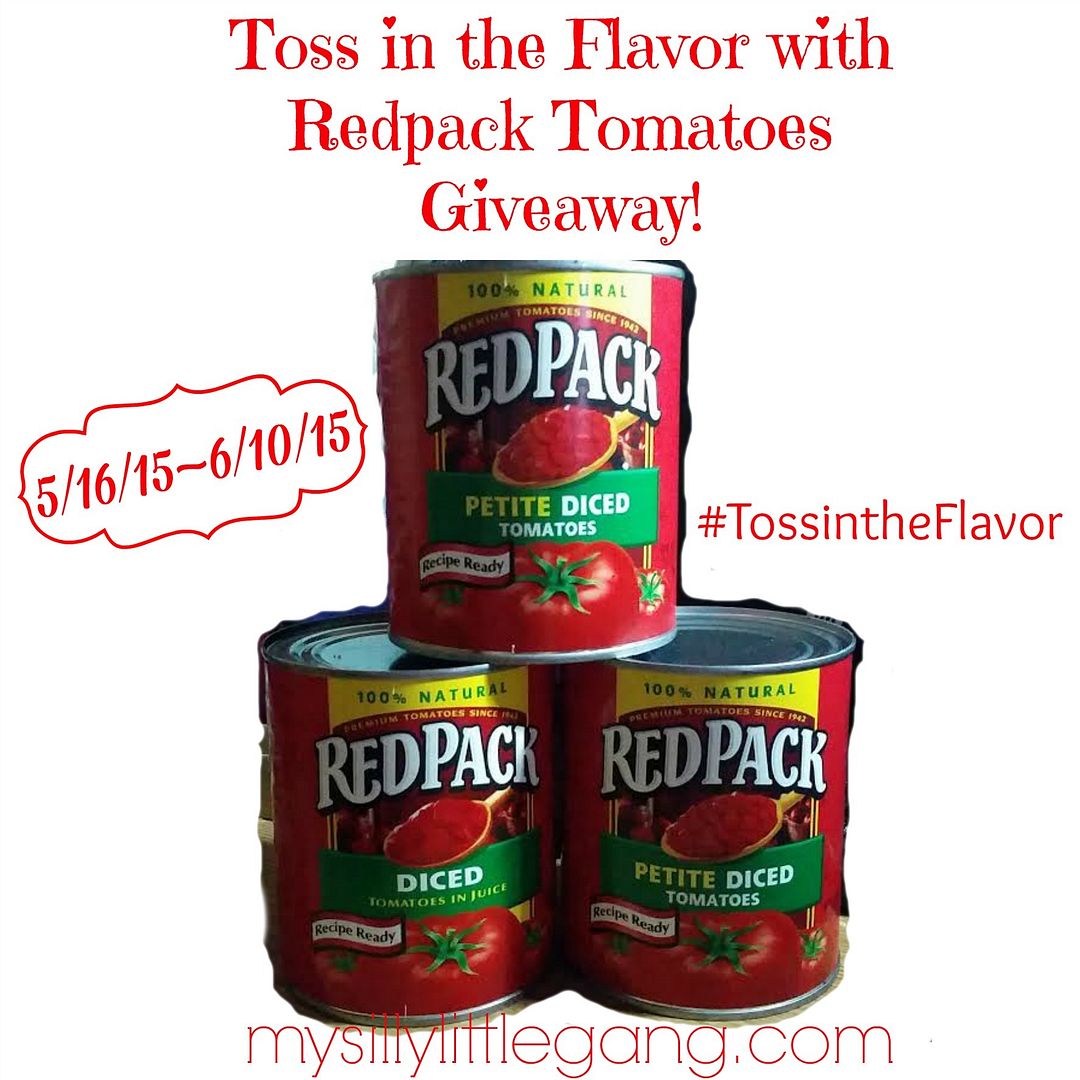 Pollo Entomatado Recipe featuring: Redpack Tomatoes
I wanted to share with you a quick and easy recipe for a delicious Pollo Entomatado! Pollo Entomatado means Tomato Chicken. And I love to serve this versatile protein either with a side of rice or my ultimate favorite is as a warm salad. In celebration of National Salad month which is this month of May, I wanted to share this delicious chicken dish with you.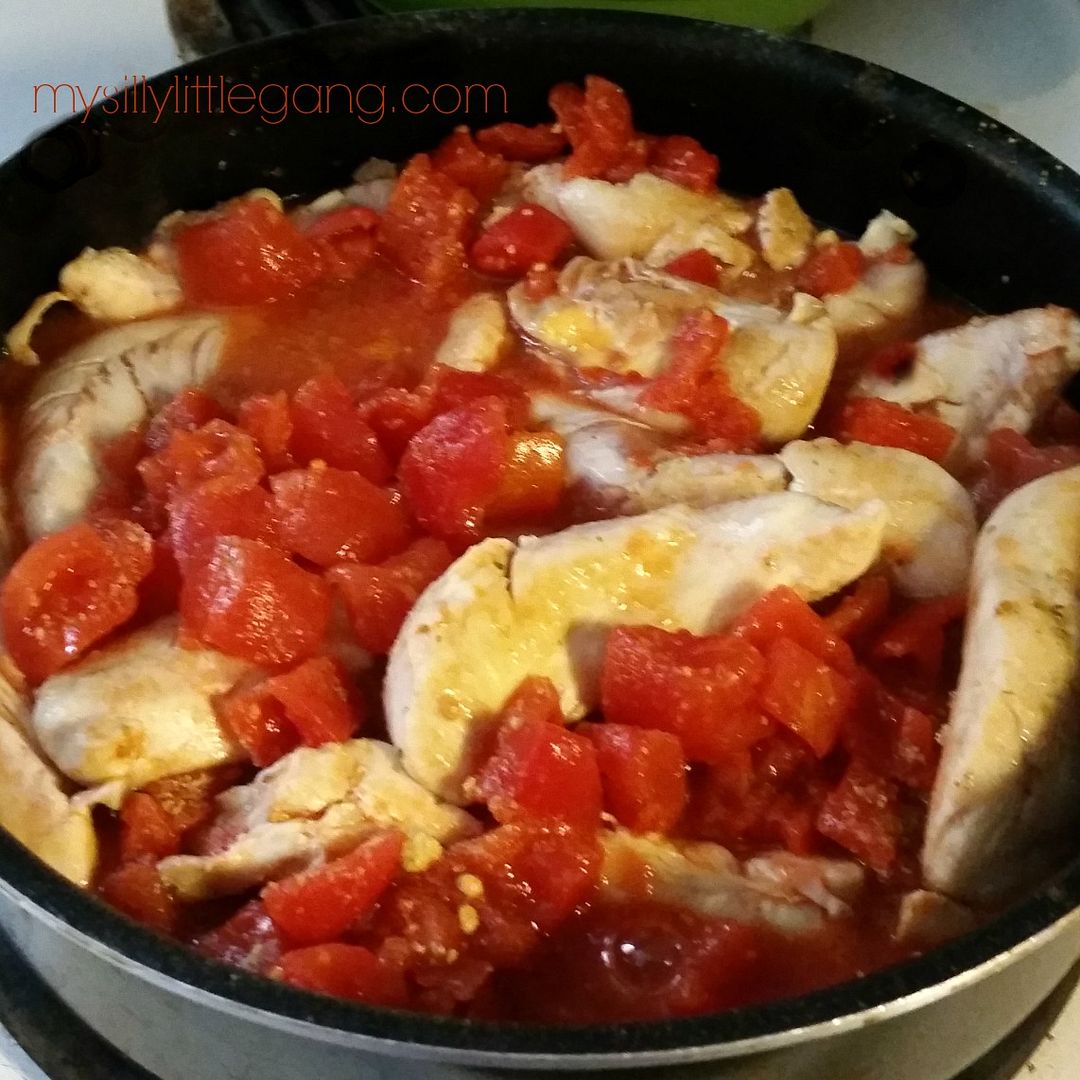 Pollo Entomatado
Ingredients:
1 lb Chicken Tenders
1 can (28 oz) Redpack Diced Tomatoes
1-2 tbsp or 2 packets of Goya Powdered Chicken Bouillon (to desired taste)
Directions:
1) Brown and cook chicken tenders in a skillet.
2) Add can of Redpack Diced Tomatoes (do not drain) and Goya Powdered Chicken Bouillon.
3) Bring to a simmer and let it cook until chicken tenders have absorbed the color and flavor of the tomatoes.
Serving Suggestions:
1) Serve hot with a side of rice.
2) Serve warm over your favorite lettuce for a delicious warm salad!
Here is a delicious recipe for a Sassy Chicken Salad courtesy of Redpack Tomatoes.
Ingredients:
1 (10 ounce) can RED GOLD® DICED TOMATOES & GREEN CHILIES, drained
½ cup light mayonnaise
1 tbsp honey
2 cups chunked cooked chicken breast
1 cup thinly sliced celery
1 cup grapes, halved
⅓ cup chopped toasted pecans
Directions:
In a medium bowl, combine RED GOLD® DICED TOMATOES & GREEN CHILIES, mayonnaise and honey. Stir in chicken, celery, grapes and pecans.
Cover and chill. Maybe served in hollowed out melons, avocados or papayas. Also makes a great sandwich when served on a Croissant.
Cooking Hint:
To toast pecans, bake uncovered in ungreased shallow pan in 350o oven for about 10 minutes, stirring occasionally, until golden brown. Another option is to toast them in the microwave. Place a single layer on a microwave safe plate and cook on high for 2 minutes. Stir and cook for 1 more minute
Redpack Tomatoes is excited to share their second annual "Toss in the Flavor" promotion, which starts in May for National Salad Month! This year's "Toss in the Flavor" promotion will run from

May 13 to June 10

on Facebook. During this period, we will share our new collection of Redpack salad recipes featuring Redpack Petite Diced Tomatoes along with seasonal fruits and vegetables. As a part of the promotion, Redpack will be giving away a Grand Prize Picnic Basket that includes all the tools you need to spin, chop, toss, dress and mix your favorite Redpack summer salad. Enter Here!
Now for the Giveaway!
Redpack Tomatoes is graciously sponsoring a Gift pack from Redpack Tomatoes for 1 lucky My Silly Little Gang winner, that will include two 14.5 oz. Redpack Petite Diced tomatoes, one 28-oz can of Petite Diced Tomatoes, a Redpack Wine Tote and six light and easy salad recipes! This giveaway will run through 6/10 at 11:59 pm Eastern Time and is open to US residents ages 18+. Winner is subject to eligibility verification and will have 24 hours to confirm before a new winner will be drawn. For any questions or concerns please email silvie@mysillylittlegang.com (please consider adding this email to your "Safe List" as the winning email notification will be sent from this email.) Please refer to the full terms and conditions in the Giveaway Tools. Thank You for stopping by!
Good Luck!
Disclosure: Silvie at My Silly Little Gang received complimentary products in exchange for an honest review. No additional compensation was received. Thank you for stopping by!
If you have any questions or are a brand/company and would like to work with My Silly Little Gang please contact us here.