Retseliney Fruit Mask & Exfoliant Cream #retseliney Review
Retseliney Anti Aging Fruit Mask and Exfoliant Cream
Recently I was chosen to receive a couple products from Retseliney! The products I received are the anti aging Fruit Mask and anti aging Exfoliant Cream. If you follow me on social media then you know that last week my mom and I decided we were going to have an at home "Spa" day. This was the perfect opportunity for my mom to test out these two products.
I had already tried them out and I think that the Retseliney Anti Aging Exfoliant Cream is fabulous, I am super happy with it. I have been using it for about 2 weeks and have not had any bad reactions. It always leaves my skin nice and soft and ready for moisturizer! This is a white cream with a fine sand like consistency. Be sure to use it in gentle circular motions as to not damage your skin. It is a white cream with a light scent to it. My mom also loved how soft it left her skin!!
Now the Retseliney Anti Aging Fruit Mask is also perfect! The first thing I noticed was how good it smells. I love how well my skin reacts to it and absorbs all the good things it offers. It has a nice tingly sensation while it's on and it cleans off nicely. I do wish it was a bigger jar though. It's easy to apply and easy to remove! It has a thick yogurt consistency to it.
First my mom clean her face and then applied the Retseliney Exfoliant Cream. The first thing she said was that she felt it's a great exfoliant and that the sand like texture it has feels thorough yet is gentle. Then she cleaned it off and we applied the Fruit Mask. We both like how easy it is to apply! Here is a picture of her right after applying the fruit mask.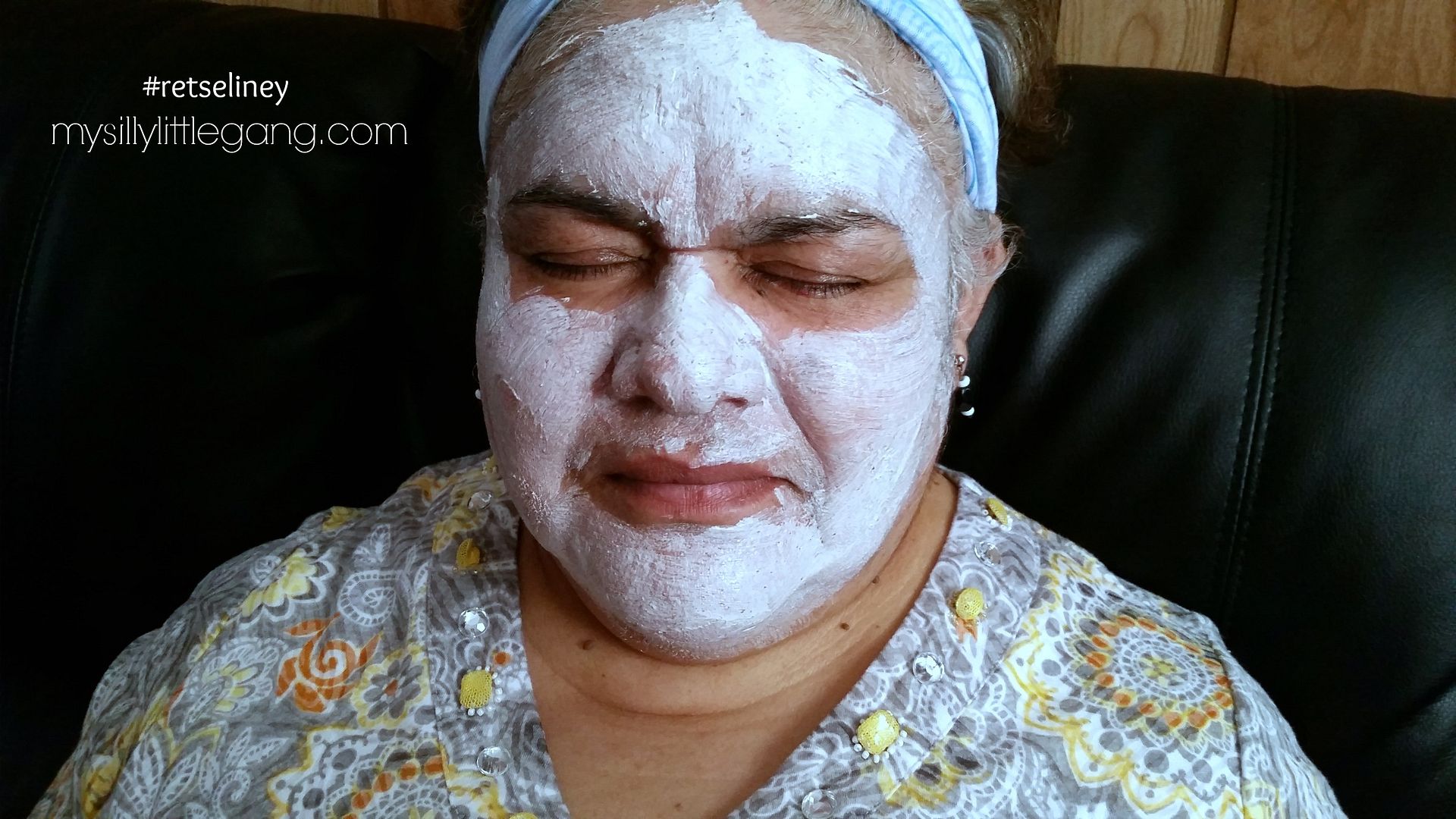 And here she is ready to remove the mask.
After easily removing the mask, she applied the Retseliney Advanced Retinol Serum and we were done! She was loving how soft her skin was. Even the next day she said it had been awhile since her skin had felt so soft and smooth. Besides the Exfoliant Cream, the Fruit Mask and the Advanced Retinol Serum we also use the Anti Aging Fruit Cocktail Antioxidant Facial Toner. All from Retseliney!
You can get these amazing products on Amazon.