Spa Fairy Bath Bomb Review #spafairybathbombs
Spa Fairy Deluxe Bath Bomb Gift Set
This is the most perfect bath bomb set I have come across! It arrived on time, in a beautiful tin wrapped in a label. When I opened the tin I was surprised at how elegantly packaged this set comes.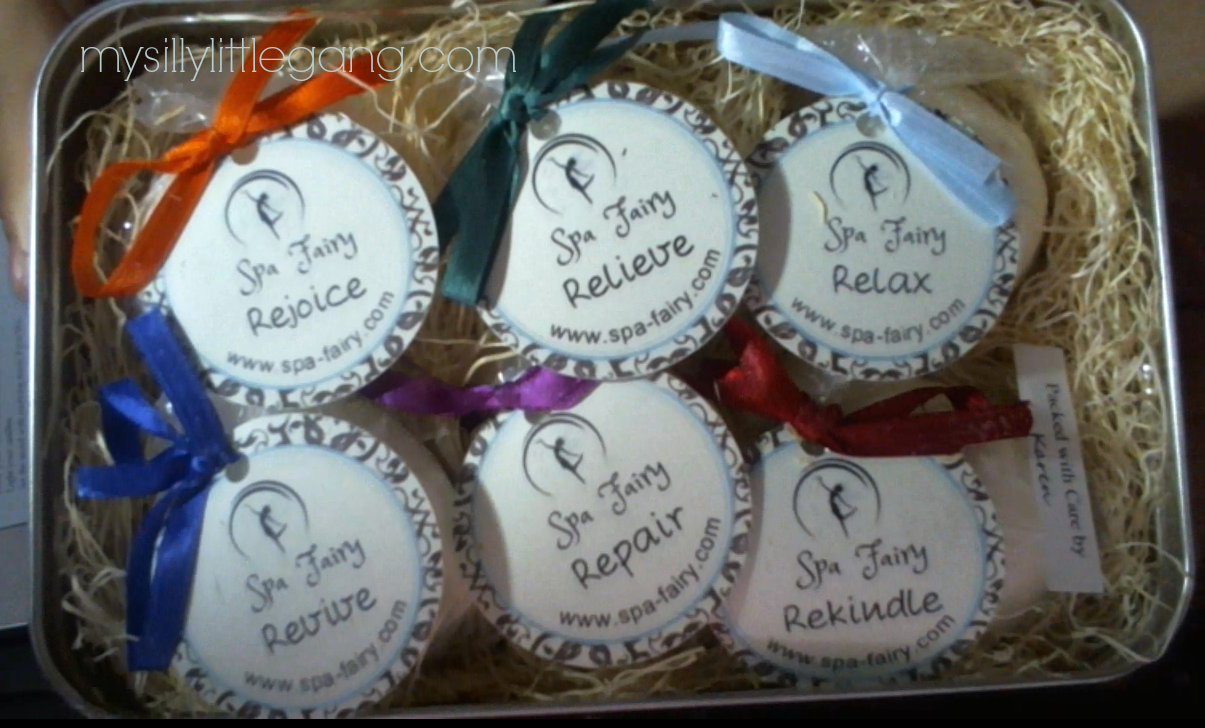 None of the bombs were damaged or broken which is usually a problem I face when I have ordered other bath bombs. These bath bombs are HUGE!
And I love that they won't stain my bathtub. I also really liked how fast they dissolve and the scents they come in are amazing!! This is a perfect gift for any occasion! I will continue to order these amazing bath bombs for me and for gifts.
You can get your Spa Fairy Deluxe Bath Bomb Gift Set on Amazon.

Product Description
Spa Fairy Deluxe Bath Bomb Gift Set
Six of our most popular formulations exploding with Organic Essential Oils and Shea and Cocoa Butters to
moisturize, relax, energize and help soothe sore muscles and headaches.
100% NATURAL /
ORGANIC ESSENTIAL OILS
VEGAN & GLUTEN FREE
SIX LARGE 4OZ/113g BATH BOMBS
These hand-made Bath Bombs are Vegan and gluten-free and have no artificial colors or dyes and won't stain your tub.  Spa Fairy Bath Bombs are ultra-moisturizing with Shea and Cocoa butters and a 7-oil blend that moisturizes and replenishes your skin.  Serenity is just a bath away, so settle in for a good soak and relax away all your stress.  Pamper yourself in this lush spa-like experience.  Spa Fairy bath bombs make great gifts for birthdays, bridesmaids, shower gifts or just as a gift to yourself. 
 
Each Gift Set Includes Six Rejuvenating Large 4oz Bath Bombs:
 
Relieve – Eucalyptus & Spearmint Essential Oils
 
Revive  – Peppermint, Lemon, Rosemary, Eucalyptus Essential Oils
 
Rejoice – Lemon, Lime, Sweet Orange, Litsea Cubeba Essential Oils
 
Relax    – Lavender, Marjoram, Patchouli, Mandarin,  Geranium & Chamomile Essential Oils
 
Repair  – Lavender & Peppermint Essential Oils
 
Rekindle –  Cedarwood, Clary Sage, Vanilla, Sweet Orange Essential Oils
Ingredients: Baking Soda, Citric Acid, Sea Salt, Epsom Salt, Corn Starch, Sugar, Shea Butter, Cocoa
Butter, Safflower Oil, Sweet Almond Oil, Jojoba Oil, Hazelnut Oil, Grape seed Oil, Olive Oil, Avocado Oil. 
*Each bomb contains additional blends of unique Essential Oils. 
Instructions: Draw your bath to desired warmth, drop in water and enjoy the fizz and aromas of the
essential oils.  Relax and allow yourself to be pampered while you moisturize and soften your skin.
A little bit about the Spa Fairy… I am a stay-at-home Mom with two young children.  Prior to this year, I worked a full-time job as a social worker in an emergency room.  I was so stressed out but had little time to de-stress.  Now I am blessed with an opportunity to stay home with my children but I continued to struggle with how to make time for myself for some "self-care".  So I began taking baths to relax, long ones, after my children went to sleep.  I noticed how calming it was to have some alone time.  I started this business with this thought in mind:  Whether you are a single woman working up the corporate ladder, a wife, a working Mom or a stay-at-home Mom like me, I hope that you can begin to slow down and take time for yourself.  You will be glad you did.