The Power of Your Metabolism Book Review #relaxslim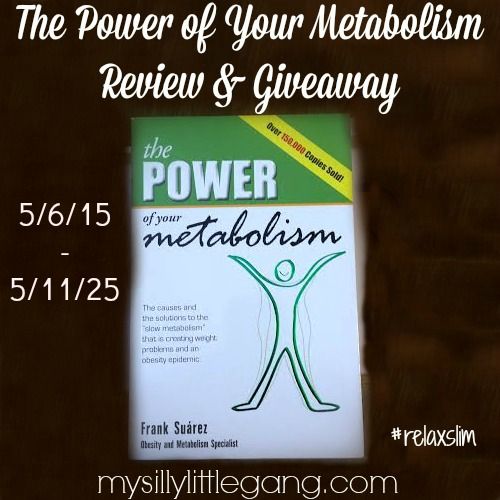 The Power of Your Metabolism
You guys know about how I have always been dealing with my weight. And now that I'm past the 35 year mark I've realized that my metabolism has slowed down significantly. So I'm always on the lookout for ways that keep me motivated and help me speed my metabolism up! That's why I have really enjoyed this book. It really has a lot of great information. What I liked the most though is that it's easy to read and understand.
Frank Suarez is the author of this book and he fought his own battle with obesity. Having been through this battle helped him write this book to help all those that wanted to know more about how he did it. He touches on several important topics including dehydration, stress, bad digestion, diabetes, hypoglycemia and so much more. For this review I have read through this book once, but I feel that it will be great to use it as a reference. Yup, that's right I plan to use it as a reference whenever I need to be encouraged to keep up with a healthy lifestyle.
You can find The Power of Your Metabolism on Amazon.

Product Description
The book "The Power of Your Metabolism" is a book immensely popular in the latin community that a few years ago was translated into the english language. This book in the spanish language has sold over 500,000 copies in latin countries and has provided people with very valuable information they can apply to their daily lives to feel healthier, lose weight and fix their metabolisms. The author of the book, Frank Suarez, is an Obesity and Metabolism Specialist who resides in San Juan, Puerto Rico where he is the Executive Director of the Natural Slim Weight Loss System. He began his works as a researcher in the field of weight loss as a necessity to change his life and his health. He conquered his own obesity and made it his life work to help others achieve the same in a natural and safe way. With his knowledge and experience with helping over 25, 000 people on his clinics, Frank Suarez wrote the book "The Power of Your Metabolism" to provide people with the true information regarding the subject of weight loss and the metabolism.
The purpose of the book, "The Power of Your Metabolism" is to put you back in control of your weight and health by giving you an understanding of the metabolism itself. It is not a diet or a meal plan, but rather, an introduction to a healthy lifestyle you can live with. It doesn't require that you eliminate any foods, go hungry or immediately begin an intense exercise regimen. "The Power of Your Metabolism" is an easy-to-read book that covers all of the primary factors that help and don't help the metabolism. 
Would you like to win a copy of The Power of Your metabolism? Well you're in luck because the author has also kindly offered to let me do a giveaway for my readers so you can win your very own book! This giveaway will run through 5/11 at 11:59 pm Eastern Time and is open to US residents ages 18+. Winner is subject to eligibility verification and will have 24 hours to confirm before a new winner will be drawn. For any questions or concerns please email silvie@mysillylittlegang.com (please consider adding this email to your "Safe List" as the winning email notification will be sent from this email.) Please refer to the full terms and conditions in the Giveaway Tools. Thank You for stopping by!
Good Luck!
Disclosure: Silvie at My Silly Little Gang received complimentary products in exchange for an honest review. No additional compensation was received. Thank you for stopping by! 
If you have any questions or are a brand/company and would like to work with My Silly Little Gang please contact us here