Chia Seed Breakfast Pudding Recipe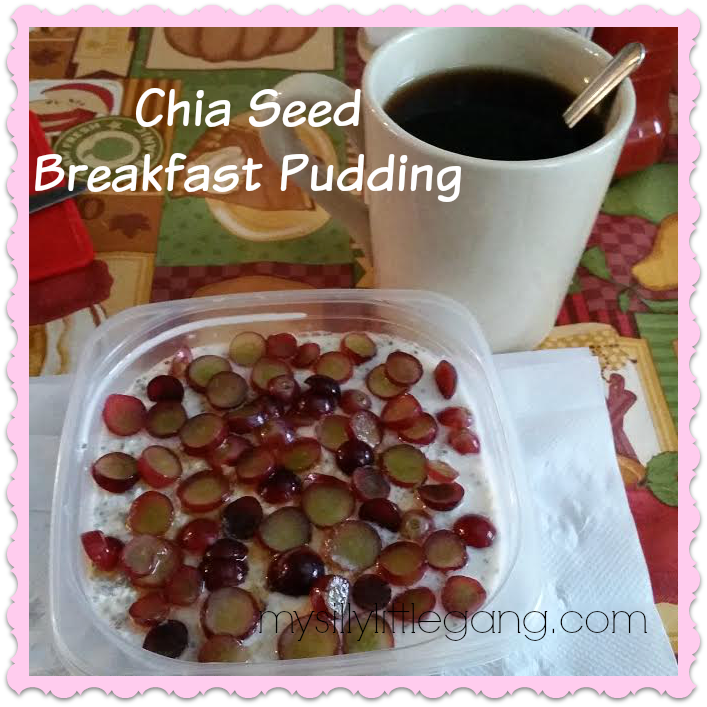 I have gotten into this chia seed kick and have seen so many different recipes for adding chia seeds to beverages. Despite their tiny size, chia seeds are said to be among the most nutritious foods on the planet. They are loaded with fiber, protein, Omega-3 fatty acids and various micronutrients. Chia seeds are incredibly easy to incorporate into your diet. Because they taste rather bland, so you can add them to pretty much anything. One thing I really like is that they don't need to be ground like flax seeds.
Here is my recipe for a delicious and easy Chia seed breakfast pudding. 
Ingredients:
2 Tbsp Chia Seeds
1 c uncooked Oatmeal
2 c Almond milk (you can add more or less so you get a desired consistency)
1/4 tsp vanilla extract 
2 tsp ground Cinnamon
1 Tbsp Honey
Fruit 
Directions:
In a container combine oatmeal, chia seeds and cinnamon. Mix until combined.  Then add vanilla and the almond milk and stir until combined. Cover and leave in the refrigerator for at least 30 min but I like it better overnight. 
In the morning take it out and stir. You will see that it is a thick consistency.  You can eat it warm or cold. I like to cut up fruit and add it in. As you can see in the picture above I used grapes, but any fruit tastes delicious!
You can tweak the measurements of the ingredients and the ingredients to your taste preference. This is just a basic recipe that I use. My mother for example doesn't like the taste of the vanilla so I don't add it to hers. One of my boys it's the cinnamon I leave out. So you see this is a real versatile recipe. You can pretty much make it to your own liking! For my friend's baby who is still eating mashed foods I add applesauce instead of fruit and she absolutely loves it!
I hope that you'll share your creations with me on social media by tagging me and using the #mysillylittlegang. You can find me on Facebook, Twitter, Instagram, Google+, Pinterest and YouTube. Follow me, shoot me a msg that you're following me from the blog and I will follow you back. 🙂
Enjoy!