Our Soccer Season Started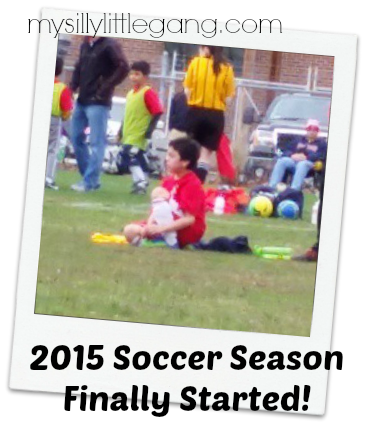 It's what we've been waiting for… 2015 Youth Soccer Season.
We had such a great weekend and to finish it up Aaron had his first soccer game of the 2015 spring youth soccer season! I am a HUGE soccer mom and I absolutely love watching my boys play soccer! I love watching my boys play and the enthusiasm and fun that comes with it. How about you do you or any of your kids play spring sports. I assure you, I'm the happiest soccer mom you know. 
My two older boys play soccer and by play I use the term loosely. Aaron seems to have some actual promise and truly loves the sport. While Diego I think is mostly in it for the friends he makes and to just have fun. Either way is perfectly fine for me to be honest. I love that they are having fun and I always feel so proud watching them. 
Soccer season is always our busiest time of the year for us because there are always for different days for practices and two different games per weekend. Even though it's a busy time I am grateful for the family time we get to enjoy. So far we keep activities outside of school to a minimum mainly because finances and sanity are two things that are very limited for me. 🙂 
I can't wait to be able to see them play on the same team in a few seasons. They are incredible boys and they are great friends. So I can imagine how awesome it will be to see them on the field together! 
I'm sorry I only have 1 picture to share but it was hard for me to think about taking any pictures, that's because I was so into the game!
I'll try for more next weekend. Until then I hope you and yours have a great week!