Hotel Transylvania 3 ~ Make It A Movie Night #HotelT3 #MySillyLittleGang
In late August I shared that Hotel Transylvania 3 would be coming to 4K, Blu-ray, and DVD. Well the much awaited day is finally here. Tomorrow Oct 9th you will be finally able to get this unbelievably funny movie! Why not do like us and Make it a movie night with Hotel Transylvania 3!
Hotel Transylvania 3 ~ Make It A Movie Night
In celebration of this great day we were sent a Hotel Transylvania 3 Movie Night Kit to feature, and share the release with you. We were super excited to receive this and had no idea we would be getting so many amazing goodies. Even if you haven't seen any of the other Hotel Transylvania movies, this is one you are not going to want to miss! This movie has some laugh out loud moments with incredible voice talent. If you have seen this super fun movie, wait until you see all the amazing bonus features!
With the holidays quickly approaching, get your family to get you into the Halloween spirit! Included in our Movie Night Kit was every thing we needed make fun crafts including: a DIY Murray Lantern Kit, DIY Dracustraws.
We also received Pumpkin Stencils and carving tools,
as well as branded popcorn for viewing party!
To make our movie night into a real party we also received:
A Scary-Oke Sing Alongs Flier with lyrics to: Monsters Like to Party Down, Oh, These Wolf Pups, and Dennis Had a Giant Dog! We also received an "I See Love" Monster Dance Party Dance Along Flier w/ Macarena instructions!
We are also able to have a Vampire Makeover, with a Mavis and Drac Tutorial. This included a Mavis make-up kit with Vampire teeth, & Mavis Halloween costume
But we're not the only ones able to have fun… Here is are the instructions for you to make your own DRACUSTRAWS & DRAC'S SPOOKY SMOOTHIE recipe activity! Just click the picture below to download.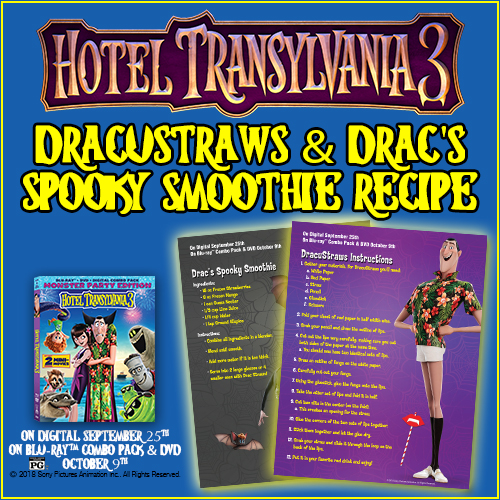 We also received a whole batch of spooky Pumpkin Carving Stencils!
Want to carve your own pumpkins? Click on the picture below to download your own stencils!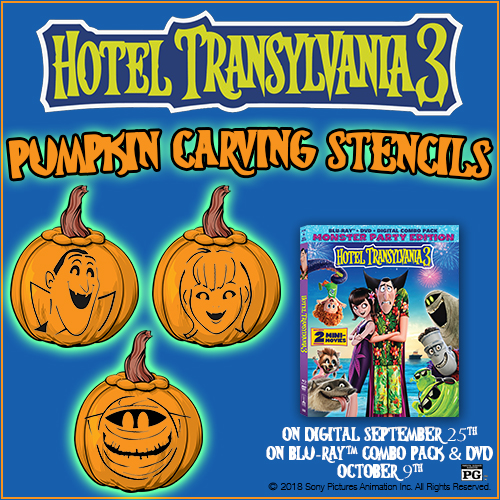 Personally I can't wait to make a Mavis pumpkin! Which one would you make? So have your own fun and pick up on 10/9 the Hotel Transylvania 3 Monster Party Edition Blu-Ray, DVD & Digital copy for your family. It has tons of fun inside!


Bonus Materials Include:
Three All New Scary-Oke Sing Alongs: Sing along to three Hotel Transylvania 3 inspired songs with your favorite characters!

"Dennis Had a Giant Dog" – Sung by Dennis & Winnie
"Monsters Like to Party Down" – Sung by Johnny
"Oh These Wolf Pups" – Sung by Wanda Werewolf

Plan Your Own Spook-tacular Sleepover: This feature will give you all details on how to make your own sleepover spook-tacular! From snacks to crafts to games and more, follow these steps to create a Hotel T sleep-over with your friends and family, the perfect setting to binge watch all 3 Hotel Transylvania movies.
Vampire Make Over: Mavis and Drac Tutorial: Learn how to turn yourself into your favorite Hotel Transylvania 3 characters.
Behind the Screams – The Voices of Hotel Transylvania 3: Step behind the "screams" with the returning stars and hilarious new cast to see how these characters are brought to life in the recording booth.
Johnny's Home Movies (Franchise Recap): Johnny brings viewers up to speed on what's happened in the Hotel Transylvania franchise so far.
"I See Love" Monster Dance Party Dance Along: Get up and get moving to this haunting monster mash.
Drac's Zing-tastic Read Along: It's storytime with your favorite characters have a silly tale about Drac's search for a Zing!  Read along or sit back and enjoy!
Two Mini Movies (rated G): Two mini-features that will have you howling.
HOTEL TRANSYLVANIA 3 has a run time of approximately 97 minutes and is rated PG for some action and rude humor.


About Sony Pictures Home Entertainment
Sony Pictures Home Entertainment (SPHE) is a Sony Pictures Entertainment (SPE) company. SPE is a subsidiary of Sony Entertainment Inc., which is a subsidiary of Tokyo-based Sony Corporation. SPE's global operations encompass motion picture production, acquisition, and distribution; television production, acquisition, and distribution; television networks; digital content creation and distribution; operation of studio facilities; and development of new entertainment products, services and technologies. SPE's Motion Picture Group includes film labels Columbia Pictures, Screen Gems, TriStar Pictures, Sony Pictures Animation, and Sony Pictures Classics. For additional information, visit http://www.sonypictures.com/.
About Sony Pictures Animation
Sony Pictures Animation produces a variety of animated and family entertainment for audiences around the world, including comedy hit franchises such as The Smurfs, Cloudy with a Chance of Meatballs, and Hotel Transylvania. Next for the division are Genndy Tartakovsky's Hotel Transylvania 3: Summer Vacation, in theaters now; the groundbreaking animated feature Spider-Man: Into the Spider-Verse from the minds of Phil Lord and Christopher Miller in December 2018; the original feature comedy The Mitchells Vs. The Machines in January 2020; and the animated musical Vivo, featuring original songs by Lin-Manuel Miranda, in November 2020. Sony Pictures Animation, which was founded in 2002, is a division of the Sony Pictures Motion Pictures Group.
Website: http://www.sonypicturesanimation.com/
Facebook: https://www.facebook.com/SonyPicturesAnimation
Twitter: http://twitter.com/sonyanimation
Tumblr: http://sonyanimation.tumblr.com/
YouTube: http://www.youtube.com/user/SonyAnimation