Easy & Elegant Lemon Bars Recipe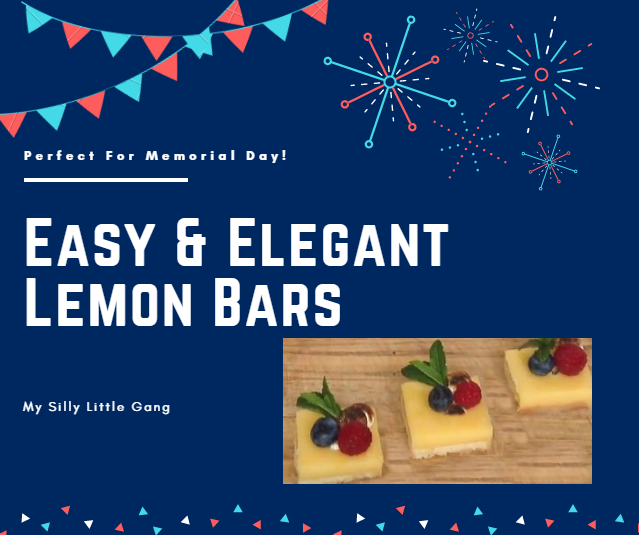 Easy & Elegant Lemon Bars
We love lemon bars, yet I used to only make them for special occasions. Mainly because the recipe I had for them was a little extensive. Recently Krusteaz sent us a box with lots of yummy mixes and a couple goodies to try out.
As you can see by the look on my little guy's face, we were thrilled to receive these goodies. Included with these goodies was a box of Krusteaz Meyer Lemon Bars. We have had great outcomes whenever we try any of the Krusteaz mixes, so I couldn't wait to give this one a try. 
Memorial Day for us means not only a day of remembrance and gratefulness for those who have served and are serving for this great country. We have several vets and active members in our family so it's a holiday that is very close to our hearts. It also marks the beginning of summer for us. I know you're probably thinking that I'm crazy since technically there's still a month give or take a few days until summer. However for us the weather definitely starts to get hot right after Memorial Day. 
We like many families in America celebrate this great holiday with a cookout. It's also a day where I make lemon bars! So it's a perfect time for this mix.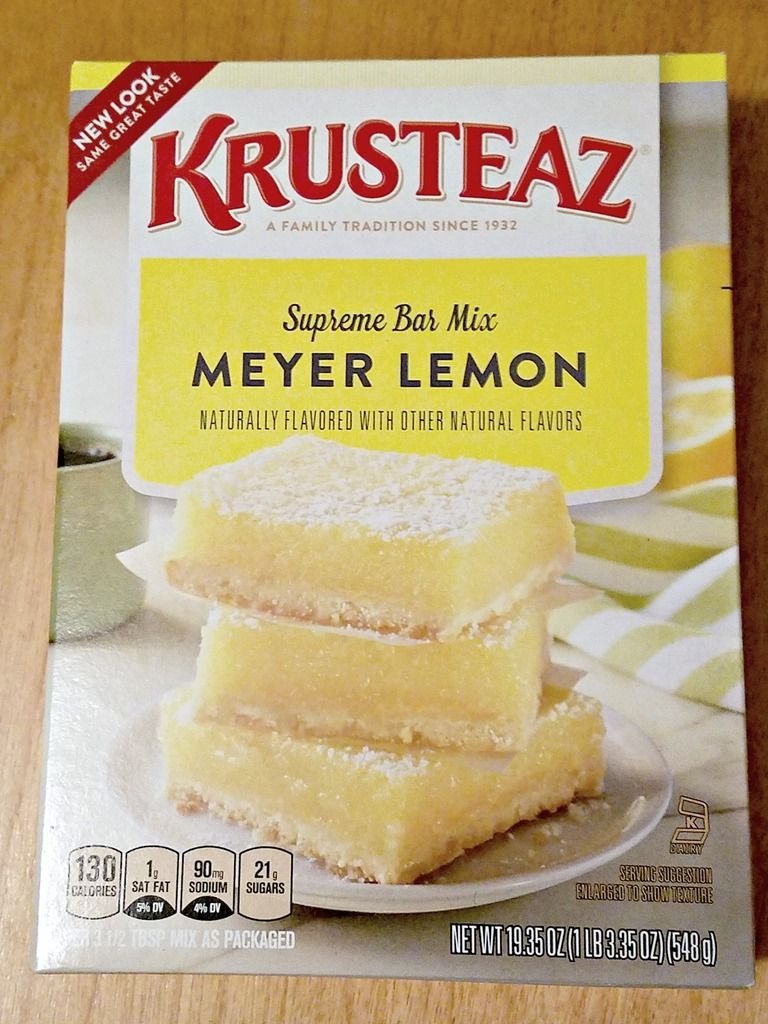 I normally make my lemon bars from scratch, but after trying out this mix I will never do that again. This mix made my lemon bars so easy to make and I loved how they came out. So I decided to share what I do to make these easy and elegant lemon bars, which are perfect for our Memorial Day cookout.
Easy & Elegant Lemon Bars
Ingredients
1 box of Krusteaz Meyer Lemon Bars mix
1/3 cup of Water
3 Eggs
Whipped cream
Raspberries
Blueberries
Mint 
Directions
 – Heat oven to 350°F. Grease bottom and sides of 8 x 8 x 2-inch baking pan.
– Stir together water and eggs until well blended. Add Meyer lemon filling mix and stir with a whisk until smooth. Allow to sit while crust is baking.
– Press crust mix firmly into bottom of pan. Bake 8-10 minutes; crust will be pale.
Stir filling mixture again and pour over hot crust. Bake 26-28 minutes or until edges begin to brown. For ease of cutting, chill 1-2 hours.
– Cut into equal size bars and place on serving platter. 
– Place a small dollop of whipped cream on a corner or in the center of each bar. Use a culinary torch and quickly caramelize the whipped cream.
– Then place a raspberry, a blueberry and a couple leaves of mint to garnish.
Tip: You can also cover lightly with powdered sugar. I didn't have any this time so I didn't use it, but they came out beautiful! 
How do you celebrate your Memorial Day?