Num Noms Freezie Pop Challenge #numnomscrazycreations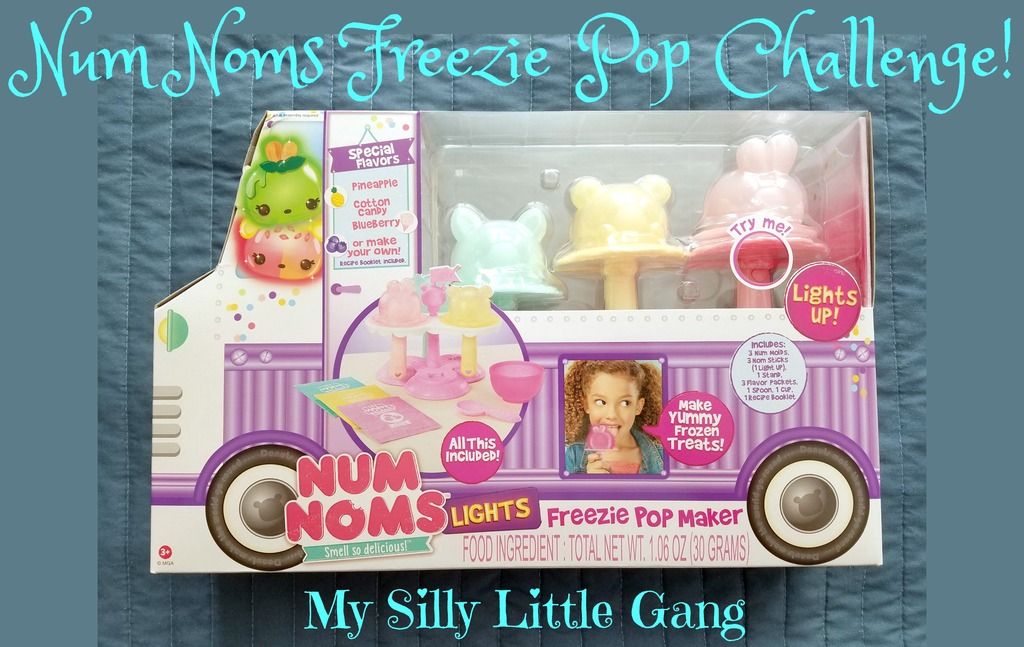 Num Noms Freezie Pop Challenge
My boys love popsicles. I can't buy them fast enough, that's why now we make them at home. We make all sorts of popsicles and have tons of different popsicle molds. I am a huge fan of Num Noms, so when I saw this Freezie Pop Maker from Num Noms I knew I had to have it.
Have you heard of the Num Noms Freezie Pop Challenge. In this challenge you get to, beat the heat and get creative in the kitchen! We were lucky to have received a Num Noms Lights Freezie Pop Maker to create our own Num Noms Crazy Creation to share with you here on the blog.
Included in the Freezie Pop Maker are Freezie Pop Sticks (1 Light-Up) with 3 Num Freezie Pop Molds.
3 Flavor Packets (Cotton Candy, Blue Raspberry, Pineapple)
1 Stand and Recipe Book and the rest is up to you!
I love that we can get as crazy as we want. Check out these recipes that come with the Freezie Pop Maker, plus there are additional recipes included in the recipe book. 
Above I mentioned that we could get as crazy as we wanted, so one day while the boys were at school I gave something a try. This recipe I tried came out delicious and the boys loved it! Here I am going to share it with you. 
Oreo Nilla Pop
Ingredients:
1/3 cup of Vanilla Greek Yogurt
1/4 cup of crushed up Oreo cookies. 
Directions:
Combine yogurt and crushed cookie pieces in a mixing bowl. 
Fill each Num, then place the Noms over the mixture and seal. 
Freeze for at least 6 hours or until the freezie pops are solid. 
You can also try this recipe using a finely chopped Snickers bar. My hubby absolutely loved it like this. All you have to do is switch out the 1/4 cup of crushed up Oreo cookies with 1/4 cup of finely chopped Snickers bar.
Do you collect Num Noms in your home? With all the different varieties that they have which ones are your favorites? We love the light-up ones and of course the Freezie Pop Makers.