Stress Less Paint-By-Number Flowers: A Paint-By-Number Kit for Mother's Day
Stress Less Paint-By-Number Flowers: A Paint-By-Number Kit for Mother's Day (Adams Media, a division of Simon & Schuster)
I love coloring and painting, although sometimes picking the right colors to use is a challenge. That's why I loved the Stress Less Paint-By-Number Flowers: A Paint-By-Number Kit. It takes all the stress of picking the colors right out of the picture! You don't even have to get the paints separately. This is such a complete kit, it brings everything you could possibly need!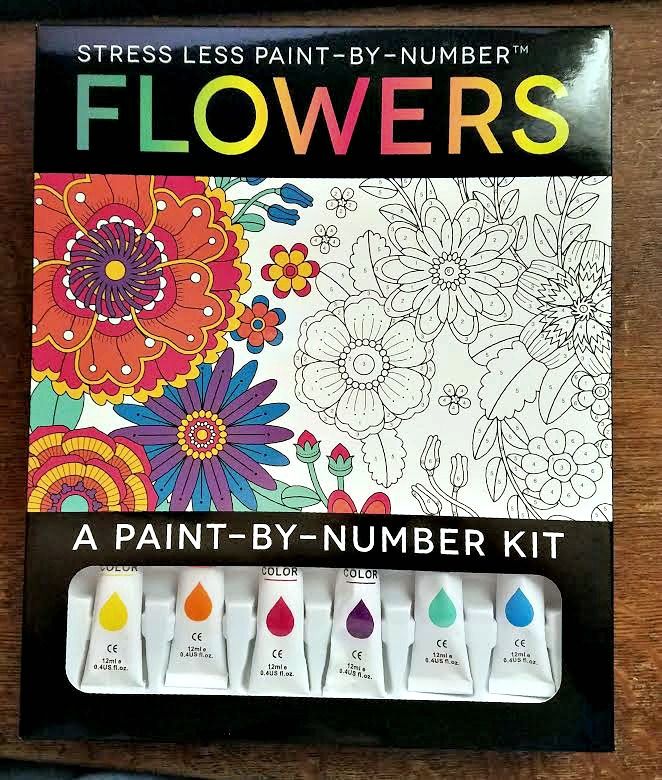 I love that it comes together in a box that is perfect for wrapping! Included in the kit are: An 8.25″ x 9.25″ book with 30 flower designs, 6 tubes of acrylic paint, 3 professional-grade brushes, 1 paint tray.

Each of the slots above the tubes can be used for that particular color so there's nothing hard about it! You only enjoy the painting. This truly is my favorite thing to wind down with. The colors are vibrant and the brushes work perfectly. So this Mother's Day, why not give the moms on your list this great kit.

Relaxation is as easy as 1, 2, 3!
The Stress Less Paint-By-Number Flowers kit gives you everything you need to paint your stress away, and create beautiful art in the process.
With more than two dozen flower illustrations, you can choose from lilies, zinnias, daisies, sunflowers, bluebells, and more, then follow the color selection instructions and unwind. You don't have to worry about picking the wrong color, or blending the wrong shade. This carefully curated, soothing palate ensures each piece you complete will be frame ready.

About the Author
Adams Media, a division of Simon & Schuster
Adams Media provides helpful, funny, and inspiring books on a wide variety of topics, so no matter who you are, we've got you covered. Our editors are just like you—living, loving, and learning every day. Our personal experiences and expertise in our given book categories allow us to bring you some of the best content on the market—from parenting to relationships, to the paranormal, cooking, and humor—we cover what you care about.
Would you like to win one of these beautiful kits? Click the picture below and enter today!