Strawberry Rose Water Mojito #NMVRoses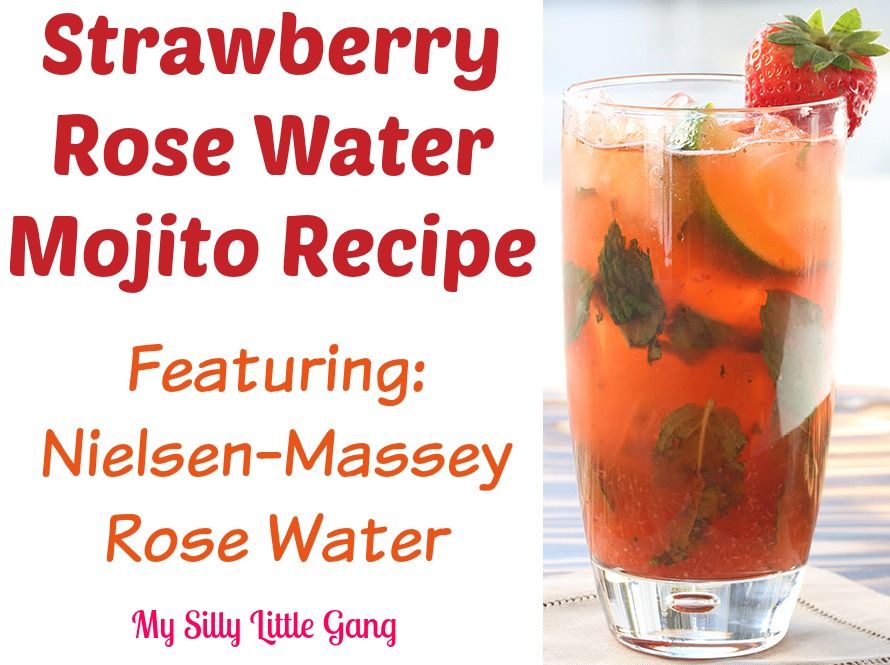 Strawberry Rose Water Mojito Recipe. Featuring Nielsen-Massey Rose Water
The Mojito is one of my favorite cocktails especially during the summer! I have never tried a Strawberry Mojito but this recipe sounds absolutely delicious. I was excited when Nielsen-Massey shared this recipe for a Strawberry Rose Water Mojito featuring their Rose Water. I was even more excited when they told me I could share this recipe with you! 
The recipe for Strawberry Rose Water Mojitos from Nielsen-Massey Vanillas, below, is the ideal drink for sipping during early summer evenings. Made with flavorful Rose Water, strawberries and fresh mint, this refreshing beverage is perfect for a party or just to wind down after a day of gardening.
Strawberry Rose Water Mojito
Serves 1-4
Strawberry-Rose Syrup
8-9 large strawberries, stemmed, rinsed and sliced
1 teaspoon Nielsen-Massey Tahitian Pure Vanilla Extract
1/8 teaspoon Nielsen-Massey Rose Water
1/4 cup sugar
Add syrup ingredients to a small food processor and pulse until smooth; set aside. This recipe makes enough syrup for four Strawberry-Rose Mojitos.
Yield About 1 Cup
Strawberry-Rose Mojito
15-20 fresh mint leaves
2 1/2 fl. oz. Strawberry-Rose Syrup
2 1/2 fl. oz. white rum
1 fl. oz. fresh lime juice
club soda
1 lime wedge
Muddle mint leaves in a tall glass. Add Strawberry-Rose Syrup, white rum, lime juice and lots of ice. Top with club soda and a freshly squeezed lime wedge; stir.
Serves 1
Please visit the Nielsen-Massey website for more product information and additional recipes.
Our most fragrant summer flower, the rose, ushers in a wonderful change of season as we begin to catch the floral scent on light breezes through our open windows, from our front porch swings and, of course, sitting out on our back patios.
Rose Water from Nielsen-Massey is an elegant steam distillate of rose petals. With multiple uses around the home, in recipes, and as part of a regular beauty regimen, Rose Water is the perfect way to welcome summer's traditional outdoor fun and opportunities for relaxation.
Rose Water is the perfect addition to a fresh berry salad. Toss raspberries, strawberries, and blueberries with a drop of Rose Water to make the berry flavor bloom. Garnish with a sprig of mint or edible flowers.
Use Rose Water as a skin refresher. Dab Rose Water on a cotton ball and apply to a freshly-washed face after a long day of working in the garden. The natural astringent properties keep your skin gleaming and youthful. You can also add Rose Water to warm bath water for pampering stress-reliever.
Add a dash of Rose Water to your favorite custard recipe, sugar cookie or butter cake for an updated take on your traditional recipes.
Add a small amount of Rose Water to the water for your iron to lightly freshen your laundry as you go. The light scent will keep you energized and motivated throughout your day.