Cooper Kit Subscription Box: Father's Day Gift Idea #cooperandkid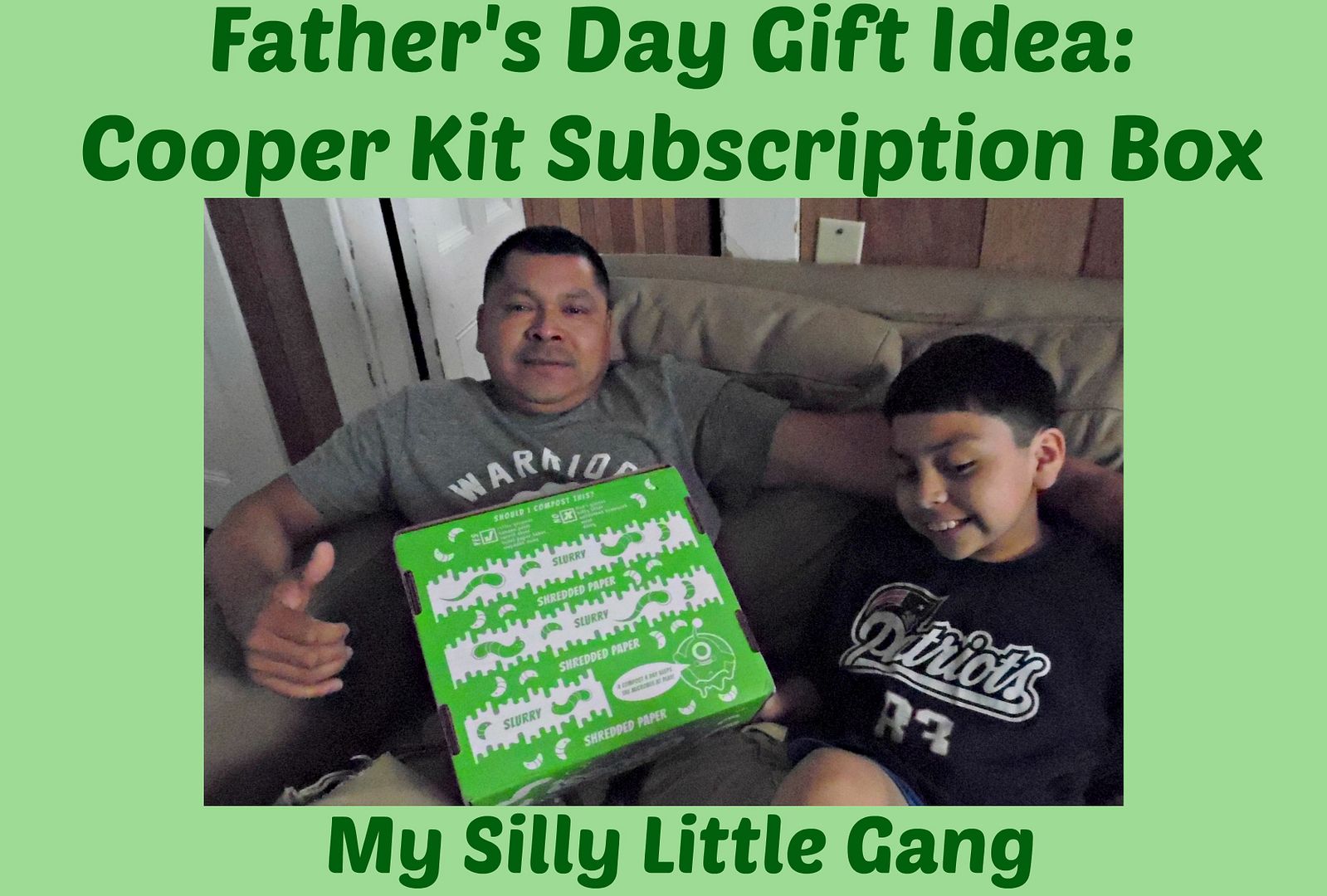 Cooper Kit Subscription Box for Dads + Kids is a Great Father's Day Gift Idea!
I have a thing for a good subscription box, and with all the great ones for guys that have been coming out my hunny is becoming a fan too. The Cooper Kit subscription box is a great Father's Day gift because it brings dad's and kids a great reason to spend even more time together.
Let me tell you what it is: The Cooper Kit is a quarterly subscription box . It costs $65.00 Per quarter, or get the yearly subscription and Save $36 ($59 per kit). Cooper & Kid is a subscription box geared toward fathers and their children, offering up a box of activities, stories, recipes, and more that helps dads spend more quality time with their kids. I had heard so many great things about Cooper & Kid but I honestly had no idea how great the Cooper Kits were until we actually got ours, the box we checked out was themed around "Gross things". This box was really up our alley, my boys (dad included) really like gross things. We really liked how even the outside of the box was interacting and fun, it's even meant to be cut up and used.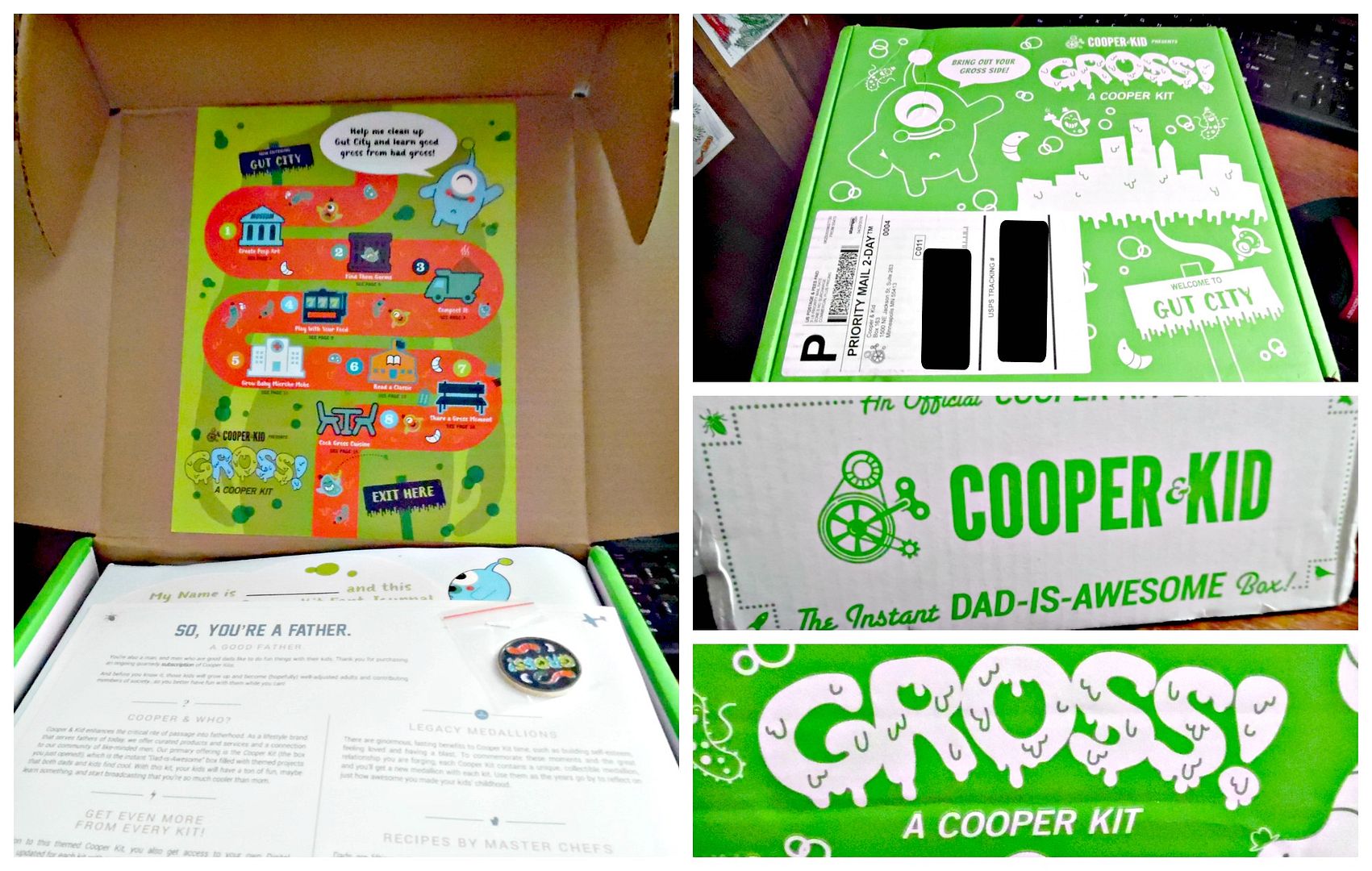 The first thing we saw was a cool map and a welcome letter with a Legacy Medallion. In case you are wondering what the Legacy Medallions are, they a golden coins that are meant to be a keepsake for dad. This medallion is a great reminder of his awesome-ness. They are these cool thick colorful coins with a gold looking back. According to the letter you get one that matches that box's theme with each box.
Inside there were so many cool things that went along with the road map on the inside cover and the theme perfectly. Inside we found an activity booklet that made it so much easier to navigate the road map and the many things inside.
This subscription box contained a ton of activities, crafts and fun for dad to experience with his boys. All of my boys loved doing this with their dad. I know for a fact that completing these activities with their dad will be a treasured memory. They are already asking me when we can get the next box. All of the activities inside the box felt well thought out; this wasn't just a random collection of gross or cheap things, it showed real effort. And we really appreciated that. But just as importantly, the items themselves were of very high quality. The storybook was a great classic and a hit in our home! The activity booklet, which was custom-made for the box, shows a lot of hard work.
So what will you get in your box? Well each Cooper Kit contains multiple curated products and activities designed to enrich quality time with your children, as well as: An activity booklet that guides you through the theme and the contents of the box. A story. A separate website of related digital resources with links to even MORE theme-related activities that are 'Beyond the Box', parenting links and links to resources that are 'Just for Dad'.
Although this subscription box is pitched for dads, I really don't see why moms couldn't have just as much fun with their kids using everything in the box. I can honestly say that the activities themselves were gender neutral, which I think was definitely the smart choice.
Bottom line: You can never have enough cool ideas to keep kids entertained. We really liked what Cooper & Kid had to offer and think that this is a subscription box is worth subscribing to. So get ready to retire the tired necktie and give an inspired gift that shows how much you appreciate and support him as a dad. That's the Cooper Kit!
Get your Cooper Kit here and connect with them on Facebook, Twitter, YouTube, Pinterest, and Instagram.