Essential Oil Diffuser Necklace
Essential Oil Diffuser Necklace Locket or Perfume Pendant "Belle Fleur". #SweetSoulDesigns
I am a big fan of essential oils and I'm always looking for new ways to enjoy them. Honestly the thought of enjoying them through jewelry never even crossed my mind until I was offered a chance to try this Aromatherapy Essential Oils necklace from Sweet Soul Designs. Right away I thought it was a great idea but I had no idea how much I'd love it. The locket is a little larger than the size of a quarter, which is a little larger than I expected. It has a really nice hefty weight to it while still looking very delicate and feminine. I get compliments on it wherever I go!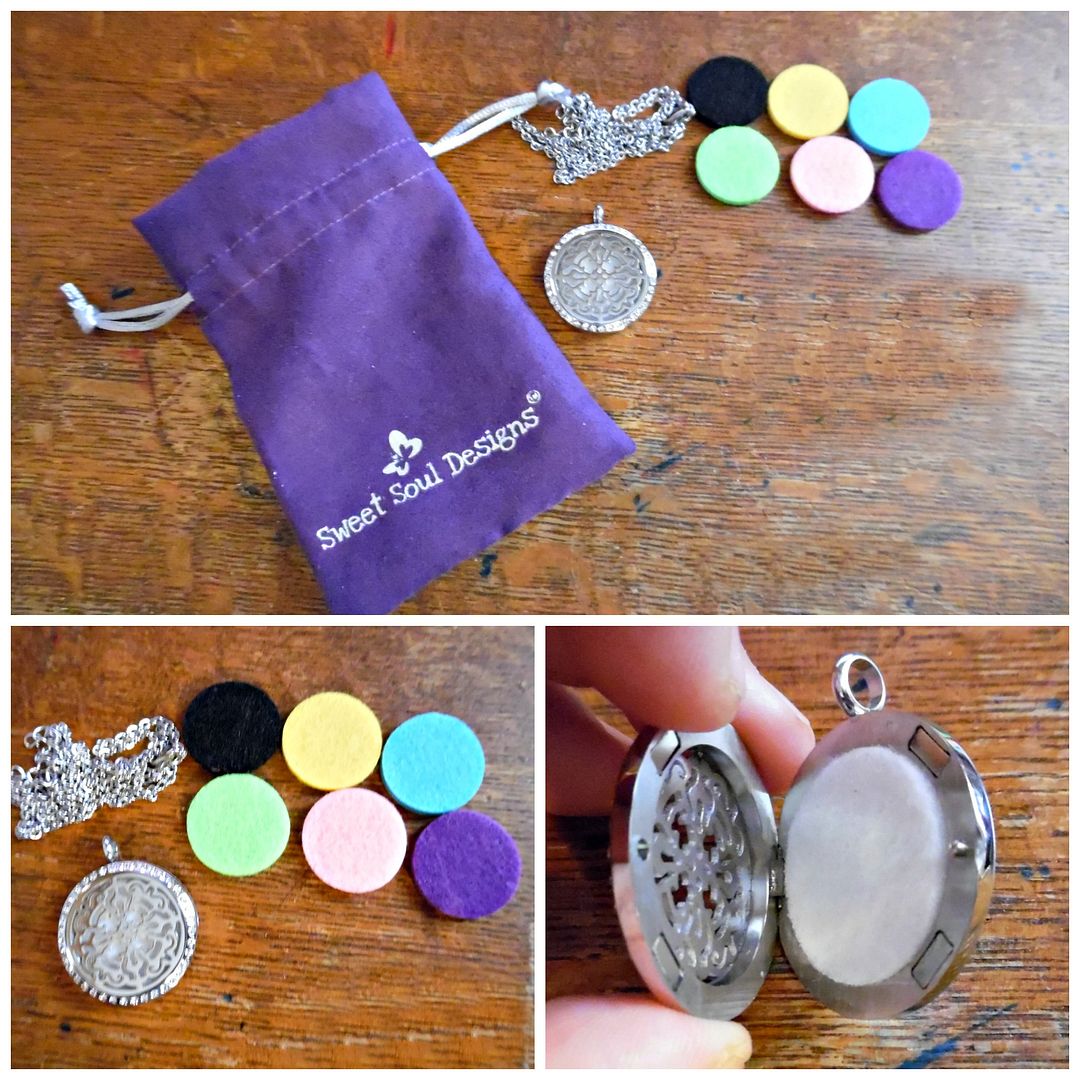 I also really like that it includes 7 washable reusable pads. It makes it so easy to switch out the pad with another one. I've been wearing my necklace for several days now and the scent is still going strong on both pads, that I have used. I think this is great considering I only used 1-2 drops on each pad it's really making the most of the essential oils I use, you can check out the oils here. I absolutely recommend both the oils and this Belle Fleur diffuser necklace!
The Belle Fleur Essential Oil Diffuser Necklace is available on Amazon.

Product Description
ABSOLUTELY STUNNING – This beautiful stainless steel diffuser necklace is sure to please you or the lucky one who receives it as a gift. It is approximately 1.25″ in diameter (the size of a half dollar) with beautiful inset crystals

QUALITY MATERIALS- Both the locket and the chain are hypo-allergenic 316L stainless steel, highly polished for shine, and durability for years of enjoyment. -THE LOCKET has a magnetic closure and a solid back. -THE CHAIN is 20″ long and includes a 3″ extender and with a lobster clasp. -7 COLORFUL & washable discs to enjoy your favorite essential oils or perfume. -STORAGE BAG included for protecting and cleaning your necklace

PORTABLE RELAXATION & STRESS RELIEF- Studies have shown that diffusing essential oils (plant extracts) can have an effect on our emotions. For example, lavender essential oil has a calming nature, while orange essential oil is good for uplifting your mood. A single drop is all you need for the day ahead. You can also enjoy the beauty of the locket without any oils or perfumes!

AROMATHERAPY NECKLACES make awesome gifts- Buy multiples because you're going to want one for yourself and have them on hand to give as a gift. Makes a terrific accessory for Young Living, Doterra, Rhada and other fine essential oils.

100% MONEY BACK GUARANTEE -We stand behind the quality of our jewelry and are confident that you will love it. If you are not completely satisfied, please contact us or send it back for a prompt and friendly refund.

30 MM
•Sweet Soul Designs is a small, family owned business. We design and sell beautiful jewelry that will soothe your soul and nourish your spirit. We like to call it "Soul Satisfaction".
•Tips for keeping your jewelry looking its best: 1) Avoid wearing your necklace in water, as it could damage the crystals around the locket. 2) Store and clean your jewelry with the jewelry bag which is included. 3) Never use chemicals or anything abrasive on your jewelry, only a damp cloth.
•Make Every Day a Good Day with Aromatherapy Jewelry!
This necklace is the perfect gift for: Wedding and Bridal Showers, Teachers and Coaches, Housewarming, Engagements, Birthdays, Anniversaries, Mother's Day, Valentine's Day, Bosses and Administrative Professionals Day!