Breakfast For Dinner At Our House #MyKrusteaz #BreakfastNight
Breakfast at night? Yup we have breakfast for dinner.
Every Wednesday we have breakfast for dinner at our house! We love it and look forward to it week after week. Some weeks we have eggs, bacon, sausage and toast. Some weeks we go the traditional Guatemalan route by eating black beans & eggs (check out the recipe here) with plantains and avocado. Some weeks (and this is the boys' absolute favorite) we have pancakes!  
So when I got an email asking me if I wanted to receive Krusteaz pancake / waffles mixes, we all jumped for joy! We got even more excited when we heard that we would be getting the Krusteaz Breakfast at Night Prize Pack for free!! When It arrived we immediately loved everything we received!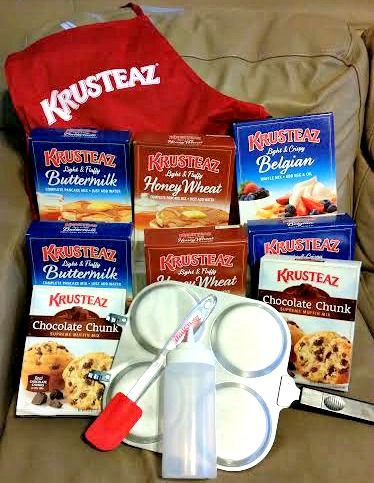 Amazing right! The Krusteaz Breakfast at Night Prize Pack included:
Two boxes of each of the following mixes: Buttermilk Pancake, Belgian Waffle, Chocolate Chunk Muffin, and Honey Wheat Pancake.
A pancake spatula, a pancake griddle pan, a squeeze bottle (for pancake art) and an apron.
I also got some Breakfast Night recipes all of which seem great and I can't wait to try them out. This week however I decided I was going to stick to our favorite banana pancakes, this time making them even easier by using Krusteaz Light and Fluffy Buttermilk Pancake mix.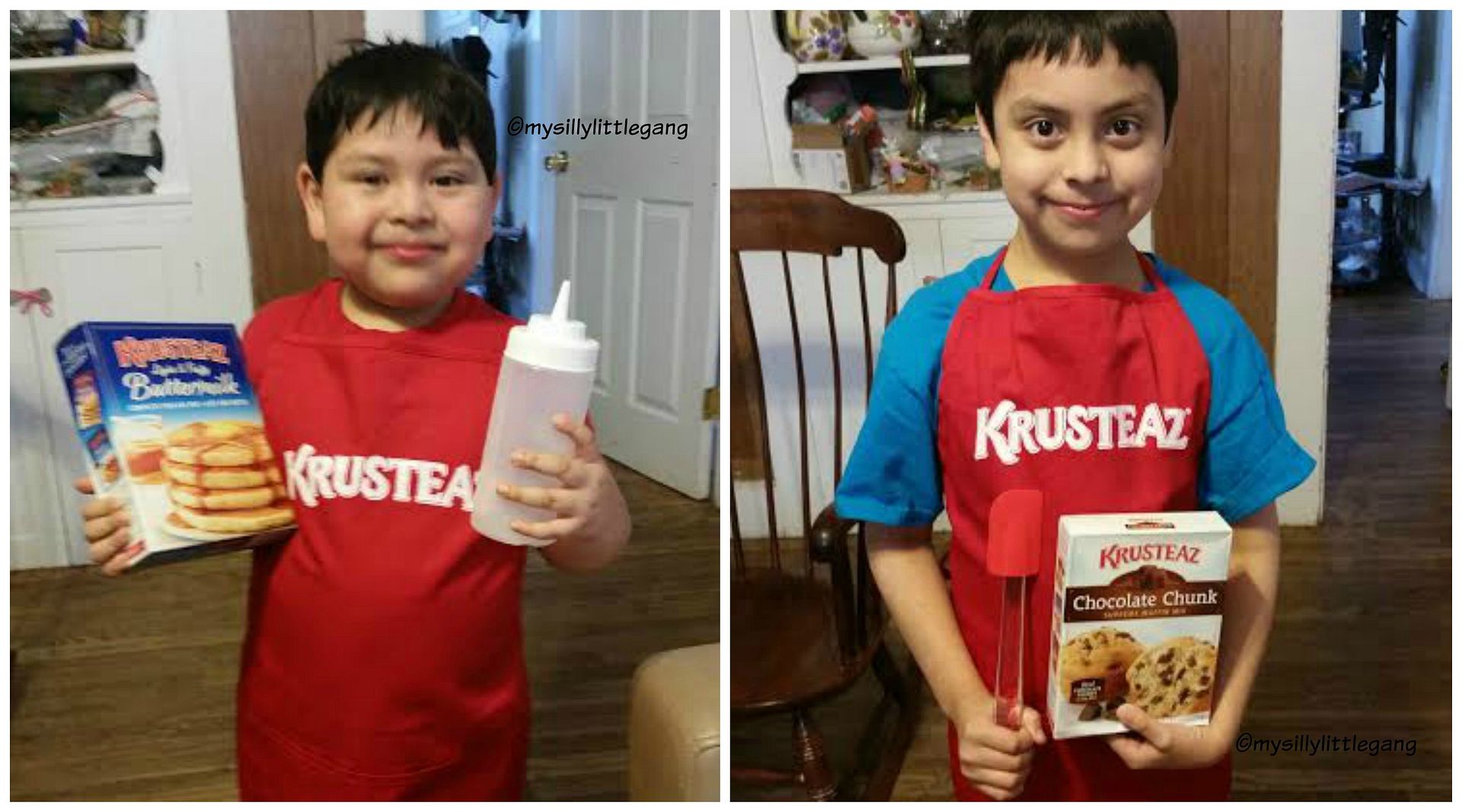 So I got two of my 3 chefs to help out. The third chef was at a play date and would be home right on time for eating. I love how they took turns wearing the apron, don't they look adorable. We got to work on dinner excited to try out our mixes, new griddle and spatula. 
I did make a few plain, because I wanted to really taste the mix and see how it was.
But first here's my Banana Pancake recipe.
Ingredients:
3 Cups – Krusteaz Light & Fluffy Buttermilk Pancake mix
2 Cups – Cold Water
2 Ripe bananas – Mashed
Directions:
1) In a large bowl combine Krusteaz Light & Fluffy Buttermilk Pancake mix, water, bananas and mix until smooth.
2) Ladle some of the batter onto a heated skillet and cook like you would normally.
This made 20 (4-inch) pancakes.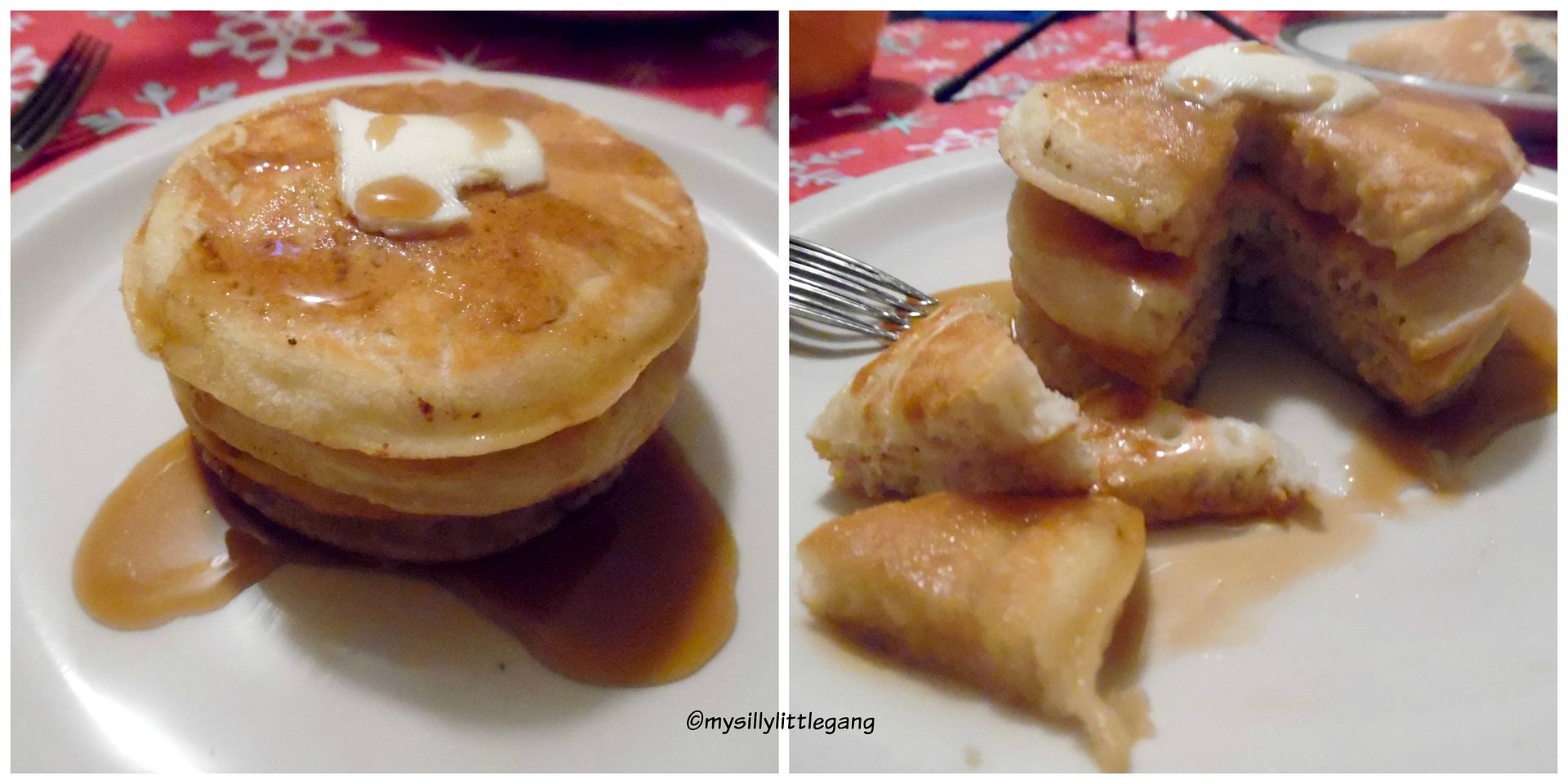 I gotta say that I was surprised to see how fluffy these pancakes came out. I immediately fell in love, how had I never tried Krusteaz before! I can honestly say that when I use a pancake mix I will definitely be using Krusteaz Light & Fluffy Buttermilk Pancake mix! They aren't kidding when they say light & fluffy, these pancakes were to die for! 
Did you know that in a survey, Krusteaz found that nine out of ten (90 Percent) Americans say they eat breakfast for dinner. With more than half (53 percent) of respondents enjoying breakfast night dinners once a month or more, and nearly a quarter eating breakfast for dinner once a week. 
Get social with Krusteaz on Facebook, Twitter, Instagram, Pinterest and YouTube.
So how about you … Do you have Breakfast For Dinner at your house? What breakfast food is your favorite?