"The Adventures Of Camp Nana Papa" Book Celebrates That Special Bond Between Grandparents and Their Grandchildren!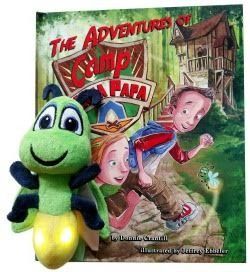 New Children's Book " The Adventures Of Camp Nana Papa" Celebrates That Special Bond Between Grandparents and Their Grandchildren!
I had such a fabulous and special relationship with my grandparents and I love seeing the relationship that my boys have with their grandparents. For me my grandma & grandpa made such an impression in my life and taught me so much. That's why when I found out about this new children's book I couldn't wait to tell you about it! Once I take a look at it and read it you can expect a full review. For now, here's a little more information on the book.
"The Adventures of Camp Nana Papa," the book and the cuddly lighted plush toy – Flash the Firefly – were just released to market this month.
Currently the book, which retails for $19.95, can be purchased for just $14.95, a full $5 off with promo code THEBOOK.
Did you know that there are currently 70 million grandparents in the U.S. – that's 1/3 of our population! Amazing right!!  I want to introduce you to a company that celebrates these grandparents and the extraordinary bond between them and their grandchildren. Meet Camp Nana Papa™!
The company, inspired by founder Donnie Cranfill's relationship with his own "Grandma," offers products,  gifts and a social media hub that honor and enhance this special relationship, helping families create and share Grand Memories that last a lifetime.
Cranfill is the author of "The Adventures of Camp Nana Papa," a touching children's book about two children, Nick and Sarah and their friend Flash the Firefly™ enjoying a fun-filled weekend with their grandparents at Camp Nana Papa! This hardback book is the first in a beautifully illustrated series, bringing Nick's, Sarah's, and Flash's adventures to life, as they swim, run, play, go to the zoo, roast marshmallows and more! It includes six keepsake pages to personalize and preserve special memories for each grandchild.
And, speaking of gifts …
Did you know that grandparent showers are a growing trend? I don't know why I hadn't thought about doing this for my mom, but for her next grandchild I hope to be able to throw her a shower. 
The excitement and anticipation of becoming a grandparent has sparked the popularity of baby showers for soon-to-be grandparents. These are often thrown by the grandmother's close friends and include gifts that commemorate this stage of life and helpful items they can use while their grandchildren are visiting.  To learn more, check out this latest blog post entitled "A Baby Shower for Grandma!"
Here's a special offer for you my fabulous readers from this great company!  They are offering you 15% off the entire Camp Nana Papa Catalog! Just use the promo code BLOGLOVE.