My Delicious #NumNoms #Review.
Here's What We Thought About The Num Noms Go-Go Cafe Playset, The Tutti Frutti Ice Cream Scented Starter 4-Pack, And the Blind Bags.
Have you heard about Num Noms? I honestly had not until I was asked to review them. Num Noms are these adorable, collectable, scented new line of toys that are exclusive to Toys R Us. These cute, squishy, yummy smelling toys are divided into the Num and the Noms. Combined you can make over 1,000 Num Noms recipes! I was so excited to get these. Originally I was going to give these to my little niece for Christmas, However I fell in love with them. Even my boys had fun smelling and playing with them. So I will be keeping it and my niece can play with them here at our house. The boys were thrilled that we would be keeping them. Here is a look at what we got.
The Num Noms Go-Go Cafe Playset
What they say: The Go-Go Cafe Playset is the perfect playground for the Num Noms. Stack your favorite Num on top of your favorite motorized Nom and let them loose in the playground! Watch them "splash" in the teapot shower, have a ride on the teeter totter saucer, or take a spin in the donut wheel! Also, hiding out in the Cafe are exclusive characters – a scented Num and a scented, motorized Nom.
What we thought: This was definitely a hit in our home! It's so much fun to see the little Num Noms spin, ride and roll around. This kept my boys busy for hours!
Product Features:
The perfect playground for all your Num Noms!
Playset activities include a teapot shower, teeter totter saucer, donut wheel, and slide!
Special edition orange scented Num and vanilla scented motorized Nom included!
Includes: collector's menu and spoon to scoop 'em up
The Num Noms Tutti Frutti Ice Cream Scented Starter 4-Pack
What they say: The Tutti Frutti Ice Cream pack is perfect for those who don't know which fruit they love the best.
What we thought: This was another winner! We really liked the variety of scents.
Includes: 3 Nums, 1 motorized Nom, 1 spoon, 1 ice cream bowl, and 1 collector's menu.
The Num Noms Blind Bag
What they say: Surprises come in every Num Noms cup! Collect over 60 flavors! Nums are adorable, scented, squishy characters with tons of personality. Noms are cute scented characters with flavored lip gloss inside. Stack the Nums on top of the Noms to make over 1,000 sweet scented combinations. Scoop 'em all up!
What we thought: Literally filled with surprises. We couldn't wait to see what we would get and loved the element of surprise.
Includes: 1 Num, 1 lip gloss Nom, and 1 collector's menu.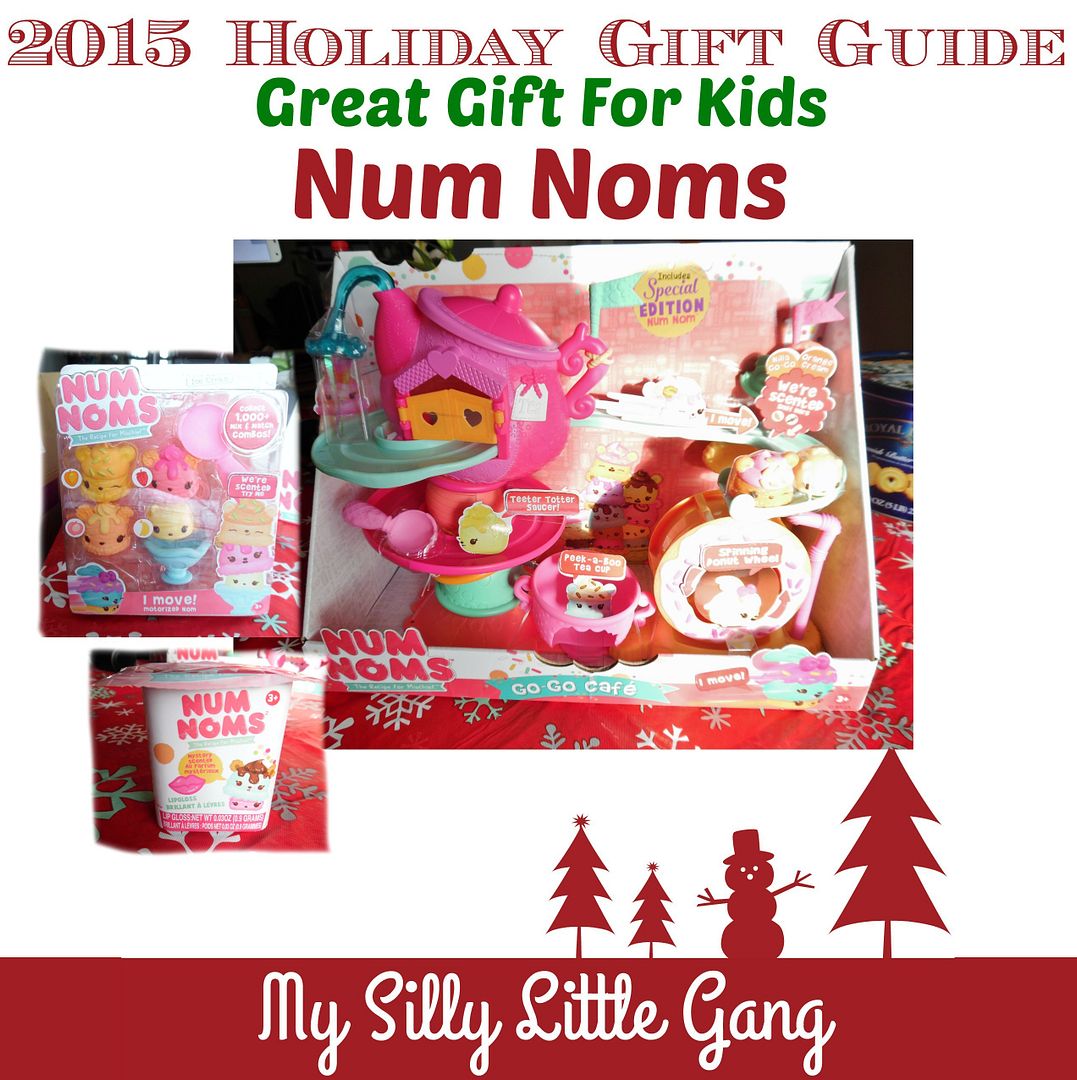 Num Noms Available Exclusively At Toys R Us!