Bye Bye Boring Lunch Box, With These Yummy San-J Recipes!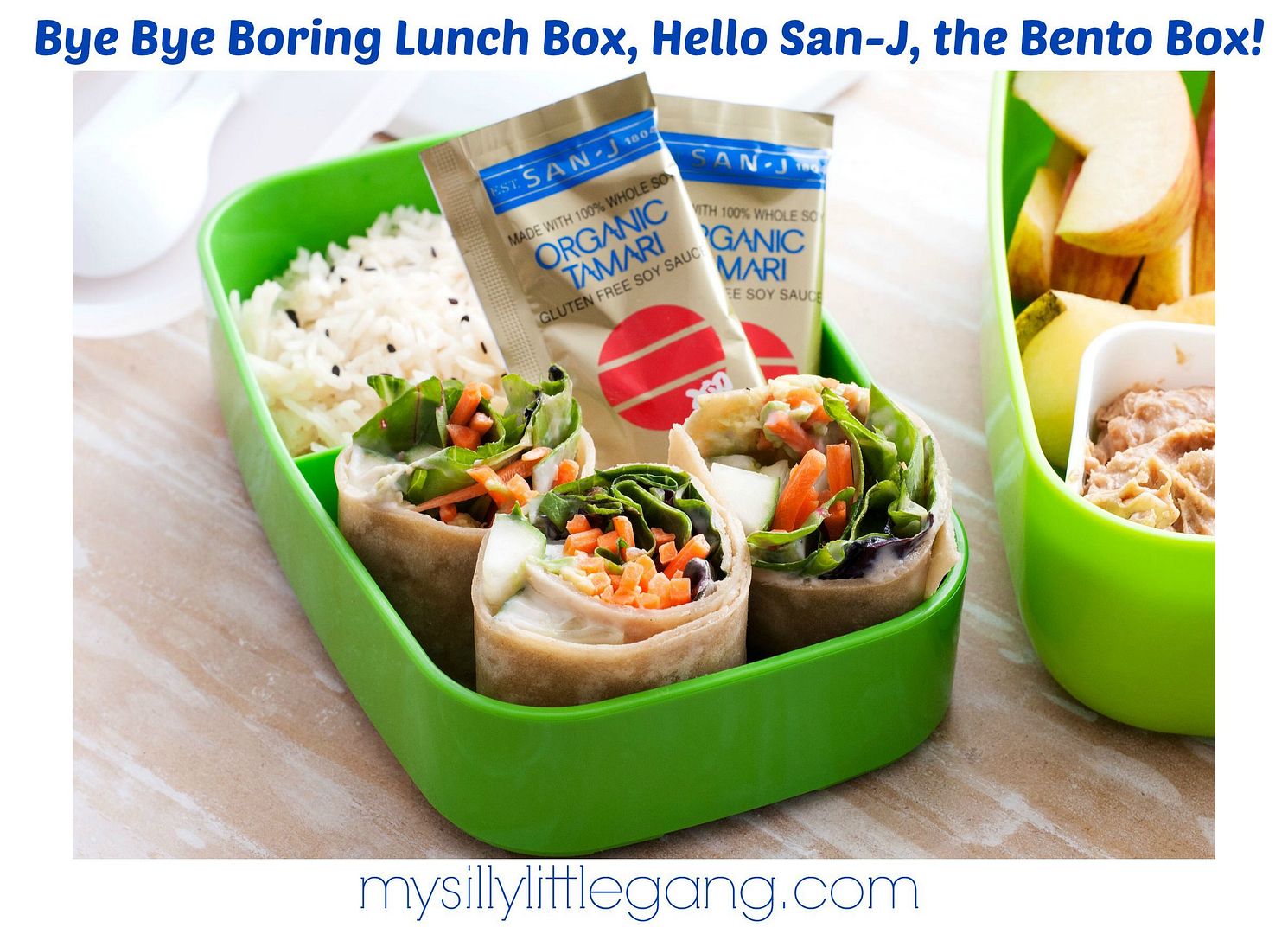 San-J transforms lunch time with six new, healthy, gluten-free, Asian-inspired recipes from an Asian BBQ Chicken Wrap to Vegetarian Faux Sushi.
I want to thank San-J for sharing these recipes and photos. 
I love foods that have an Asian flair. I am also a fan of San-J products and have done a post on their delicious Tamari Sauce. Now I am bringing you a post to help you transform those boring lunches into a delicious lunch with an Asian flair. Here's some information on San-J's Asian Cooking Sauces and also some yummy recipes that San-J has shared. 
With September comes the return of the lunchbox, or with San-J, the Bento Box! San-J known for their premium gluten free Tamari Soy Sauce and Asian Cooking Sauces, helps you transform boring lunches into delicious and healthy gluten free Asian-inspired meals. Why have just a sandwich or salad when with San-J you can enjoy an Asian BBQ Chicken Wrap, Polynesian Tuna Salad or Vegetarian Faux Sushi?  Easy to prepare morning of or the night before.
Crafted by Gluten-free chef Carol Kicinski, each recipe is not only deliciously made using flavors everyone loves like Teriyaki and Sweet & Tangy, but are created from simple ingredients like Chicken, Beef or Tofu with Vegetables. Lunch time will never be as simple and delicious with San-J's gluten free, natural and Non-GMO cooking sauces.  
NEW! Bento Box Recipes by Gluten-Free Chef Carol Kicinski:

Asian BBQ Chicken Wraps: Shredded Asian BBQ Chicken wrapped with sweet Apple Cider Vinegar Coleslaw.  
Beef & Broccoli Salad: Roasted Beef with broccoli and carrots covered with Mongolian Sauce. 
Chicken Bites with Peanut Sauce: Chicken bites dipped in Tamari Soy Sauce, honey and peanut butter sauce. 

Polynesian Tuna Salad: Pineapple, water chestnuts with celery and red peppers mixed with Tuna and Sweet & Tangy sauce served over rice crackers. 

Teriyaki Chicken and Rice Soup: Chicken and rice with shredded carrots in a gluten free chicken broth and Teriyaki Sauce base. 
Vegetarian Faux Sushi: San-J Orange sauce flavored tofu spread rolled with mixed green salad, English cucumber and avocados in a soft tortilla. 
San-J's complete line of seven Asian Cooking sauces are not only Gluten-free and kosher, but also now Non-GMO Project Verified (ARP of $4.19). For packed lunches you will not want to forget San-J's Tamari To Go Packs (ARP $4.29/Pack of 20).  They are a great way to add more taste to packed sushi, rice or vegetables and fresh flavor to leftovers. Unlike most soy sauces, San-J's Tamari is a premium gluten-free Gold Label Tamari is brewed from 100% soybeans and contains no wheat for richer flavor.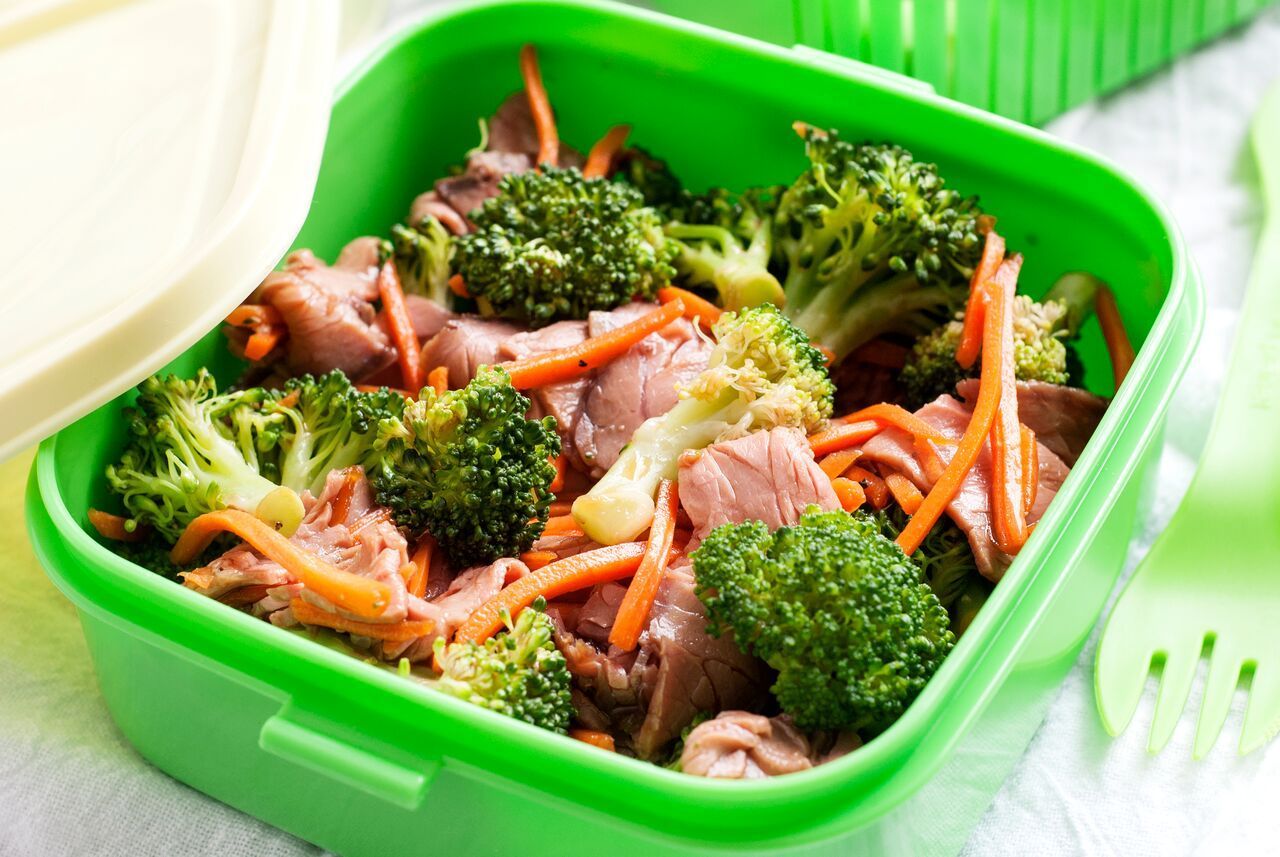 Beef & Broccoli Salad by Carol Kicinski
Ingredients:
1½ cups Broccoli Florets
¼ pound Roast Beef, cooked and chopped
½ cup Carrots, shredded
¼ cup San-J Mongolian Sauce
Salt & Pepper to taste
Serves: 2  
Directions:
Bring a pot of water to a boil. Drop the broccoli florets into the boiling water and cook for 3 – 4 minutes or until crisp tender. Immediately drain and place the broccoli into a bowl of ice water to stop the cooking.
Combine the blanched broccoli with the roast beef, carrots, and San-J Mongolian Sauce. Season to taste with salt and pepper.
Can be made a day ahead and stored, covered, in the refrigerator.
This Gluten Free recipe incorporates San-J product(s) that are Certified Gluten Free. Please be sure to consider the other ingredients to make sure they comply with your dietary needs and restrictions.
Vegetarian Faux Sushi by Carol Kicinski
Ingredients:
1 pound Firm Silken Tofu
3 Tablespoons San-J Orange Sauce
½ teaspoon Kosher or Fine Sea Salt
6 Large Gluten Free Wraps
1¼ cups Mixed Salad Greens
3 Carrots, peeled and julienned
1 English cucumber, cut in half, seeds scrapped out, and julienned
2 Avocados, peeled and thinly sliced
Serves: 6 
Directions:
Whisk together the tofu, San-J Orange Sauce, and salt until smooth. Cover and refrigerate for at least 1 hour to firm it up. Can be made up to 2 days ahead at this point.
Spread a layer of the tofu orange spread on each tortilla (you will have some tofu spread leftover – it is great for dipping veggies in). Divide the rest of the ingredients evenly then place down the middle of the tortilla, allowing some of the veggies to extend past the edge of the tortilla on either side. Roll the tortilla as tightly as you can, then wrap in plastic wrap and refrigerate at least 1 hour or overnight.
Unwrap the tortillas then slice each one in half, line up the halves and cut them in half again. Stand the pieces on their ends to serve.
This Gluten Free recipe incorporates San-J product(s) that are Certified Gluten Free. Please be sure to consider the other ingredients to make sure they comply with your dietary needs and restrictions.
For these and other delicious recipes visit: www.san-j.com/recipes and product details at www.san-j.com.
About San-J International 
San-Jirushi was founded by the Sato family as a Tamari and miso company in 1804 in Mie, Japan. Current San-J President, Takashi Sato, is an eighth-generation member of the founding family. They began brewing the first Tamari from their Henrico, Virginia, facility in 1987, continuing the 200 year tradition of Japanese brewing mastery.  Now San-J products are found in more than 1,000 retailers across the country, including Whole Foods Market, HEB, Target, Fresh Thyme and Publix. San-J's cooking sauces are also available for purchase online at www.san-j.com. For more information on San-J products and to find more great gluten-free recipe ideas, please visit www.San-J.com.