Our trip to LEGOLAND Discovery Center Boston!
My Silly Little Gang goes to LEGOLAND Discovery Center Boston!
This past weekend we got to spend the day at LEGOLAND Discovery Center Boston. My boys were so excited to be going that I wasn't sure if it would live up to their expectations. Well if I had to sum up our experience in one word then it would have to be… INCREDIBLE!!! Yup, that says it all our experience at LEGOLAND Discovery Center Boston was incredible! From the moment we set foot in the lobby the boys were amazed at just how many LEGO Bricks could be together in one place. 
When we walked in we were greeted by very friendly staff. The boys loved that even the registers had their places made of LEGO Bricks. And they also really liked that in order to start our tour we had to walk in through a cut out of a LEGO figurine. 
We got a chance to take a photo while we waited for the elevator to take us up to the LEGO Factory.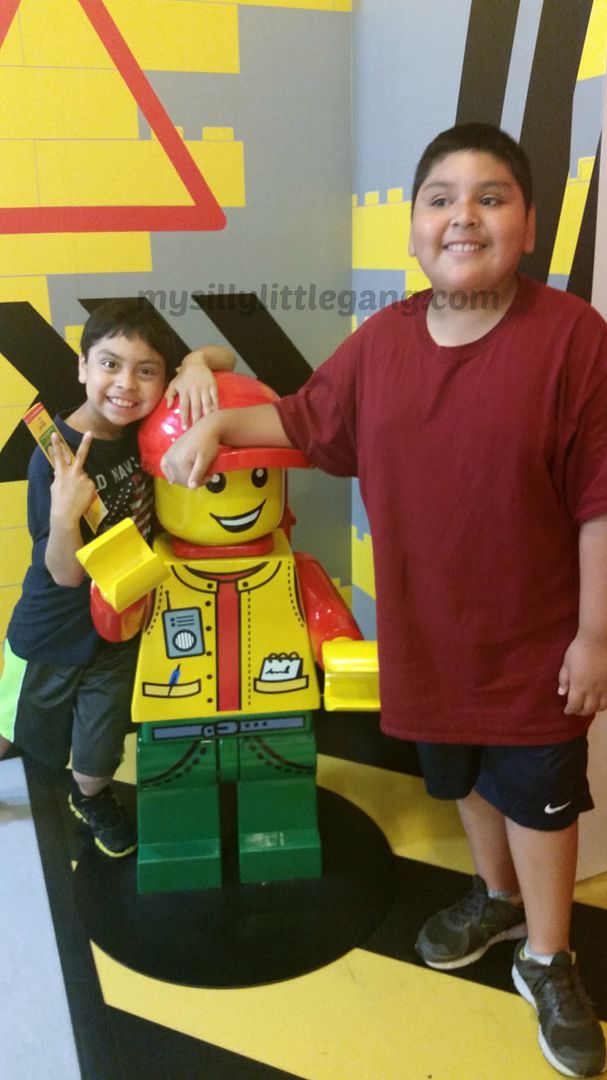 LEGO Factory Tour: LEGO Friends Bertie and Bonnie guided us through the LEGO Factory and taught us all there is to know about LEGO brick making. First, we broke up into four different teams: Red, Blue, Yellow and Green. We then worked our way through the factory, learning about the brick making process: mixing, heating, molding, decorating and even shipping. 
We then headed to the Kingdom Quest Laser Ride: This was my hunny's favorite attraction at LEGOLAND Discovery Center Boston. In this ride trolls and skeletons have captured the LEGO Princess and it's up to you to rescue her! 
I liked how at the end of the ride you get a chance to purchase a picture that shows your score. As you can see in the picture above we all have our game faces on! It was lots of fun. And the 3 options of packages for the picture at the end of the ride are very reasonably priced. 
From there we went to LEGO MINILAND. This was definitely my favorite part of the entire discovery center! I grew up in MA and the love I have for this city is major. So I was in total heaven here! It's like they took all my favorite points of this amazing city and put them under one roof! Just take a look!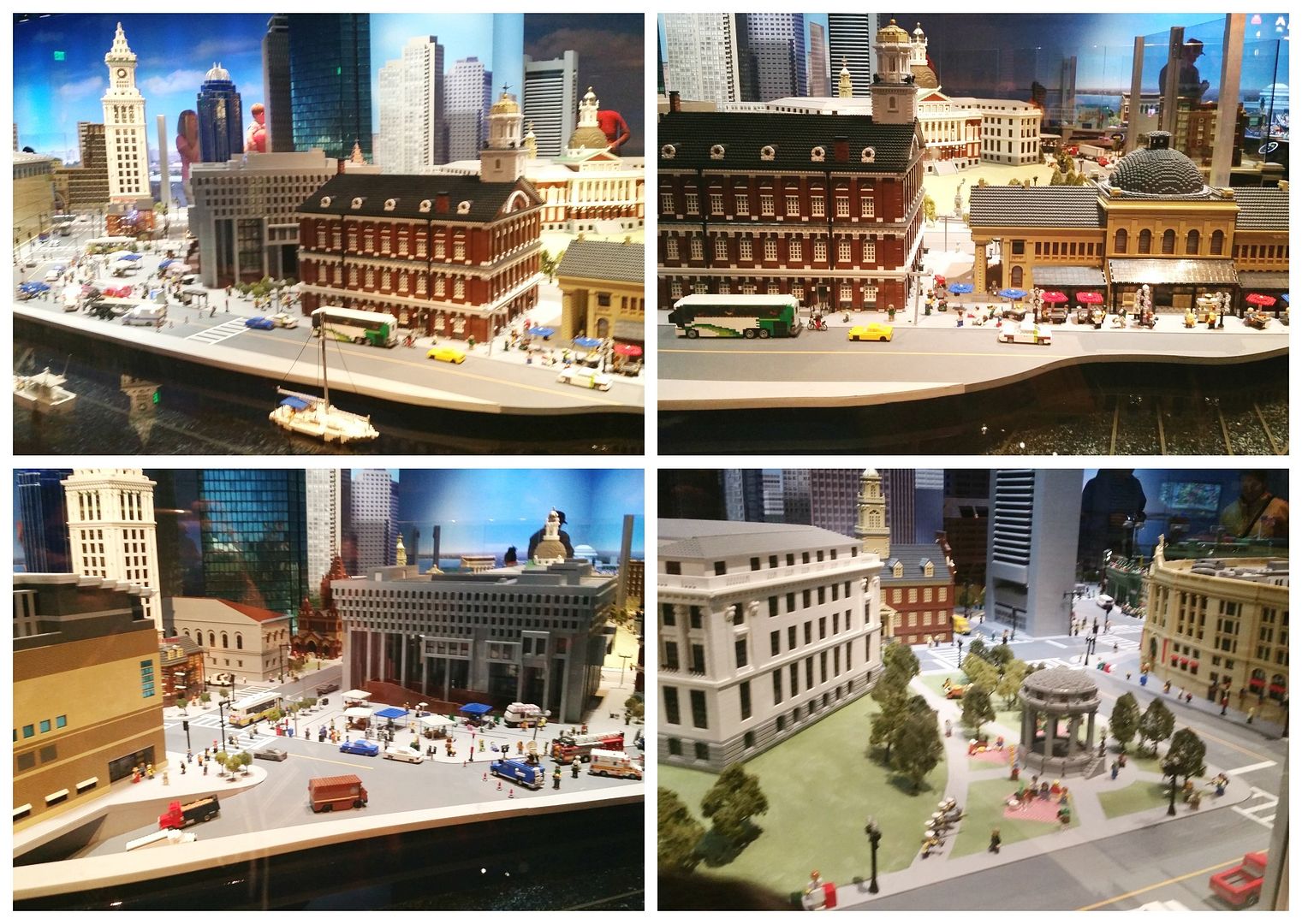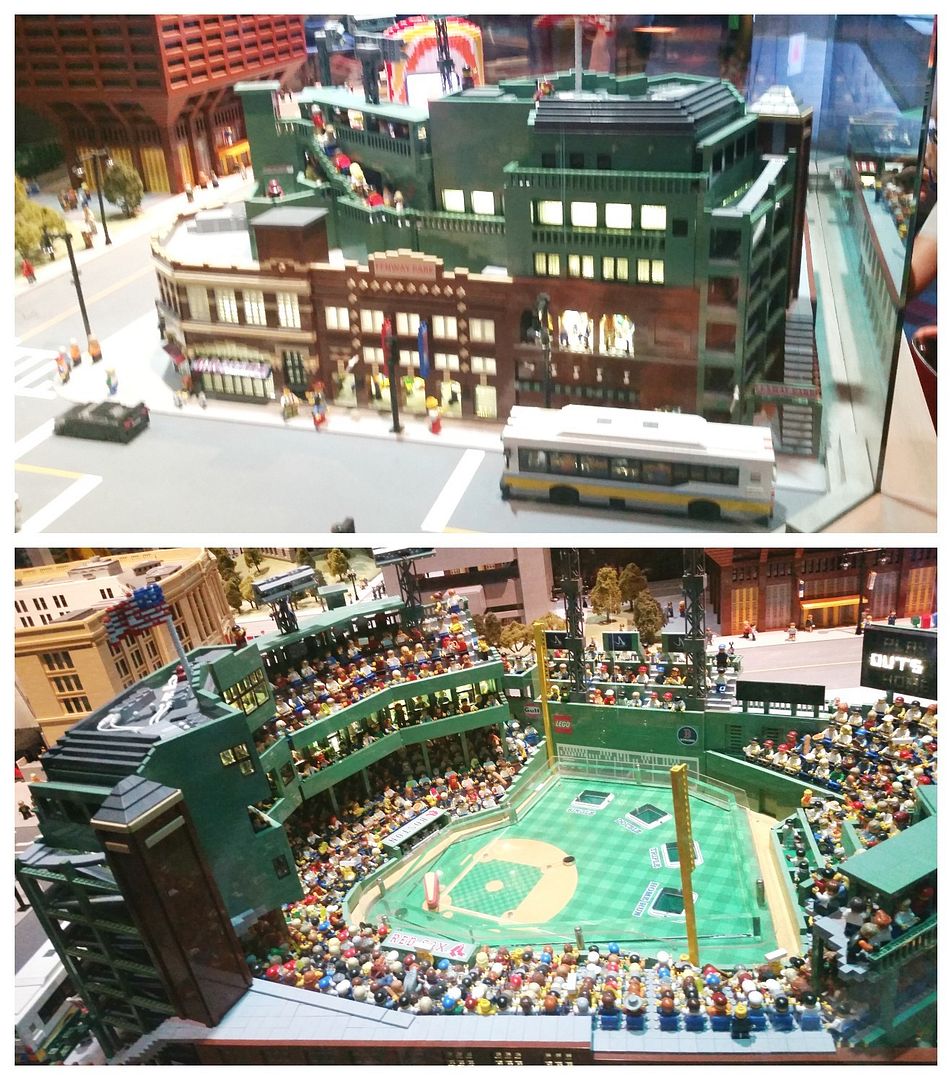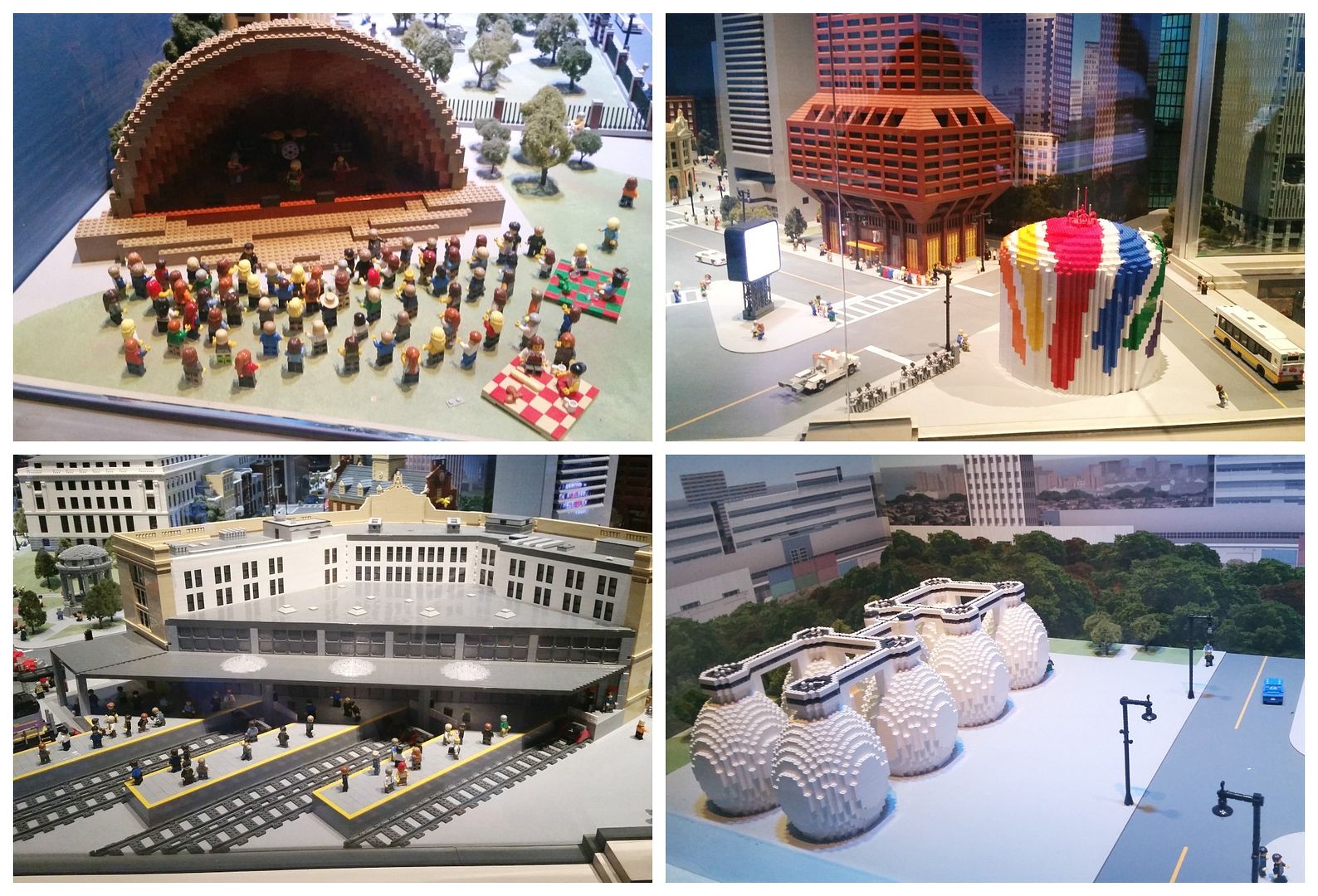 I loved that you could hear the crowds cheer at both Fenway and Gillette Stadium, and even attend a concert at the Hatch Shell! I could spend hours here over multiple visits and still not look at every single detail! This was really amazing! 
From there we went to a big open area that contained the Cafe and so much more. We first headed to the 4D Movie Theater!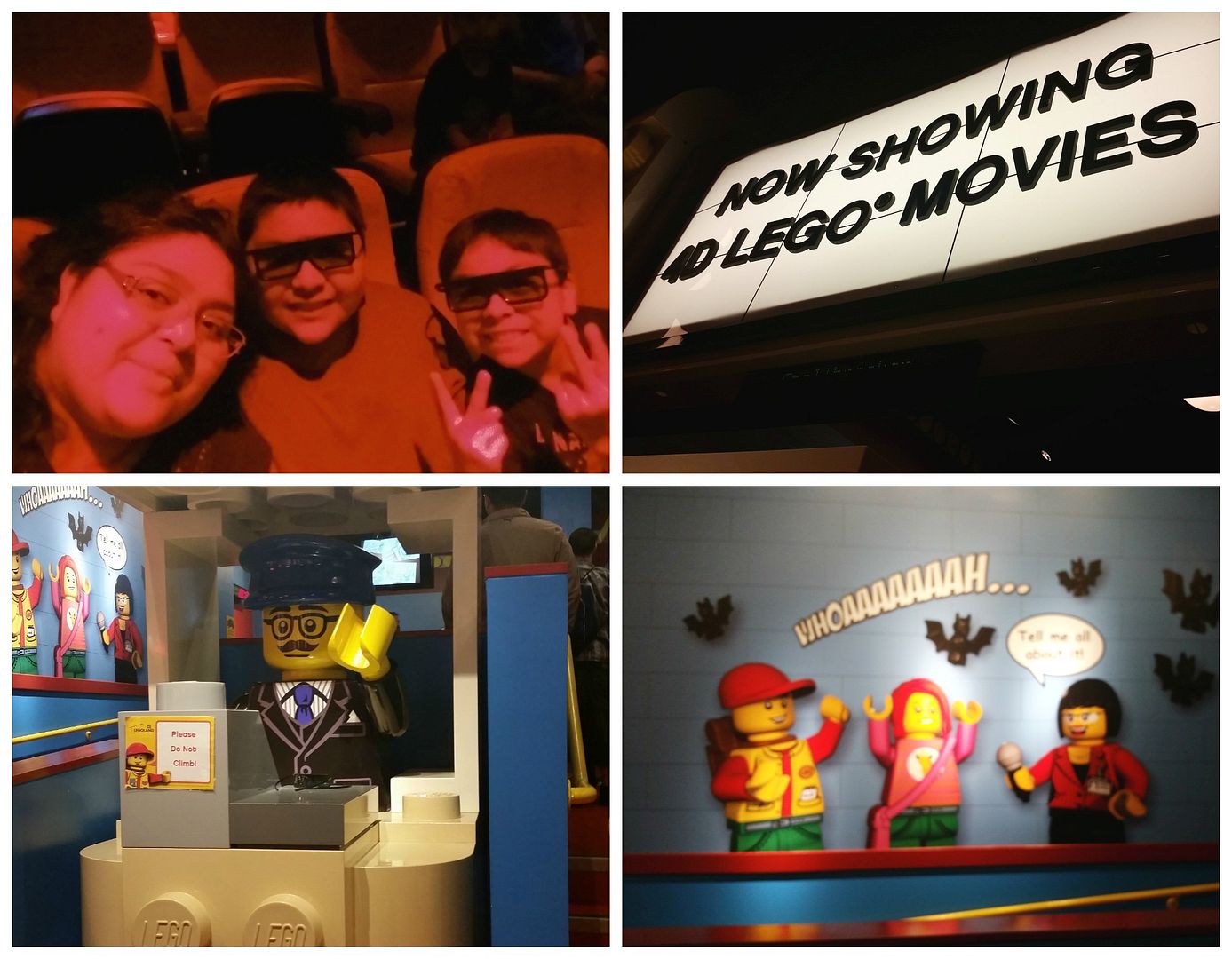 then the boys headed to the LEGO City: Play Zone: The Play Zone was another really cool part of LEGOLAND. the boys absolutely loved running, climbing, jumping and building throughout the Play Zone! We loved being able to sit and have a moment to ourselves watching them have fun!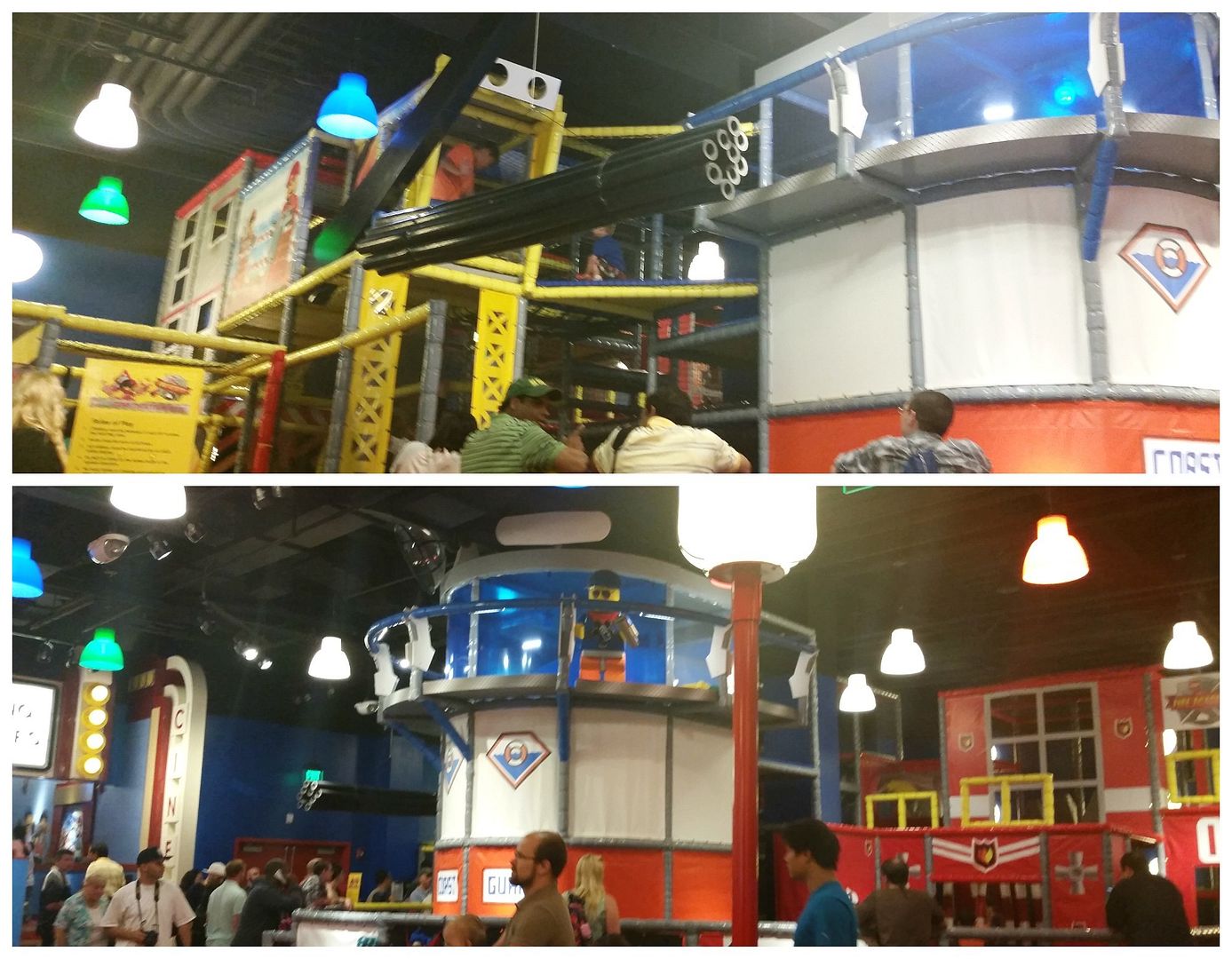 Then we headed to Merlin's Apprentice Ride: On Merlin's Apprentice Ride the boys peddled as fast as they could to soar into the sky! I sat this one out. But the boys loved it and even the 4 year old had a blast on it!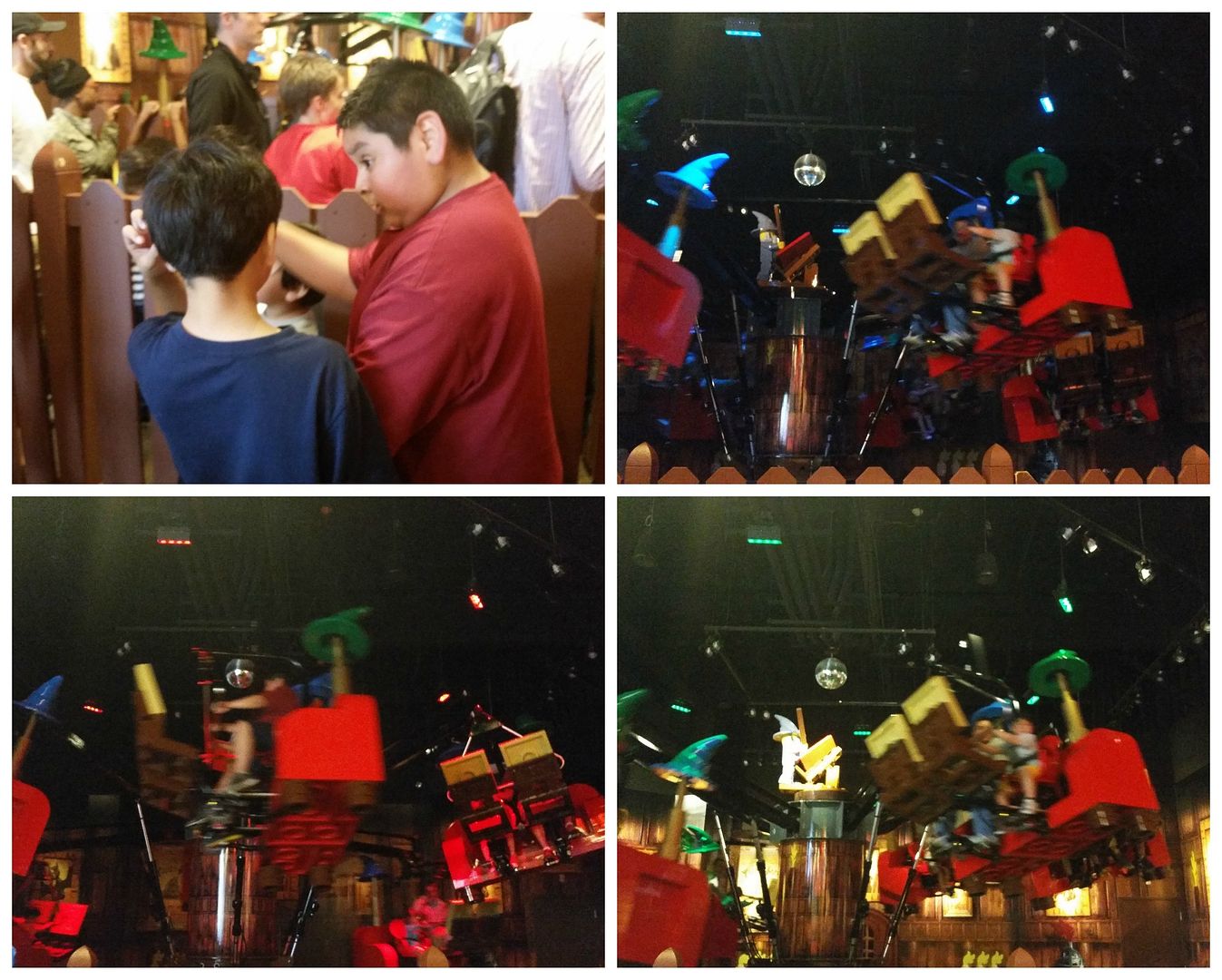 Then we went to the Ninjago Training Camp: This is a fairly new section that includes a laser maze. The boys loved the chance to test out their Ninja skills in the quest to join Sensei Wu's elite team. 
Other sections that they have at LEGOLAND Discovery Center Boston are: 
LEGO Racers: Build & Test where you use your imagination to build a vehicle and take it to the test ramps, with times recorded to the hundredth of a second, challenging Nitro Predator, Star Striker, Bone Cruncher and Crazy Demon.
LEGO Model Builder Academy where your little LEGO builders can learn secrets and insider tips from Master Model Builder Ian Coffey. 
LEGO DUPLO Farm which was Matias' favorite spot is designed for kids aged 5 and younger, DUPLO Farm is full of LEGO DUPLO bricks and larger soft play bricks, exclusive to LEGOLAND Discovery Centers. DUPLO bricks can be built together over 1,000 times and still have the same clutch power, which means endless possibility for imagination, creativity and discovery.
The Earthquake Tables where visitors can build the tallest LEGO brick tower possible on the special Earthquake Table Plates. Then with a flip of a switch, the plates move and you get to test whether your tower will remain standing. This was another favorite among my boys! 
There's LEGO Friends – Olivia's House where visitors are invited to Olivia's House to join the karaoke party. You'll join Olivia, Andrea, Stephanie, Mia and Emma as they sing their favorite songs on the karaoke stage, build cupcakes in the LEGO brick pits, or sit and chat to with friends on the sofa. 
The Café where you can take a break from building and relax in the colorful Café area, which offers a selection of healthy food options. LEGOLAND Discovery Center Boston Annual Pass holders receive a 20 percent discount on all Café purchases.
The LEGOLAND Discovery Center Shop Which has so many things that my boys didn't want to leave. 🙂 LEGOLAND Discovery Center Boston Annual Pass holders receive 10 percent discount on all purchases in the shop.
And Aaron who's birthday is next on the list was happy to learn that LEGOLAND Discovery Center Boston also holds Birthday Parties! Parties are currently available for pre-booking by calling 866-228-6439. Two birthday party packages – a standard and premium package – are available in the special themed birthday party rooms. 
Don't think that only the kiddos will have fun here…
Because I think my hunny was the one who enjoyed himself the most. 😉
We truly had an amazing time and are looking forward to  our next visit! Here more information about LEGOLAND Discovery Center Boston. 
Admission:
Tickets must be pre-purchased online to guarantee entry to LEGOLAND® Discovery Center Boston. Walk-up tickets may not be available.
Visitors will be required to choose an arrival time slot to guarantee your entry to our attraction. However, once inside, you may stay as long as you like!
Please be reminded LEGOLAND Discovery Center Boston is a children's attraction. Adults must be accompanied by a child in order to enter the attraction. Please book into one of our exclusive Adult Nights, if you wish to experience the attraction.
Please note that pre-purchased tickets are not subject to discounts at time of arrival.
Adult (age 13+) Walk-up price: $23.00 Online tickets range from $15.00 to $18.50
Child (age 3+) Walk-up price: $18.50 Online tickets range from $15.00 to $18.50
Child (0-2) $free
Hours:
LEGOLAND Discovery Center Boston is open:
Monday thru Saturday: 10am – 9pm
Sunday: 10am – 7pm
Visit the LEGOLAND Discovery Center Boston Website for more information.
You can connect with LEGOLAND Discovery Center Boston on Facebook and Twitter!