Recipe: Honey Vanilla Body Scrub & Honey and Avocado Moisturizing Mask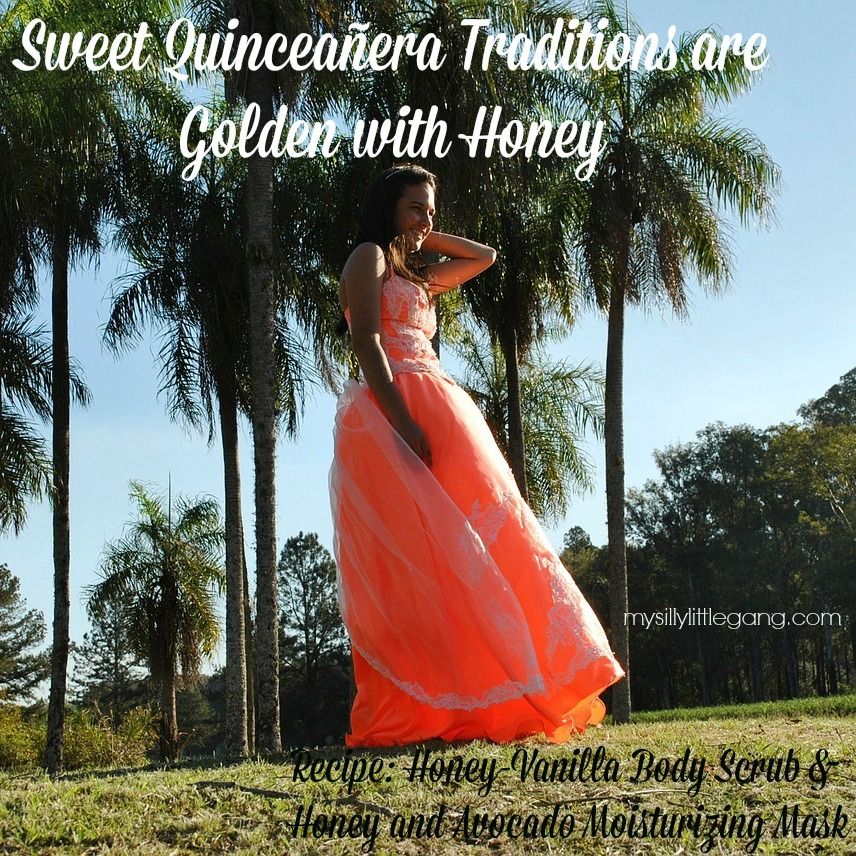 Sweet Quinceañera Traditions are Golden with Honey
Recipe: Honey Vanilla Body Scrub & Honey and Avocado Moisturizing Mask
The biggest dream of every girl of Latin descent is of course her Quinceañera! There's nothing better than Honey Vanilla Body Scrub & Honey and Avocado Moisturizing Mask so that she can look even more beautiful! 
Latina Teens and Their Guests will be Humming With Nature's Gold Presence at the Big Event
FIRESTONE, Colo., June 11, 2015 /PRNewswire-HISPANIC PR WIRE/ — Lots of dreaming goes into celebrating the ultimate quinceañera, a teenaged Latina's 15th birthday party. As an important coming-of-age tradition in many Latin American countries, as well as here in the U.S., having that perfect party takes months, if not years, of effort, planning and saving to make sure that this big formal family affair goes off without a hitch.
To make any quinceañera event flawlessly sweet this summer, the National Honey Board has partnered with the ultimate modern-day quinceañera expert, planner and stylist, Hilda Gabriela Hernandez, to offer teens and their parents the perfect honey-based beauty regime, menu and cost effective party planning ideas for the main event. Quinceañeras will not only look their best but guests will always remember the event's golden honey-based notes in dishes, beverages and even party favors, without breaking the bank!
"More than just a party, a quinceañera is the milestone rite of passage that young Latinas dream about since they were little girls," shared Hernandez, founder of ModernQuinceanera.com and expert with over 10 years of experience specifically in the quinceañera industry. "Looking your best for the big event is top of mind, having lots of fun and enjoying scrumptious food is the goal. And what better to celebrate the sweet quinceañera tradition than with nature's gold: honey."
On the beauty front, as the Director of the Miss Quinceañera Pageant, Hernandez shares some of her best-kept beauty pageant treatments using one of nature's best humectants: honey. "Young ladies today are very conscious about using natural beauty products on their face and body," she commented. Soon-to-be quinceañeras, moms and the entire entourage can all enjoy an all-natural beauty makeover before the big day arrives while keeping costs manageable and affordable for all involved. Among Hernandez's hydrating and sweet smelling honey homemade beauty treatments featured on www.mielpura.org are:
Honey-Vanilla Body Scrub
Body scrubs are used to soften skin by getting rid of dead skin cells. By applying scrubs to hands, feet or body, the entire body can quickly appear more radiant and youthful.
Makes 1 application
Ingredients:
1 cup honey
1 cup sugar
1 teaspoon strawberry extract
½ teaspoon vanilla extract
3 tablespoons baby oil
Preparation:
In a mixing bowl, combine honey, sugar, baby oil, strawberry and vanilla extracts until all ingredients are well blended. Apply to the desired area and massage onto skin for 5 to 10 minutes. Rinse with warm water.
Honey and Avocado Moisturizing Mask
Avocados and honey together make the perfect combination to add to any beauty routine to leave your face smooth and absolutely radiant.
Makes 1 application
Ingredients:
1 tablespoon honey
1 avocado
Preparation:
Remove the skin and pit of the avocado. Then mash the avocado fruit in the mixing bowl and stir in the honey. Continue mashing until the honey is blended well into the avocado mash. Apply the mixture to your skin and leave it on for 10 to 15 minutes. Rinse the mixture off with warm water.
Hernandez and NHB also gathered all the key essential quinceañera party planning tips (also available on www.mielpura.org) to create honey-themed plan for Latino families to execute in turnkey style. Among Hernandez's key honey party tips are establishing a party budget, what to look for in a quinceañera dress, 2015 party trends and DIY ideas to create a memorable party including a honey infused quince cake and creating a sweet tea station for guests at the event.
For the full list of Hernandez's quintessential quinceañera beauty treatments and party planning tips, visit www.mielpura.org.
About the National Honey Board
The National Honey Board is an industry-funded agriculture promotion group that works to educate consumers about the benefits and uses for honey and honey products through research, marketing and promotional programs. For more information, visit www.honey.com.
SOURCE:  National Honey Board