Rose Quartz Face Creme Review #gemstoneorganic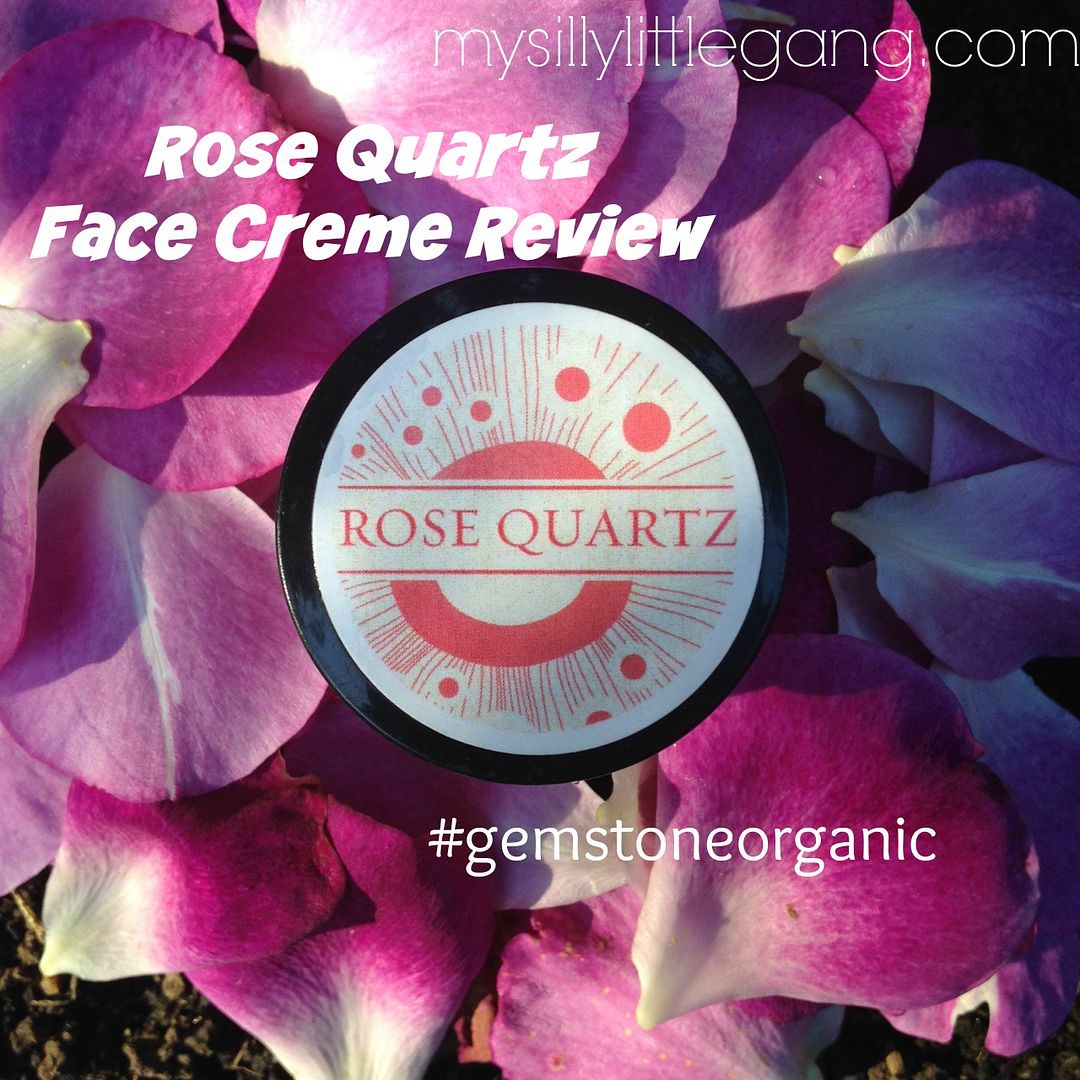 Rose Quartz Face Creme
It's during the summer months that my obsession with protecting my skin gets even worse. There's nothing better to protect your skin, than to use a natural face cream, such as the one from Gemstone Organic. Ever since I received my Rose Quartz face and healing cream, I have made up my mind that it's the perfect cream for the job. I love that it's such a thick consistency. Which means that a little goes a long way. I really like that it absorbs into my skin really fast. And My skin feels amazingly soft and smooth! I also like that it has all natural and organic ingredients. Because of the thickness and creaminess of this cream I can see it would be perfect for the long winter months. I will definitely be getting more for then. I would totally recommend this product. Gemstone Organics Rose Quartz Face and Healing cream is thick, rich, and effective at healing and moisturizing the skin. The Gemstone Essence Face Creams are also available in 5 varieties total: Rose Quartz, Moonstone, Jade, Gold and Ruby. Each one perfect depending on your skin type and healing needs.
You can buy these amazing creams on the Gemstone Organic Website. You can also connect with them on Instagram and Facebook.
Product Description
Our face creams are made with 100% Organic ingredients. These are raw skincare products with live, active botanical medicines and high vibrational gemstone essence to repair and rejuvenate your skin. Made from precious and semi-precious crystals, our gem essence is a unique mineral complex that you will not find anywhere else.

Our Organic ROSE QUARTZ face and healing créme is gentle and soothing to all skin types. It moisturizes and brightens your complexion by encouraging healthy circulation to the surface of your skin. The organic essential oils in this crème are high in antioxidants to promote vibrant skin and reduce fine lines and wrinkles.


ROSE QUARTZ is made with Gemstone Essence from rose quartz, kunzite, smokey quartz and other select crystals. This unique gem blend is made to reveal a softer, smoother complexion. It carries a loving energy, helping you with acceptance and forgiveness. Open your heart chakra to attract all forms of love (self, universal, family and romantic). Love brings you inner warmth that will reduce stress and elevate levels of happiness!
Skin Type: Rose Quartz is designed for all skin types and is especially recommended for dull, aging skin
Aromatherapy: Lavender and rosemary essential oils for a relaxing and soothing scent
Gem Essence: Rose quartz, kunzite, smokey quartz and other crystals for your heart chakra, creating space so you can be open to the love and beauty that surrounds us