Color Changing Nail Polish Review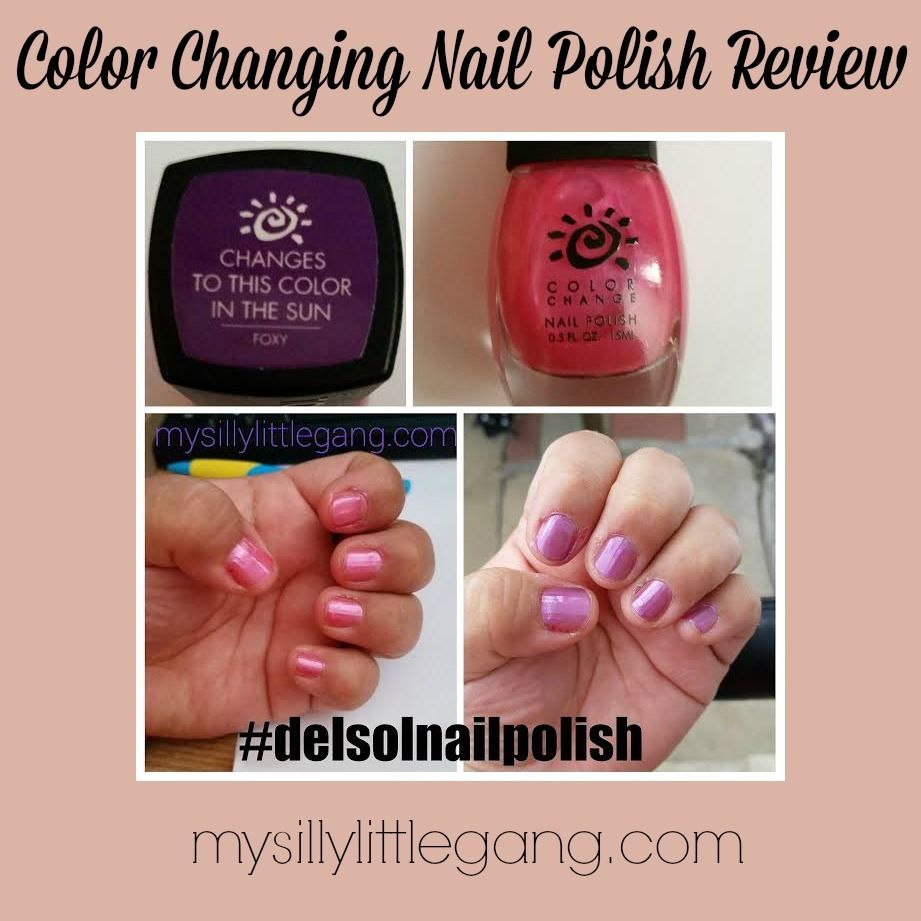 Del Sol Color Changing Nail Polish: High Quality, Nail Lacquer that Adjusts Hue in the Sun!
Recently I was chosen to review a bottle of Del Sol Color Changing Nail Polish. You guys know how much I love makeup and nail products so I was super excited. When the time came to choose my color I had a hard time choosing because of all the amazingly gorgeous colors they have!! I ended up choosing a pink/purple color called Foxy, which I'm sure those who know me weren't surprised. Purple and Pink are my two most favorite colors! When I received it I immediately tried it out! The nail polish is much sheerer than it looks in the bottle. But after 3 coats, I got it to almost match. As soon as it was dry I headed outside to see how well it works. I was so surprised to see the polish change right before my eyes! It's not as intense as the sticker said it would be, but it's still a gorgeous shade of purple! I am very pleased with the length of time it lasted also. I wore it 1 week and a half straight without it needing a touchup.
You can get your Del Sol Color Changing Nail Polish on Amazon.
Product Description
INSTRUCTIONS: SHAKE BEFORE USE. Color-changing Nail Polish by Del Sol is the wonder of the sun at your fingertips! Indoors, the nail polish is one fun color. But outside, Del Sol's exquisite, color change nail polish turns a dramatically different hue. Some styles feature glitter, too. From indoors to outside, and back to indoors, Del Sol Nail Polish gets attention as it changes. HOW DOES IT WORK? Much like a flower that blooms in the sun's rays, the hidden colors found in Del Sol's exclusive nail polish twist and unfold into vibrant color upon exposure to sunlight, then return to their original color without sunlight. It's magic! Seriously, it's the magic of Del Sol's proprietary Spectrachrome® Technology. Spectrachrome molecules shift into a range in the electromagnetic spectrum that's visible to the human eye. This activity is referred to as the molecular excitation transition- try saying that five times fast! The dye does not actually "change" color; rather, it becomes visible to the human eye. NASA invented it for their space program, and Del Sol enhanced it for everyone under the sun! It's not rocket science, but then again, maybe it is. Del Sol's panel of chemists from around the world have tested tens of thousands of color-changing product variations, which naturally fuels our ongoing research and development efforts for even more color creations to come!