Mastey: Eco-Friendly & Healthy Hair Care!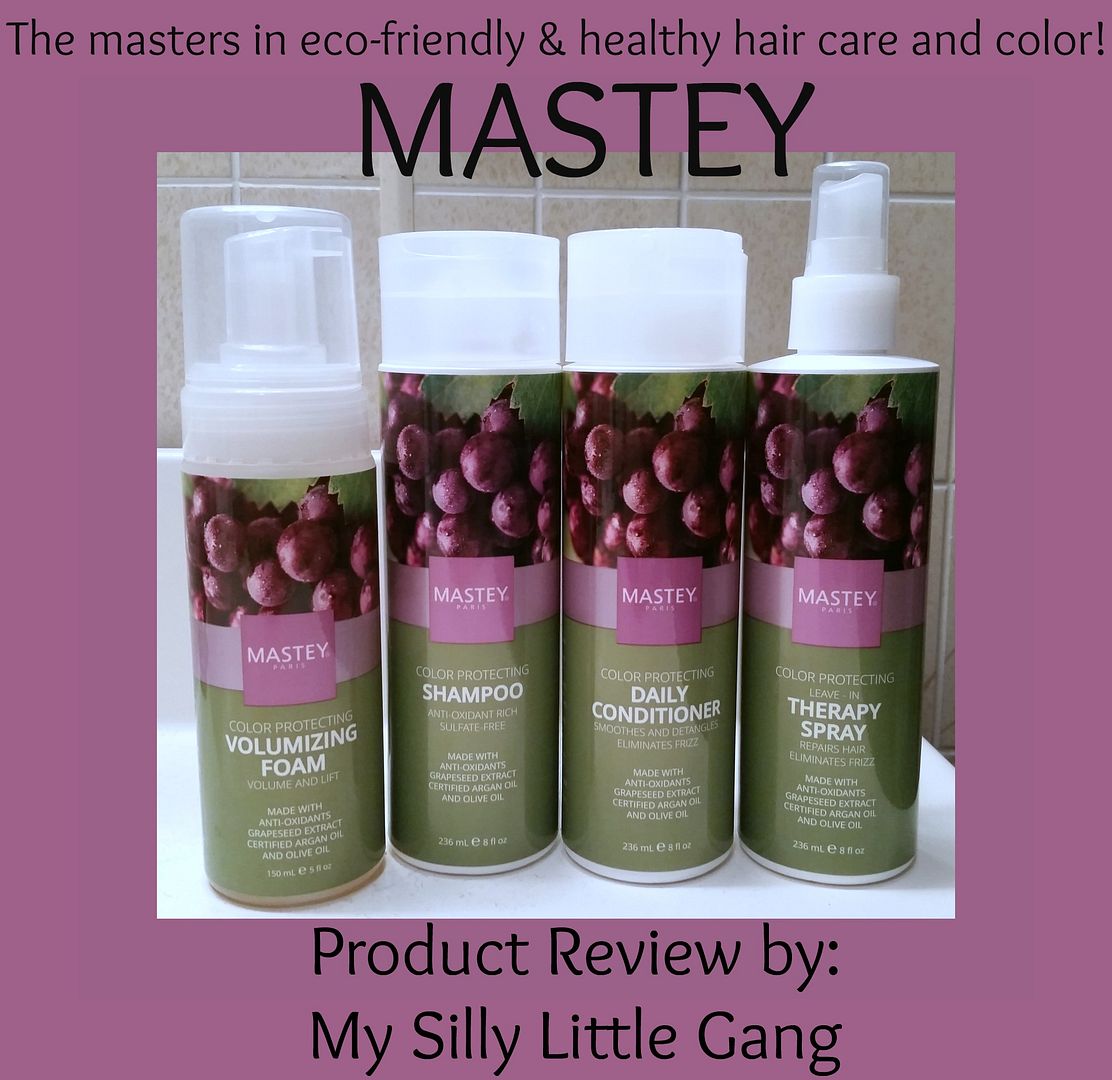 Mastey: 

the masters in eco-friendly and healthy hair care and color!
I was contacted a couple months ago to see if I would try a few products from the Mastey hair care line.  Those of you who have been with me for a while know that I love hair and beauty products.  And that when those products work,  I like to share them with you!
I was excited when I received the box and saw that I had received a shampoo,  a conditioner, a color protecting therapy spray and color protecting volumizing foam I was beyond thrilled. I have been using these product for a little over a month and I love them! As a woman whose hair is frizzy 100% of the time if I don't use anything to tame it, I have gotten used to the added weight that conditioners leave in my hair. So that's the main reason I fell in love with these products. NO added weight with the conditioner. It's a silky conditioner with an amazing scent and when I rinse it out I can feel it rinsing out completely. Yet when my hair dries ( I tend to let my hair air dry whenever possible) there's no frizz, and it's silky smooth. The shampoo is also great, it's a little more watery than your traditional shampoos, but it has an amazing scent as well. And it's so easy to detangle my hair while in the shower when it's in my hair. The other two products are also fabulous! The color protecting therapy spray  is a must for my naturally wavy hair. This product made it so easy to run the brush through my wet hair…I know…technically we are not supposed to do that, (because it damages your hair) but sometimes you just have to.  I really like that this product also helps by providing thermal protection from hot tools. It leaves my hair feeling incredibly silky! Last but most certainly not least is the  Volumizing Foam which is great for when I don't want to do anything with my hair and let my naturals waves be free! It gives my hair that extra bounce without the added weight.  I honestly want to try their other line of products, which include:  Restorative Mask, Leave-in Argan Oil Treatment, Defining Cream, Beach Spray, Finishing Spray, Dry Wax and Styling Gel.
When it comes to healthy, beautiful hair, Mastey is the clear choice! Without the use of chemicals and additives that can harm your beautiful locks, you get shiny hair color that will last, vibrancy and dimension you will adore, and healthy ingredients your hair will love. When choosing hair care products, there is more on the line than just the color. With Shampoo and Conditioning Sulfate-free since 1978, hair stays protected. How do the products you choose make an impact on the environment?  Mastey products are eco-friendly, green focused, and good for your hair, so you get the gorgeous natural hair color you desire and the peace of mind knowing your hair care products are environmentally friendly!
100%  Vegan– With natural ingredients comes natural beauty that is good for your hair! Using plant-based moisturizers means you will have softer and more natural feeling hair, with absolutely no animal based products!


 

No PPD!– This means less irritation or allergic reactions thanks to our formula that leaves out the "bad guy" known for causing skin and allergy irritations. For more information on the negative effects of PPD click here. 


 

 No Ammonia– Ammonia can damage hair, period. As pioneers in this market, we formulated hair care without ammonia back in 1982. You can trust us to have your hair's best interest at heart! For more information on why Ammonia is bad click here.


 

 Rich in Antioxidants– Not only do we leave out the bad ingredients, but we add good for you grape seed extract to our line of hair color and products! This means longer lasting color and luscious, touchable locks that you will love!


 

Formulated with Argan Oil & Olive Oil  to protect your hair from styling heat and the environment — let's your hair be soft and shiny without any greasy feeling. 
When it comes to hair care, Mastey is a natural and safe choice for healthier hair products. Developing quality products with integrity, and a commitment to the environment, your hair is in good hands with Mastey. 
Mastey is a family owned business that has been creating healthy and beautiful hair for over 40 years. Henri Mastey began his career as a stylist in Paris in the 1950's. Having a passion for chemistry as well as beauty, Mr. Mastey was able to combine his love of chemistry with hair care through his line of hair color and hair care products! Growing from a small business, Mastey products are now sold internationally and Mastey is considered a pioneer in the beauty industry. With their green focused products, Mastey is pioneering the industry of hair care towards products that create gorgeous, long lasting color, and thoughtful use of components that are eco-friendly, making their eco-footprint light, but their footprint on the industry radiant!
•To learn more about Mastey please visit: www.mastey.com
•To learn how to have your hair color last longer please visit: www.colorprotecting.com
•To learn more about Mastey no ammonia and no ppd hair color please visit: www.masteyhaircolor.com
Don't forget to get social with Mastey on Facebook, Twitter, Pinterest, Google+ and YouTube.