Old Navy $50 eGift Card Giveaway.
Old Navy $50 eGift Card Giveaway.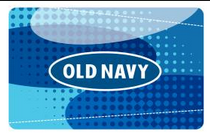 Gift Card Season Is On The Way!
As we get close to the holidays, I stock up on gift cards. I give them as gifts, of course, but I also get them for myself as a way of saving up for times when I'm short on cash or for those special sales! We also like to buy them from our local grocery store for places we shop and eat regularly because we get discounts on fuel when you buy gift cards. Often times, during the holiday season, my wallet is stuffed full of gift cards. Sometime I have to take some gift cards out so that it will fit in my pocket! Now that I have GoWallet, I do not have that problem.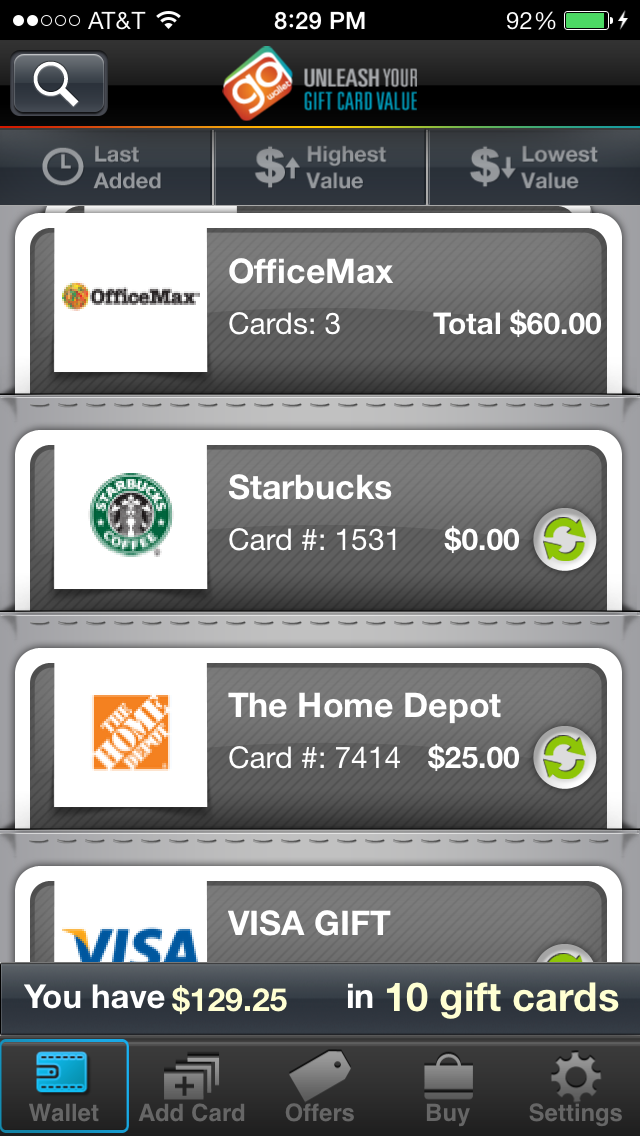 Another problem is, I have a lot of gift cards laying around and I have NO idea how much they're worth. That's what I love about GoWallet. Its an app that tracks my gift cards, lets me know how much is on them, and even gives me the balance on the values of multiple cards. Now I don't have the issue pulling them out, handing a cashier the gift card, and saying "I have no idea how much I have remaining on there or if I even have any money left on it".
It's easy to use on an iPhone or Android device, or you can use it right on the GoWallet website. Enter your cards and track the balances, buy cards through the app, and even buy them and send to friends through the app. This comes in handy when someone's birthday slips your mind or you get that last second birthday invitation. It is also handy when you just want to add some extra money to the balance you have on a gift card.
Typically you can scan your gift card and it will show up in GoWallet, but not all of the cards you have will automatically update the amounts on your gift card. For example a local retailer may not be be in their system, but there are over 200 major retailers and restaurants that are. If your card does not automatically update, just enter the amount when you get it and you'll be able to track the balance in GoWallet.
Once your card is entered you'll know if it is a premier partner with GoWallet. You'll see a green icon indicating you can update the balance on the card automatically.
When you see the green real-time balance icon you can use the numbers on the card in your app to shop online or in stores.
I never leave home without my gift cards or my GoWallet! It's so convenient and it makes managing my gift cards a breeze.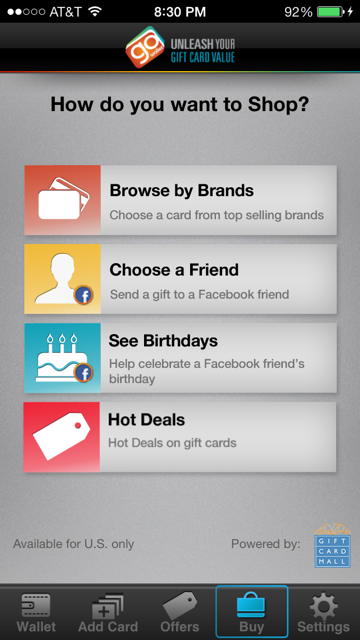 Lost/Stolen Support
GoWallet keeps the customer service phone numbers and lost and stolen policies for partner retailers so you can find it easily if your card gets lost or you have a question for customer service. Thank goodness I have never had to use this, but I bet there are more than a few people that have had this issue and had no idea how to begin to try and fix the issue.
Gifts for friends
You can send eGifts through the "Buy gift cards" section of GoWallet on your computer or your phone. Get reminders of the birthdays of your Facebook friends and send them eGift cards from over 200 card partners through the app. If you ever forget to get someone a gift you can easily just open up your GoWallet app and no one would know you had to do it last minute. Your friend can enter the gift card into GoWallet with just one click.
Registration is free. Why not give it a try now and get your gift cards under control?
Register for GoWallet today.
You can grab the GoWallet App for your IOS device at itunes here or for your Android device at Google play here.
Giveaway info
Want to try out GoWallet for yourself? I've got a great giveaway offer for you. Enter below to win a $50 eGift Card from Old Navy! Once you win you will be able to load the card right to your Gowallet app.
I would like thank the following blogs for the help promoting this post.
Ms. MommyHH6
Livin' The MOMMY Life
80s 4 life
The Simple Things in Life
Mama C's Secrets 2 Savings
Heart of a Philanthropist (HoaP)
Holiday Contest and Sweeps
Chase All Your Dreams
MyStyleSpot
The Coupon High
The Giveaway Girls
Rambling Redhead
Baby Bump Bundle Blog
Chronically Content
Tales From A Southern Mom
Simply Southern Couponers
Horseshoes & Hand Grenades
Spring Of Health
Adventures of Piglet Scooter
Gal on a Mission
Momma Lew's Blog
Profit From Sweepstakes Giveaway & Review Blog
Bit O' Everything
daydreaming beauty
Satisfaction Through Christ
Fun With Four
The Reynolds Mom
Search With Vonni
Just Call Me The Girl With The Spider Tattoo
OOingle
Crazy Coupon Train
The Jenny Evolution
JamericanSpice
My Silly Little Gang
SummerThat
Everyday Erica
Random Musings
Akamatra
HowToThisAndThat
Coupon Envie
Product Review Cafe
Luker Family Tales
Deals & Giveaways
Around Baltimore
Baltimore Mom
This N That with Olivia
Disclosure: Dads-Deals.com has been compensated for this post. All opinions and experiences are my own. Open to US , must be 18+. Confirmed Winner will be contacted by email and have 48 hours to respond before a new winner will be drawn. No purchase necessary. Void where prohibited by law. The sponsor will be responsible for prize fulfillment. My Silly Little Gang is not responsible for prize fulfillment. The sponsor of this event will be responsible for fulfillment of prize. This event is in no way associated with, sponsored, administered, or endorsed by Facebook, Twitter, Google, Pinterest or any other social media network. The disclosure is done in accordance with the Federal Trade Commission 10 CFR, Part 255 Guides Concerning the use of Endorsements and Testimonials in Advertising.
Please contact DadsDeals.com@gmail.com with questions, if you would like us to host a giveaway, or if you would like for us to review a product for you please contact us.