Adorable Spring Gift Ideas for Baby #GCWBaby @gerbercw @buybuyBABY
Adorable Spring Gift Ideas for Baby
I have lots of friends who either just had their babies, or are having showers. There must be something in the spring that brings babies. 🙂 It was during my hunt for spring gift ideas that I was introduced to this new collection. I have always liked and trusted the Gerber brand. So when I heard that Gerber Childrenswear had a brand new 100% Organic cotton line I had to check it out. This new line was just launched on Buy Buy Baby. I want to share with you a few pieces from this collection that caught my eye.
Take a look at these adorable Teepee Fox Sleep N' Play Footies! I absolutely love how soft and snuggly these two footies are!
As you can see from the picture above these footies have a zipper closure which has a protective snap on it. This is great so baby doesn't get hurt with the zipper pull. And on the inside there is a piece of fabric (the same as the footie) covering the back of the zipper. This is so the baby's skin is protected from the zipper. You can see what I'm talking about on the picture that's top right. The one on the bottom right shows the cuff on the sleeve. This is also super soft!
Another great piece that I believe should also be a baby must have is this 3-Piece Hello Organic Cotton Gown, Cap, and Bootie Set! This material is also soft and comfy. I like it so much that I would totally wear it all the time if it came in an adult size. I really love the HELLO print! A gown is particularly great for those late night diaper changes. This set comes with matching booties and cap to keep baby super cozy.
I also really like how well the stitching is, and the quality is exactly what you would expect from a premium baby brand. The shoulder-neck openings expand making it easy to slip over the baby's head. This truly is the perfect new baby or baby shower gift!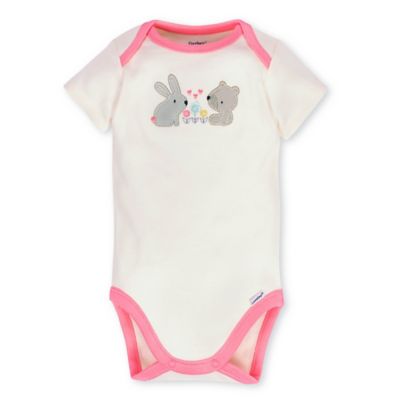 Another great product to gift is a onesie. Gerber Childrenswear has these 3-Pack Organic Cotton Bunny Bodysuits that are super adorable! Perfect for the season, these floral and bunny designs can be worn as undershirts or as cute, cool tops when the temperature climbs.
Check out all the Gerber Childrenswear adorable spring gift ideas for baby available on Buy Buy Baby.