T-fal Must Have Kitchen Tools & Gadgets @Tfal_Cookware
T-fal Must Have Kitchen Tools & Gadgets
With the holidays I plan my menus, and I arm myself with must have kitchen tools & gadgets. I plan my tools to go along with my menu so that way I always have everything I need. When looking at my holiday menu list for kitchen tools there are always four that are absolute musts for me. A peeler, a strainer, an apple wedger and a garlic press. And when I think about those four tools a brand that comes to mind immediately is T-fal.
I have lots of T-fal products that are my favorite like this mandolin/grater, and the 5 second chopper I mention here. I love all my T-fal products, the quality of the tools is great and they actually perform the way they are supposed to.
Let me tell you more about my four holiday meal prep must have tools.
This product helps me immensely when it comes to making my apple pies and turnovers. Thanks to this apple wedger I can quickly remove the apple core while creating perfect slices for pies, turnovers, and snacking.

Product Description
Now you can core and slice apples with ease using the T-Fall Ingenious Apple Wedge. With extended blades for full slicing and elevated handles to keep knuckles from hitting the surface, this T-Fall product has both efficiency and comfort in mind. The protective blade cover offers added safety while the product is in storage. The blades are made of premium stainless steel to ensure a clean and precise cut every time. The T-Fall Ingenious Apple Wedge is perfect for apple slices, pear slices and preparing pie fillings. This product is dishwasher safe.
I put garlic in almost everything! When it comes to my holiday turkeys I always love to place garlic in the stuffing and in the rub. The 'Spoon and Tap' feature of this garlic press eliminates the need for my hands to interact with the garlic. Which is perfect, because who needs garlic scented hands.

Product Description
The T-Fal Ingenio Garlic Press Uses body leverage rather than squeezing by hand. Designed to sit on the counter for effortless mincing, this is the perfect tool for those with arthritis or limited hand strength. Set the garlic press on the counter and place a garlic clove on the texted base. Lower the handle to press the garlic through the metal screen. Lift handle and repeat until your desired amount is in the hopper. Using the red bumper, tap out the minced garlic into a bowl or pot. Extend handle fully to disengage screen for easy cleaning and the whole unit is dishwasher safe.
T-fal Ingenio Tripod Strainer
This tripod strainer has been such a lifesaver! With it's new-to-market 'kickstand', it allows for hygienic elevation and effortless draining. I wasn't able to find this exact one for you to link to so I'm not sure if it's still available. However a good alternative is this T-Fal 8″ Strainer available at Walmart.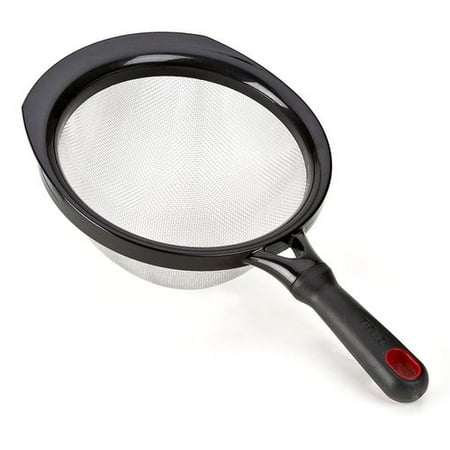 Product Description for the T-Fal 8″ Strainer
Measures 8″ in diameter. Fine stainless steel mesh. Extended rim fits securely over container for straining. TPR (rubber) handle and trim. Dishwasher safe. Find it at Walmart here.
I absolutely love my T-fal Ingenio Micro Edge Peeler, I use it for peeling all veggies like zucchini or potatoes. It's comfortable, sharp, and works flawlessly. Best of all it makes peeling anything a breeze. The best part that I like about this micro edge peeler is the blade cover.

Product Description
The T-fall Ingenious Micro Edge Peeler makes peeling effortless. With an extra sharp etched blade and gouging blade for removing potato eyes, this peeler will make life in the kitchen a lot easier. The T-fall Ingenious Micro Edge Peeler includes a safety blade cover for added security. Dishwasher safe.