Game Day Recipes The Kids Can Help Make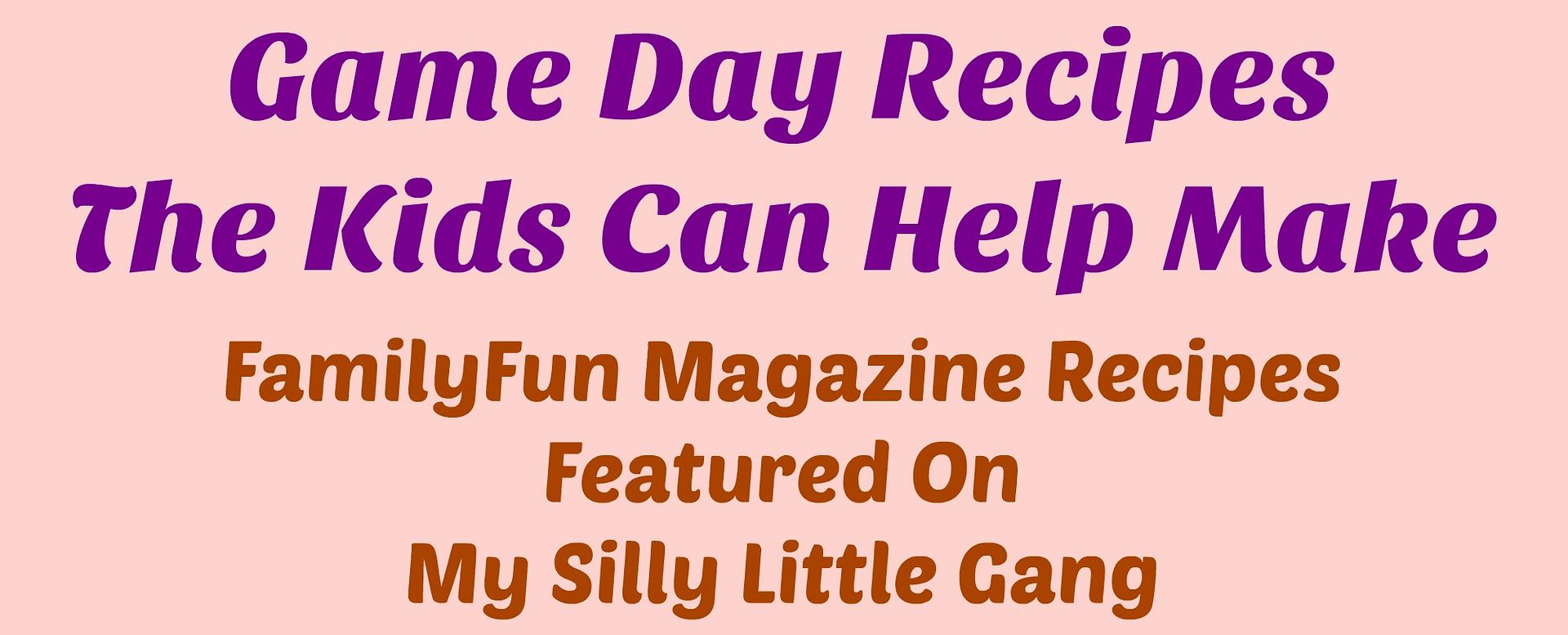 Game Day Recipes The Kids Can Help Make. Recipes Courtesy of FamilyFun Magazine.
We love game day and cooking with the boys. So I was super excited to be asked to share these recipes with you! These are great recipes to make with kids. 
FamilyFun Magazine has so many wonderful ideas when it comes to food and crafts. It is definitely my go to magazine whenever I need ideas. Let's dive right in to these great recipes. 
Chili Meatball Skewers
Kids will love rolling up these tasty bites that pack in all the flavors of chili—no bowls and spoons required!
MAKES 30 11⁄2-INCH MEATBALLS
1 lb. ground beef, 92% lean
1 egg, lightly beaten
1⁄2 cup canned black beans with 1⁄4 cup liquid reserved 
1⁄2 cup frozen corn, thawed 
1⁄2 cup shredded cheddar cheese 
1 (1.25 oz.) package chili seasoning
1⁄2 tsp. kosher salt 1 loaf cornbread Small skewers
1⁄2 cup sour cream 1 Tbs. chopped cilantro, optional
1. Heat oven to 350°F. Prepare two baking sheets with parchment paper.
2. Combine ground beef, egg, beans and liquid, corn, cheese, chili seasoning, and salt in a large bowl and mix thoroughly.
3. Roll meatballs about 11⁄2 inches in diameter and place on prepared baking sheets. Bake for 25 to 28 minutes until cooked through.
4. Cut cornbread into 2-inch squares and thread onto skewers with meatballs. Mix sour cream with cilantro and serve.
Cookies That Score
Decorated with frosting "grass" and white yard lines, these semi-homemade treats are fun for kids to make and eat!
MAKES ABOUT 23 COOKIES
1 roll refrigerated sugar-cookie
dough (or your favorite recipe!)
1⁄2 cup all-purpose flour plus extra for rolling
24 oz. white frosting, divided Green food coloring
1. Heat oven to 325°F. Break up cookie dough into the bowl of a stand mixer. Add scant 1⁄2 cup of flour and use the paddle attachment to mix it into the dough.
(A hand mixer also works!)
2. Flatten dough into a disc and wrap in plastic wrap. Chill for 15 minutes. Cover 2 sheet pans with parchment paper.
3. Remove dough from refrigerator and roll out to about 1/8-inch thick on a floured surface. Cut out circles using a 23/4-inch cookie cutter. Combine scraps. Reroll dough and cut more rounds. Transfer to a baking sheet and bake for 12 to 15 minutes until done. Let cool.
4. Dye half the frosting green. Fill a piping bag, fitted with the #233 grass tip, with the green frosting. Fill a second piping bag, fitted with a #4 round tip, with the remaining white frosting.
5. Show the kids how to pipe green frosting "grass" on the round cookies, then use the white frosting to add yard lines and numbers.
Avocado Ranch Dip
Kids will want to dip just about anything in this awesome sauce.
MAKES 21⁄2 CUPS DIP
1⁄2 cup whole milk
2 Tbs. lemon juice
2 ripe medium avocados
2 oz. ranch seasoning mix
Raw veggies, for serving
1. In a bowl, combine milk and lemon juice and let sit for 10 minutes.
2. Put avocado, ranch seasoning, and milk mixture into a food processor. Process until very smooth, about 2 minutes. (Or mash by hand with little kids!)
3. Serve with assorted raw veggies.