Snappers Snacks Review & Recipes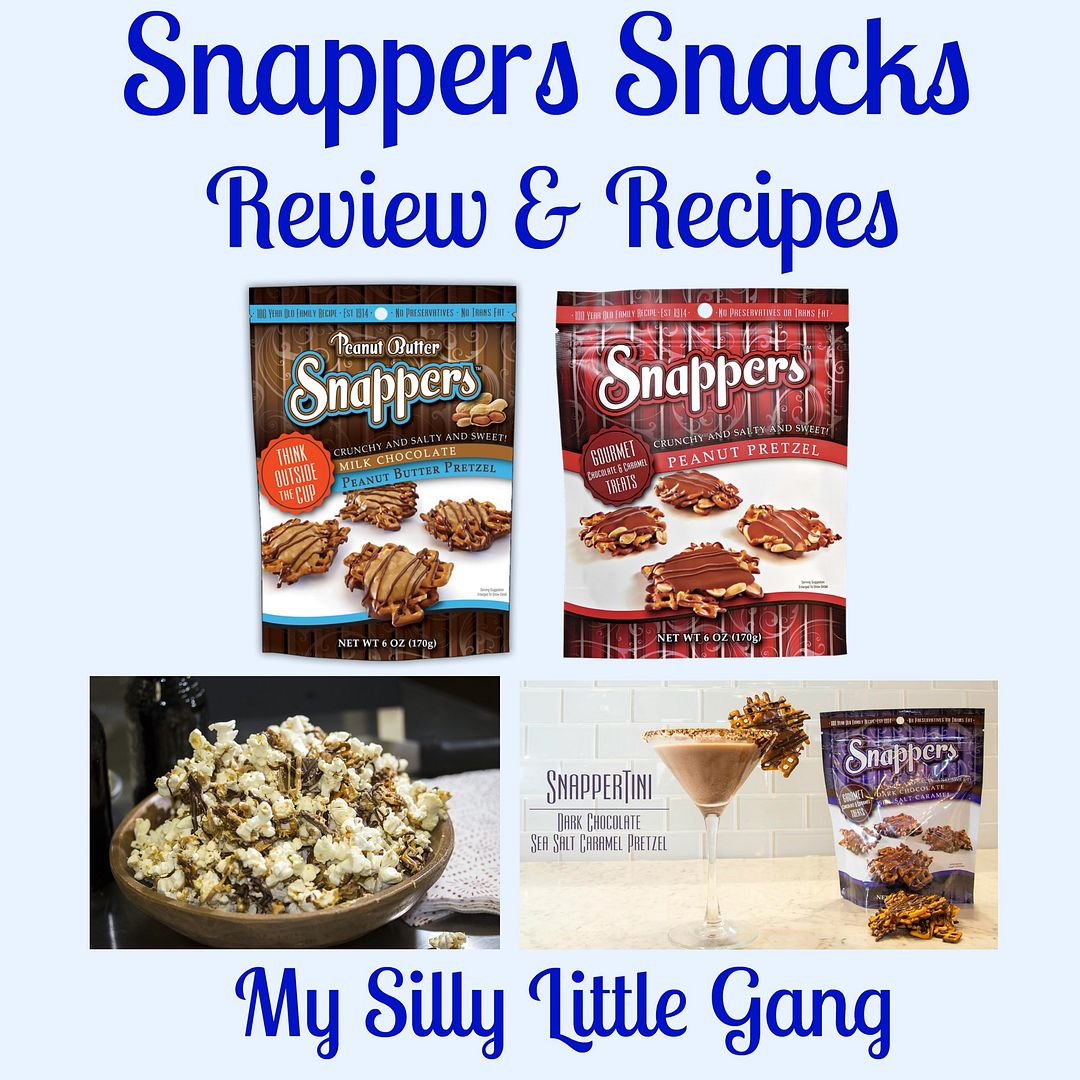 Snappers Snacks, a Snappertini and Snappers Popcorn.
We were recently sent a couple packages of Snapper Snacks to test out with My Silly Little Gang. I had seen these snacks in the grocery store but we had never gotten a chance to try them out. Boy were we missing out! When we received our box the boys couldn't wait to see what flavors we received and what they tasted like.
Here's what we got…
Peanut Pretzel Snappers
Discover the ultimate salty sweet snack – rich milk chocolate, creamy caramel, pretzels, and crunchy peanuts.
A bed of crunchy pretzels and salty peanuts, layered with creamy caramel, drizzled with rich milk chocolate.
Available in 6 oz and 10 oz bags. 
What we thought.
These were my favorites! There is something about that sweet salty mix that is just heavenly! It's crunchy thanks to the pretzels & peanuts and chewy thanks to the caramel & chocolate! These are little morsels of heavenly goodness. My favorite way to eat them is right out of the bag with a nice cold glass of milk. My hunny however loves them with a big bowl of vanilla ice cream! The boys love them too both ways if they can have it. 🙂
The second bag we got were…
Milk Chocolate Peanut Butter Snappers
Discover the ultimate sweet and savory snack – rich milk chocolate, creamy peanut butter, and pretzels.
Snappers special blend of peanut butter with a hint of sweetness, drizzled in smooth milk chocolate on a bed of crunchy pretzels.
Available in 6 oz and 24 oz bags.
What we thought.
These were the boys favorite! They love that peanut buttery chocolate flavor. Their favorite way of eating these is in a bowl of milk. 🙂 Funny I know but little things like that is what totally makes my day. They love these peanut butter pretzel Snappers so much that we already had to buy another bag of them. 
Snappers Snacks also sent me some delicious recipes to share with you! Here are those deliciousness….
Snappertini Recipe
Ingredients:
Dark Chocolate Sea Salt Snappers (or your favorite Snappers flavor, for garnish)
2 oz Chocolate Liqueur
1 oz caramel vodka
1/2 cup milk
1/2 oz chocolate sauce
1/4 cup pretzels, crushed
Directions:
Using the back of a spoon, crush pretzels. Rim a chilled martini glass with chocolate syrup. Dip rimmed glass in crushed pretzels, turning the glass to evenly coat the rim. Add ice to cocktail shaker. Add vodka, liqueur, milk and chocolate syrup. Shake and strain into glass. Garnish with a single Snapper. Enjoy!
Snappers Popcorn
Ingredients:
10 cups popped kettle corn
1 (6 oz.) bag Peanut Butter Snappers chopped into quarters
8 oz. milk chocolate chips
½ cup peanut butter
Directions: 
Pop kettle corn and chop Peanut Butter Snappers into quarters. Combine both and spread evenly on a cookie sheet. Melt chocolate and peanut butter separately in microwave. Drizzle over mixture, then let peanut butter and chocolate harden. Mix and pour into a bowl to serve.
I hope you enjoyed this post and that you enjoy these recipes!
Website / Facebook / Twitter / Instagram
About Snappers Snacks:
Snappers® snacks combine tradition and legacy for caramel, specialty peanut butter, proprietary pretzels and signature chocolate blends to create delicious, classic treats designed to be shared with family and friends. As part of the Edward Marc Brands, Snappers® snacks are crafted in small batches using only the finest ingredients and they evoke nostalgic memories of home baking.