Oral Hygiene Products Review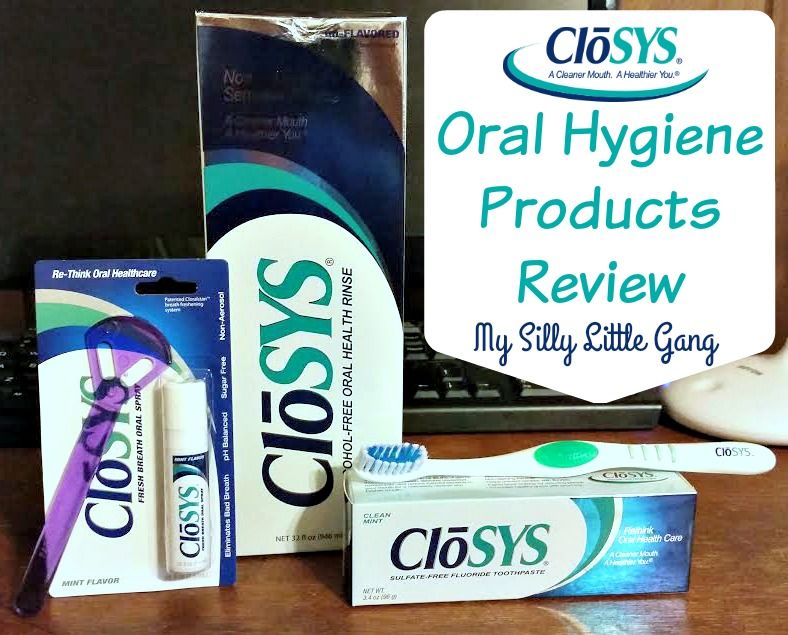 Make the Most of Children's Dental Health Month with CloSYS!
Dental hygiene is a big deal for me when it comes to myself and my boys. Maybe it was thanks to working so many years in the dental field, maybe it was because of how I was brought up. Either way I make a big deal about it, ask my second born. I have raised all 3 of them the same way, brushing their little gums even before their teeth came in. There's nothing that makes me prouder than hearing the dentist say "no cavities" after a 6 month dental cleaning. 
It hasn't been an easy road so far, especially now that my oldest who's 10 has all his permanent teeth in but hates the taste of those adult toothpastes. We were recently sent a kit of products from CloSYS. We wanted to give them a try because the CloSYS dental line kills 99.9% of bacteria in 10 seconds and prevents regrowth. Despite being tough on bacteria, CloSYS is free of alcohol and sulfates and is pH balanced. It arrived in an adorable draw string plastic bag.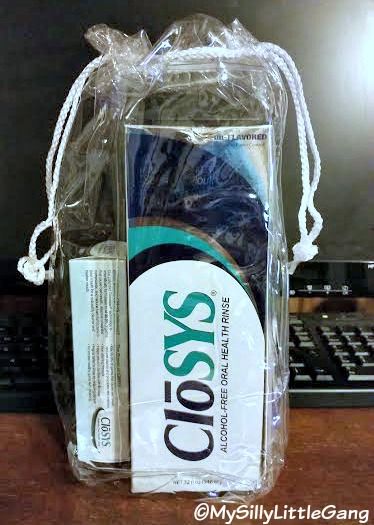 The kit we received included: 
Alcohol-Free Oral Health Rinse, Sulfate Free Fluoride Toothpaste, Fresh Breath Oral Spray, a toothbrush and a tongue scraper. 
The first thing we tried was the Sulfate Free Toothpaste, in Clean Mint flavor. My oldest was a little reluctant to try it out, but loved it once he did. He was surprised that the mint flavor was not too intense. Yet it was perfect enough to leave a fresh minty feeling in your mouth. 
The next product we tried was the Alcohol-Free Oral Health Rinse. We got the Unflavored one which brings a little bottle of mint oil. This is perfect because we can use it as is (unflavored) for the two youngest ones, and add drops of the mint oil to make ours as intense as we like. So that means 1 drop for the oldest and 2 drops for my hunny and myself.
Last but most certainly not least we tried out the Fresh Breath Oral Spray. This is also in Clean Mint flavor. The breath spray was a little intense for my oldest but it was perfect for both myself and my hunny. 
We absolutely love these products and we will definitely be continuing to purchase them once we run out.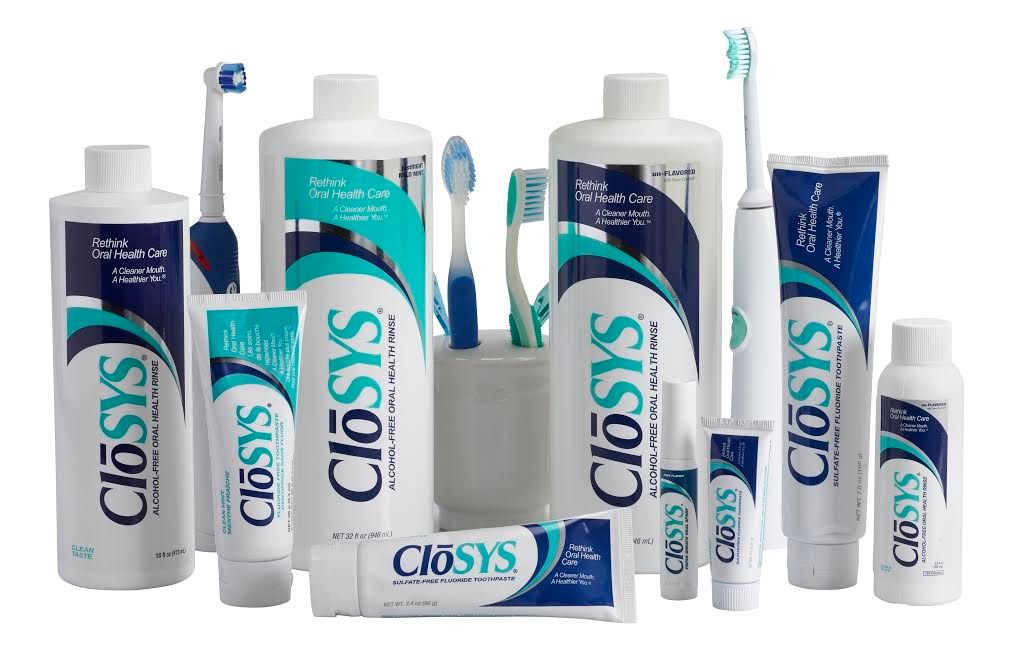 The makers of CloSYS have put together something to Tell, Show, and Do: How to Make the Most of Children's Dental Health Month.
February is a great time to recognize the importance of oral health for children and effectively get your child interested in good oral hygiene. Parents can help children get a good start on a lifetime of healthy teeth and gums by modeling good behavior, developing good habits at an early age, and scheduling regular dental visits. 
It can even start as early as in infancy by familiarizing your child with the feel of a soft infant toothbrush or wet wash cloth as you clean their gums after mealtimes. Give your child, even if they don't have teeth, a soft bristle toothbrush so they can copy mom or dad. They will do it! 
Another great way to teach young children and toddlers the proper techniques of good oral hygiene is to tell, show and do.
TELL: Explain how to brush and floss and how those actions keep teeth clean and healthy. Make sure you use age-appropriate language so your child will truly understand. Let them ask questions, and make sure to answer them.
SHOW: Let children watch when you brush and floss your own teeth. Again, let them ask questions and make sure to answer them. Answer them by showing them. Sometimes using a stuffed animal can help you demonstrate.
DO: Help children brush their teeth in the morning and before bed. Keep a regular routine so they know it's expected. Brush for at least two minutes. Sometimes teaching them a song that takes about two minutes helps. It helps them brush for the whole time, as well as makes it fun! Continue to help your child brush their teeth until they're 4 or 5 years old. After that, let them do it themselves, but supervise and monitor until they're 7 or 8 years old.
Remember that the proper technique and motion of brushing is very important. Teach your child to brush teeth in a gentle, circular motion. Harshly scrubbing back and forth can damage the gums. The circular motion does the best job of both removing the plaque along the gum line and massaging the gums. Make sure your child uses a child-sized toothbrush and toothpaste made for children, too. If your child is under two years old, use a  fluoride-free toothpaste (also known as training toothpaste). If your child is between two and six years old, use just a little fluoride toothpaste. Teach children to spit out any extra toothpaste. Once children get the spitting down, they can use an anti-cavity mouth rinse after brushing. Alcohol-free rinses are best for children.
And don't forget, flossing is just as important as brushing. You should floss your child's teeth at least once a day. If you're unsure of the proper technique or how to explain it to your child, ask your dentist or hygienist. They'll be happy to help.
Make brushing teeth fun:
Let children pick out their own toothbrush maybe one that lights up or has a character on it.

Let children put their own toothpaste on the toothbrush themselves (a little help from mom or dad might be needed so they don't put too much on)

Get your child an electric toothbrush for best results but follow the directions that come with the brush to be effective.

Make a game out of brushing by singing a song or telling a story while your child brushes. 
The more fun you make brushing teeth for your child, the easier it will be to get them to brush and for them to make it a habit. If done consistently, along with eating healthy and seeing your dentist regularly, your child will be well on their way to a lifetime of smiles.