Read Why Stride Rite's All New Snoot Saved Us This Year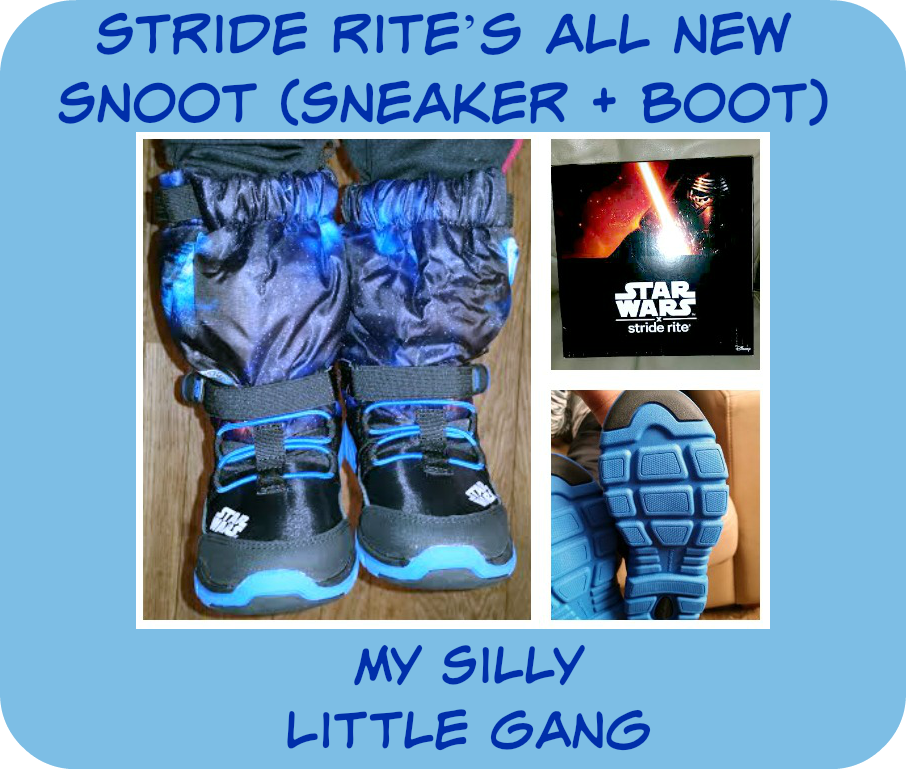 Stride Rite's new Snoot (Sneaker + Boot!)! It's a cold weather essential for us!
Living in Massachusetts snow boots are a must when it comes to winter gear! I always have had a problem getting my 4 year old to wear them though. No matter how many hours of snow time play I offered, he just wouldn't wear his snow boots. He loves the comfort that his sneakers give him. I swear if he could wear his sneakers to sleep in he totally would. This year I had no idea what I would do. So when I heard about Stride Rite's new Snoot, I knew I had a chance at getting him to wear warm nice boots this winter. 
So you're probably wondering what a Snoot is. I have to admit it does sound a little like something out of a Dr. Seuss book. Stride Rite's new Snoot is actually a combination of a sneaker and a boot! Neat, right? I sure think so and so did my little guy. When they arrived he immediately loved them because they were Star Wars and Blue! 
I really liked that they could be worn both up or down. I also really like that they have a really warm and soft fleece lining. Other points that we both loved is that they are lightweight like a sneaker and not bulky and heavy like a regular snow boot. First I asked my little guy to try it on to see if they were comfortable and that if he didn't like how they felt he wouldn't have to wear them out. 
Reluctantly he tried them on. The look on his face when he stood up in them was priceless! He said: "Mommy, they're not heavy!" He then started running around the house yelling "I love them mommy!" I loved seeing him running around like he does in his sneakers and not trying to lift his little feet like in other snow boots. He couldn't wait to try them out in the snow, so we went outside. 
These Snoots were a HUGE hit with him! Now he refuses to wear anything else, even when there isn't snow outside. Which is not really a big deal because I know they will keep his little feet warm and he just wears them down. Another great thing about the Stride Rite Snoot is that I can conveniently just throw it in the wash to get them clean! There's nothing that we would change or add to this amazing Snoot! Why hadn't anyone thought of it sooner?
Interested in checking out more about the Snoot? Well just head on over to the Stride Rite website. They come in so many colors and just like they have the Star Wars Snoot they also have a Frozen Snoot for girls. 
Simply put, the Stride Rite Snoot offers the best features of a sneaker and boot combined. It's equipped with the flexible and lightweight comfort of a Made2Play sneaker, plus the insulated, seam-sealed, water-resistant weather protection of a boot. Adjustable straps and a wide opening make the boots easy to slip on even the squirmiest of feet. Better yet, the Snoot is machine washable and collapsible to fit in any bag while on-the-go.
The picture above is only a sample of the colors available. The Snoot is available for Baby/Toddler ($50; sizes 4-8 M, W) and Preschool ($55; sizes 8.5-11 M, W) and comes in pink, purple, cobalt and black. And for the character obsessed, check out the Frozen and Star Wars fashions!
Follow Stride Rite on Facebook, Twitter, Pinterest, Instagram and YouTube.