Holiday Gift Idea: Adult Coloring Books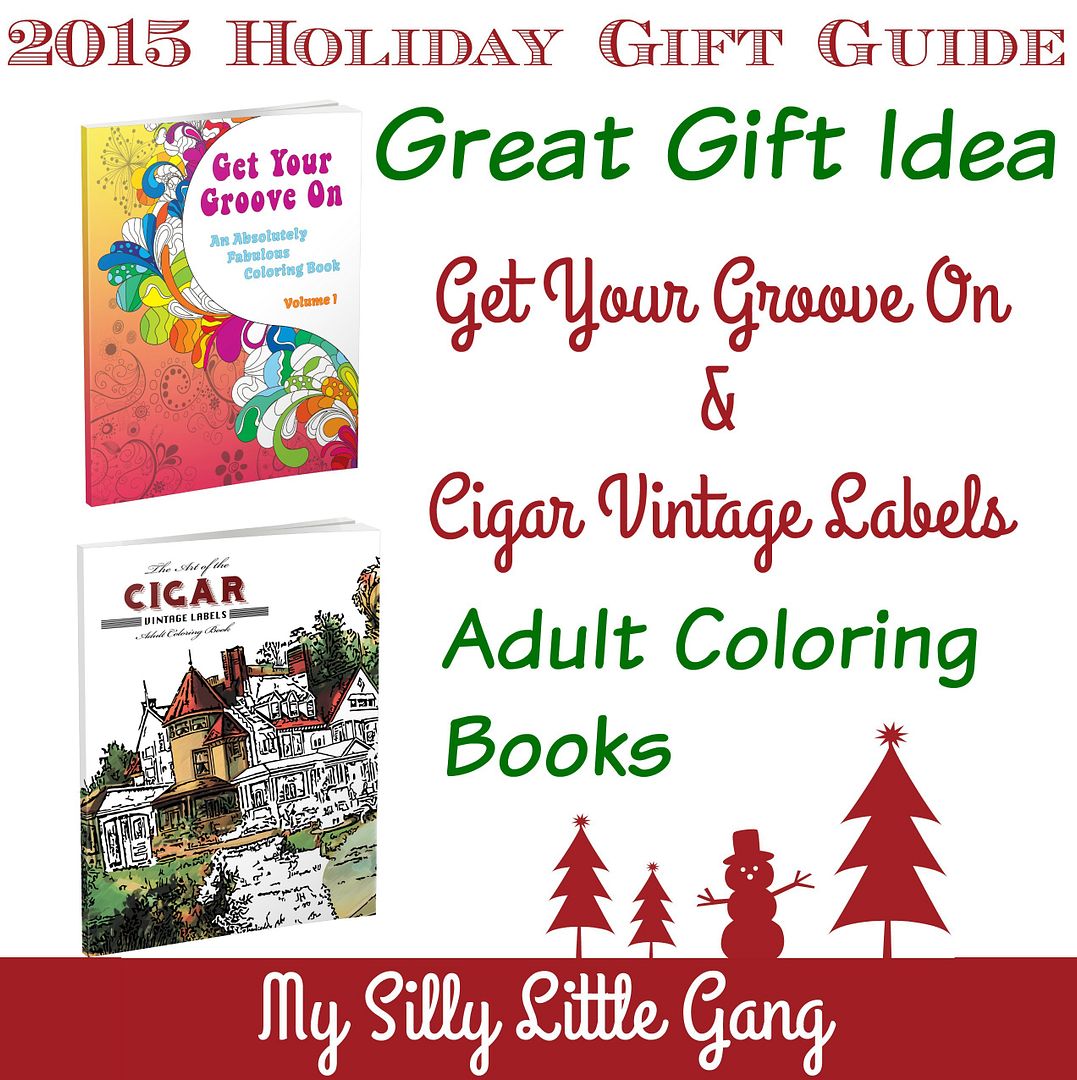 Get Your Groove On: An Absolutely Fabulous Coloring Book (Volume 1)
& 
The Art of the Cigar: Vintage Labels Coloring Book
Know that I have gone back to coloring (since doing it when growing up) I absolutely love it!  And I love adult coloring books!!! Recently I was introduced to two adult coloring books from Vintage Press. Let me tell you a little more about them:
Get Your Groove On: An Absolutely Fabulous Coloring Book (Volume 1)
This is a fun collection of doodle images. There are 40 one sided images to color, which is great because then I don't have to worry about my markers bleeding through. These images are on the more intricate and detailed side. There are images of flowers, stars, peace signs, and hippies. I like that there is a nice variety to the images – some are VERY detailed, and some have larger white spaces for when you're not in the mood for as much of a challenge.

Product Description
Get ready to relax and take a stroll down hippie lane. This grown up coloring book is a magnificent portrait of one of the most revolutionary times in history!
From miniskirts to knee-high patent leather boots to fringe on everything, GET YOUR GROOVE ON takes you back to the good old days of hippies, flowers and love. Kumbaya was the global love song and a coke was the drink of choice. This feel good adult coloring book is filled with pure beauty and fun, just the way the Haight Ashbury meant life to be.
With swirls and curls ready to be colored with your crazy good neon colored pencils, metallic gel pens and squiggly fine liners, these 40 images are an intoxicating mixture of psychedelic, flower power and rock and roll just waiting for you to bring your creative color genius to the table!
(40) Images with easy, medium and complex patterns
Single-sided printing – frame your favorites
Coloring test pages included
>>> Relieve Stress and Anxiety with Art Therapy
Famed psychologist Carl Jung prescribed color therapy to his patients, and psychiatrists have been recommending coloring pages for over 100 years. From simple patterns to complex and detailed designs, let your anxiety melt away as you color these stress relieving patterns.
>>> Enhance Your Focus, Fine Motor Skills & Vision
Adult coloring books allow you to focus while remaining in a relaxed and meditative state. Researchers have found that this allows the frontal lobe of the brain to open, which is the home of organizing and problem solving. Coloring pages requires you to use both hemispheres of your brain, which improves your fine motor skills and vision.
>>> Be Social & Share Your Creativity
As coloring for grown ups becomes more and more popular, you have an increasing opportunity to get social. Join a local coloring party, organize a coloring session with your co-workers or join an online group on Facebook. Share your creativity and get connected!
The Art of the Cigar: Vintage Labels Coloring Book
I absolutely love the size of this book! It's got tons of gorgeous pictures of vintage cigar labels. The paper is quality stock which means ink doesn't bleed through. I love to use markers for my adult coloring books so this is a big deal for me.

Product Description
Stress. Angst. Drama. Does this describe your life?
If so, then it's time to take a step back, exhale and throttle down! Vintage Pen Press has created the perfect resource to help you find your way back to peace – THE ART OF THE CIGAR: VINTAGE LABELS COLORING BOOK. Let us introduce you to the latest craze which, for once, is FUN and SAFE!
Based on gorgeous lithographs of cigar box labels from years gone by, this adult coloring book invites you to create your own world of living color while de-stressing from all the cares of life. Each of the stunning (40) labels are pre-1920 with elegant designs that wrap you in the nostalgia of an age when life was simpler and people knew how to enjoy the moment.
People of all ages are coloring and having the time of their lives!
Join a Facebook coloring group to make new friends while bringing balance and fun back to your life. All you need is a box of your favorite color pencils, gel pens or crayons to release the artist within and create your own beautiful masterpieces.
So don't wait another minute to fill your life with joy and tranquility. Jumpstart your creativity, relax and color on!