Two Gourmet Cookbooks for Your Holiday Wish List
Here Are Two Fabulous Gourmet Cookbooks For Your Holiday Wish List!
If you're new to using a Kamado Grill this is a great book. I liked that this book starts with a good run down of the basics of using a Kamado grill. This book also has great seasoning recipes to get your mouth watering! This book is full of amazingly delicious sounding recipes. Most of those recipes are accompanied by excellent photos! The photos are excellent and really make me want to try out these recipes! I also really liked that the recipe sections of this book are broken down into Snacks and Appetizers, Main Events, Veggies and Sides, followed by an interesting section (and my hunny's favorite) called "Getting Creative with the Kamado." This section has some recipes for you to try on your Kamado grill that are not ones you would have thought! My hunny has already marked several recipes from this book that he plans to try very soon.
About The Book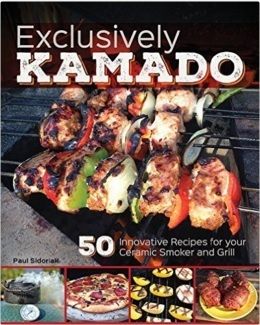 Impress your guests with these creatively delicious dishes you can only make on the amazing kamado ceramic grill. This book's recipes and techniques take wood-fired cooking to the next level, including:
Mouthwatering Meats
•Hickory-Smoked Beef Tri-Tip
•Chimichurri Spiced Ribs
Show Stopping Seafood
•Blackened Salmon
•Salt Block Grilled Bass
Delicious Veggies
•Prosciutto-Wrapped Asparagus
•Grilled Stuffed Artichokes
Baked Delights
•Brie in Puff Pastry
•Shrimp Scampi Pizza
Before coming across this book I had heard nothing about salt block cooking, thanks to this book I decided to give it a try. I'm always interested in different styles of cooking and what they bring to the table, so to speak. Before reading this book I thought that maybe cooking on a salt block would over-season the food. After reading, I learned it does not, if you're doing right. Salt block cooking does take some effort, at least in the preparation part of it. When cooking with a salt block, temperature is key and a good meal hinges on the time spent in getting the block up to proper temp. The introduction part of the book gives a great introduction to a salt block cooker. It also includes some history of the block as well as supplementary tools you may need to satisfactorily cook on salt blocks. I liked that this book offers advice as to which type of block to purchase, and guides you through the process. The recipe parts of this book is divided into six sections and in my opinion each one is delicious! The book has sections on appetizers, meats, breads, veggies, seafood, and sweet treats (desserts). The recipes are easy to follow, detailed, and includes notes and tips as needed. In this book you can tell that both authors are clearly food-lovers!
About The Book
A gorgeous, full-color guide to crafting upscale and creative meals with the wildly popular Himalayan Salt Block.
Revealing the tasty dishes you can make with your Himalayan salt block, this book details how to get the most out of this hot, new chef 's tool. With The Simple Art of Salt Block Cooking, you will become the master of savory and inspire guests with professional techniques and mouthwatering recipes.
•CURE Block Cured Salmon
•BAKE Garlicky Soft Flatbread
•SEAR Rib-Eye Steak
•SEASON Scallop and Shrimp Ceviche
•ROAST Salt Roasted Radishes
•SERVE Charcuterie Plate
I would highly recommend both these books to any food lover! Check them out on Amazon.

I will also be having a giveaway for these books soon, so keep coming back to check! I will update this post with the link once the giveaway is live!