Bellux Style Wedding & Engagement Ring Set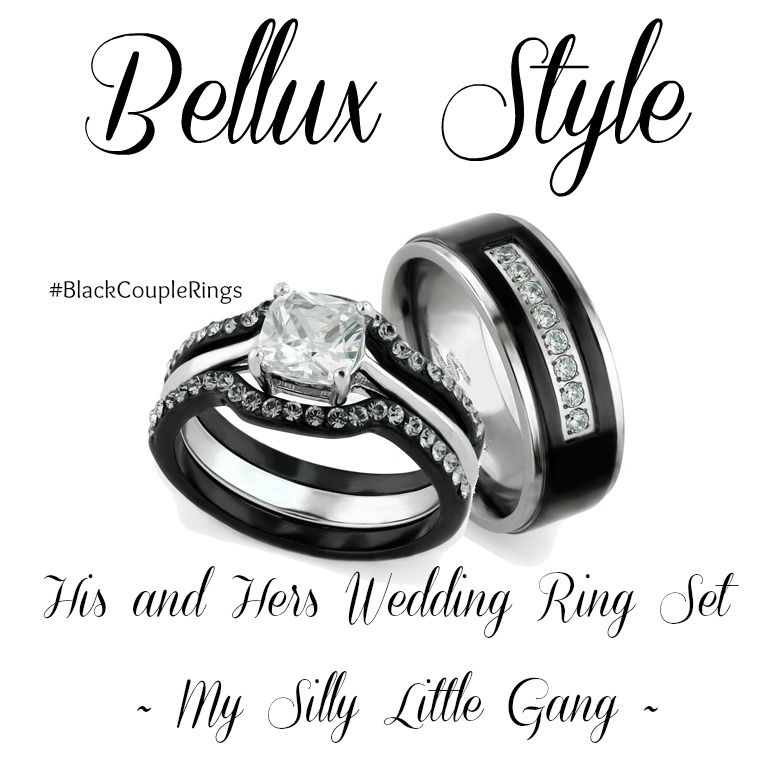 Bellux Style His & Hers Wedding Ring Set
Even though my hunny & I have lived together for 11 years we haven't gotten married. He has always wanted a big wedding and we haven't had the money for it. We finally decided that this was the year we were going to do it! We were looking for a Titanium band for my hunny because being a residential painter he needs something that is going to last. It was perfect timing when I was picked to review a beautiful Wedding/Engagement Ring Set by Bellux Style for my hunny and I. This set is absolutely beautiful.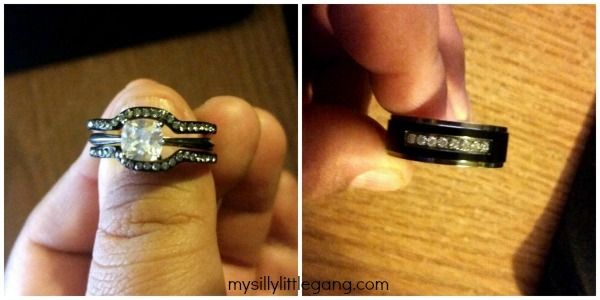 Let's talk a little about the bridal set.
This is a gorgeous set consists of 2 Black titanium bands with a curve to go around the engagement ring. I can't believe it is so nicely made. 3 Stackable bands with beautiful gems. Diamond equivalent beautiful rings. Until the wedding I am wearing only the solitaire and I love it, especially when the light hits it.
The wedding band is black titanium and (1.03 diamond equivalent) 8mm. They come in a variety of sizes so they will be able to fit almost anyone. My hunny wears a size 11 and it fits him perfectly, he loves it and can't wait until the wedding so he can use it. It's wide but not overly wide.
We love them and they are perfect for us. You can order this beautiful Bellux Style Wedding & Engagement Ring Set on Amazon.

Product Description
His & Hers Couples Matching Wedding Rings Set
Couples matching rings feature women's 1.03 carats two-tone 3-piece wedding and engagement rings and men's black IP centered-string CZ matching wedding bands. Perfect couples rings.
Women's 3-Piece Wedding & Engagement Ring Set
This beautiful 3-piece bridal sets wedding rings feature one 6.5 mm X 6.5 mm (1.03 diamond equivalent carats) cushion cut CZ stone. Two black ring guards have combined total 46 round CZ's (1.25 mm) for 0.46 carat. Each ring guard measures 2 mm wide. This collection of Black Ion Plating (IP) stainless steel wedding and engagement rings has the unique finish created by a specialized process that fuses the black plating over to the base metal in a vacuum environment. Stainless steel jewelry is durable, hypo-allergenic and will not oxidize or tarnish over time. Wedding bands are finished in high quality black ion plating for maximum shine and protection.
Men's Solid Titanium 8 mm Wide Matching Band
Men's comfort fit 8 mm wide solid titanium matching wedding bands. This men's matching band features 8 of 2 mm wide cubic zirconia totaling for 0.24 carat, high polished mirror finish silver band with a black IP center. Interior of the band is slightly rounded to provide a comfortable fit for daily wear. Solid titanium jewelry is durable, lightweight and hypoallergenic (nickel-free), and will not oxidize or tarnish.