Here's How To Easily Join the Dial Rewards Program & Get 500 Free Points!
It's so easy to join the Dial Rewards Program!
I recently joined the Dial Rewards program. If you haven't heard about it let me tell you a little about it. The Dial Rewards program is a place where you can save money with the coupons they offer and earn points for chances to win cash and prizes every time you buy Dial. The best part about it is that it's super easy to join. Let me show you how.
First you must go to the Dial Rewards Website Here. When you're there you'll see a screen that looks like this.
You can either click on the "Sign Up Now" button or the "Join Dial Rewards" link at the top of the page. I've circled it in red for you. Either link will take you to a page that looks like this.
As you can see it's very straightforward with the information you have to provide. Once you've completed the form you will get a screen like this one.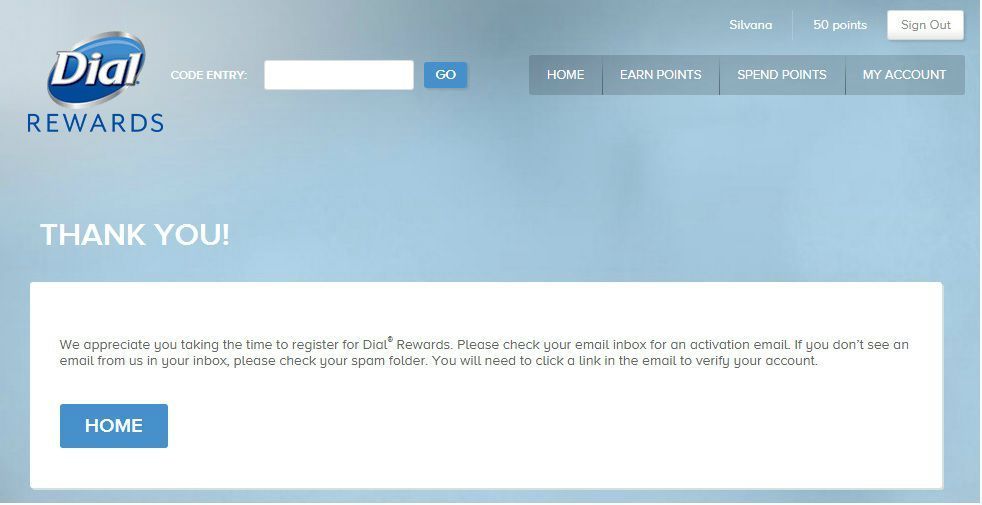 You can then go check your email for their activation email. It took about 25 min from the time I registered to the time I received the email. So don't worry if you don't get it right away.
Once you click on the link to activate your account you will come to a screen like this one.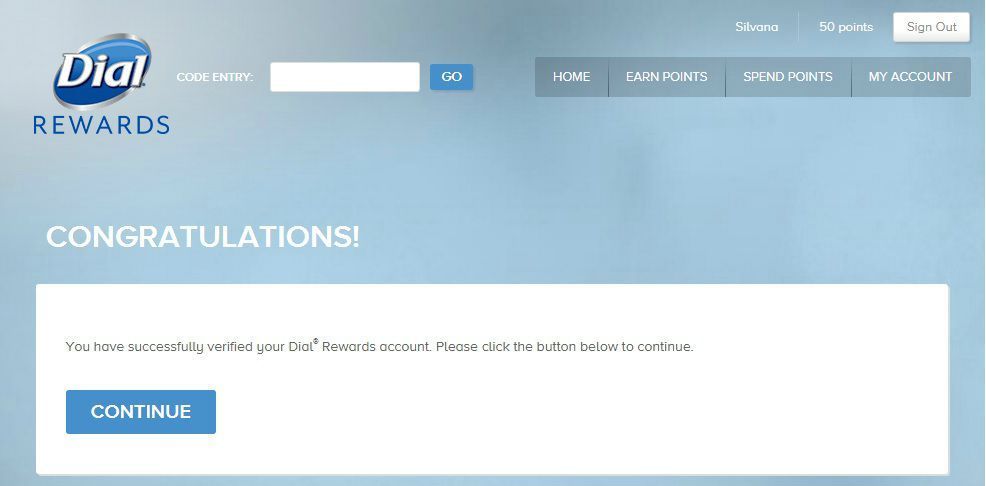 You then click on the continue button and you're ready to start saving and earning points. Super easy right! 
From this point on any time you want to sign in all you do is click on the "Sign In" button at the top of the home page. Here it is circled in red. 
Once you're signed in it's super easy to earn points. Dial provided me with a code to earn 500 points and you can earn points with this code too. All you have to do is enter this code: F92LF it's really easy, you can just easily enter the code at the top of any of the screens on the Dial Rewards website. You also earn points by just signing in daily. So between the daily sign in, the code, and the fun activities like watching short videos, taking short surveys (about Dial products) and other easy things I quickly earned 3,000 points. Spending your points is just as easy as earning them! You just go to the "Spend Points" tab and you'll see different ways to spend them. I have used my points in the "Instant Win" & "Sweepstakes" options. Where you can win Amazon gift cards instantly. You'll select the instant win, agree to the terms, and hit "Play Now." I haven't won yet but I'm going to keep trying. 
I really like how user friendly this site is and I'm excited to see it grow. So come join the fun and sign up for Dial Rewards here and use code: F92LF to get your first 500 points free!